In my last article on cruising boat design I waxed eloquent—well, I thought I was eloquent—on the benefits of bigger boats. So to balance that, here are some thoughts on smaller boats and what to look for to make them livable, inspired by my recent single-handed cruise on a borrowed more than 50-year-old Hinckley 41 named Sable. A boat that is actually smaller than a Westsail 32—practical boat size is measured in pounds, not feet.
Longer is Easier to Live In
For a given displacement, long thin boats are easier to live in than short fat ones. Take a gander at the two plans linked to above to see what I mean.
Starting from forward, Sable has:
A respectable forepeak and anchor locker
A double V-berth
Nice chest of drawers
Two hanging lockers
Decent-sized head
Small but workable salon
Galley
Chart table with fridge underneath
Nice big cockpit
Two large cockpit lockers
Liferaft locker
Propane gas locker
Good-sized lazarette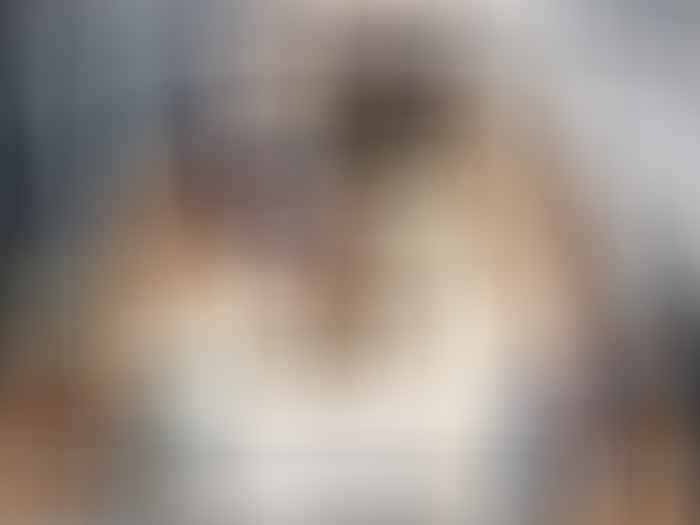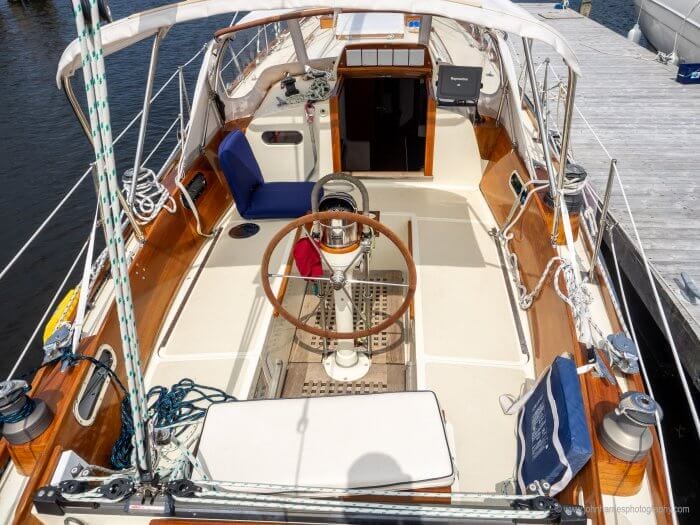 Now look at the Westsail 32, which actually outweighs Sable. The wins for the Westsail are a more spacious salon and a better galley, but at the cost of many things in the above list, most notably a poky cockpit and much less deck accessible storage.
This supports what I have long thought: If we want a livable and functional cruising boat, the minimum length on deck is about 38′. Go shorter than that and we run out of boat, no matter how wide she is, before we can get the live aboard essentials in.
Of course, if we make a 38-foot boat beamier we will get more in, but Sable has everything we really need.
And yes, I know that others have lived and voyaged successfully of boats well under 38′. Good on 'em, but it won't be me, and probably not most of you either.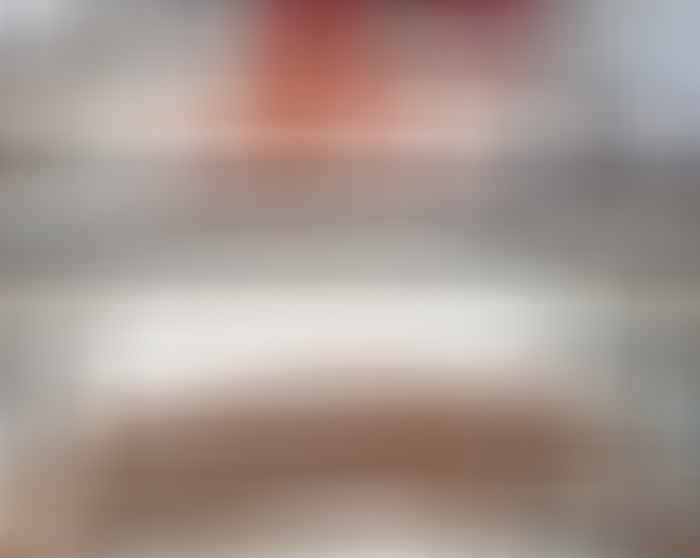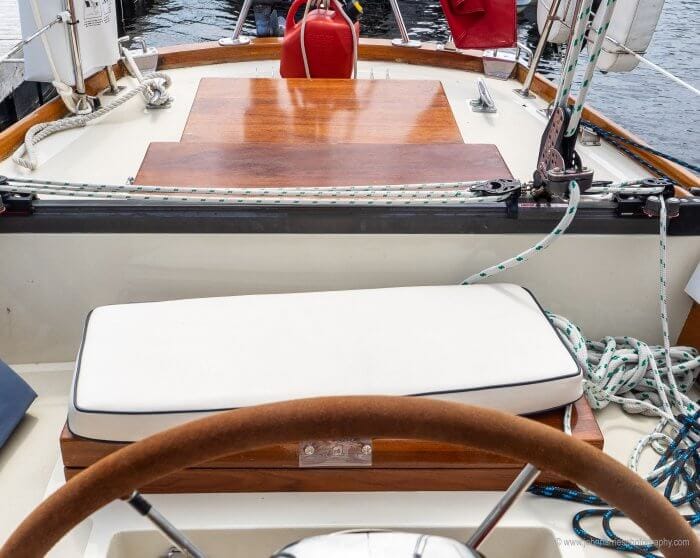 Quarter Berths Suck Space
Now have another look at Sable's accommodation plan, and the photo at the top of the article, and imagine trying to stick a quarter berth in there, as you so often see in smaller cruising boats.
Result:
Either the galley or fridge/navigation table gets trashed.
A cockpit locker is lost.
The accommodation accordions in as it goes forward, and I'm betting one of those lovely (yes, there are two) hanging lockers goes.
And for what? A quarter berth that's almost invariably full of deck-crap that should be in a cockpit locker, anyway.
Pilot Berths Rock
If quarter berths are an abomination, pilot berths are a delight. There is nowhere better to sleep at sea: out of the way, but close to the centre of pitch. And during the day crew can stow their gear on them, where it's easy to access, but well retained by the lee boards.
Deep Has Advantages
Sable, being deep and full-keeled with relatively slack bilges, manages to get all her respectable tankage under the floor boards, thereby freeing up great storage space under the settees. The point being that a wider shallower boat may look bigger, that is until it comes time to find a home for a bunch of food and gear.
The other advantage of deeper bilges is that if we get a few gallons of water in the boat (inevitable sooner or later) we don't have to live with it washing into lockers and even berths when heeled, as we do with a shallow boat.
Heel Angles
The flip side of being deep and narrow with slack bilges like Sable is that, since she gets most of her stability from her ballast not her hull form, she sails at high heel angles.
And I will admit that given that I now own a boat that is easily driven at low heel angles, and having owned one that sailed more like Sable, I would not go back.
But, then again, all boats are tradeoffs.
Overhangs Are Not Just Decorative
Sable surprised me by being faster than her waterline length of 29 feet would lead me to believe. For example, I found that she motors easily at 6.8 knots at just 1700 RPM.
That would be a speed to length ratio (based on her waterline length) of about 1.25, but my guess is, looking at how little wake and fuss she leaves in the water, that she is actually operating at an effective speed to length ratio closer to 1, which in turn implies an effective waterline length of somewhere around 35 feet.
Of course, none of that is at all scientific but, on the other hand, I have noticed the same phenomenon with our own Morgan's Cloud, a boat with a 42-foot waterline and 55.5-foot overall length. For example, in our most economical motoring mode, we do 6.5 knots at just 1400 RPM, and at a normal cruise of 7.8 knots, we are still only at 1900 RPM. In this case I have access to the propeller power curve, and so I know that those RPMs translate to just 14 and 40 hp respectively. Again, these numbers imply an effective waterline substantially longer than 42 feet.
I think what's happening here is that when underway the aft overhangs on both Sable and Morgan's Cloud immerse very sweetly into the stern wave thereby pushing the wave further aft without immersing the transom. I have also noticed on our boat that efficiency goes all to hell as soon as the transom immerses more than an inch or two.
All of this says to me that, when we are thinking about boats with overhangs and how fast they might be, as long as they are well designed, we can add in the stern overhang to arrive at effective waterline length.
By the way, I have used motoring to make things simple, but this seems to translate well to sailing, as our boat accelerates quickly to 8 knots as soon as the apparent wind gets to about 14 knots, without us having to drive her hard under a press of sail, and also without producing much fuss in the water. And she does not even feel overdriven at 9 knots, which would seem to indicate an effective waterline closer to 48 feet than 42.
Anyway, this point gets bandied about a lot on the forums, so I thought it useful to bring some real experience-based perspective to it.
Reserve Buoyancy
Before we leave the subject of overhangs. People often assume that boats with them pitch more and, to some extent, that's true due to the increased pitching moment. However, it's not that simple. If the overhangs are well designed they also provide reserve buoyancy so that, as they immerse on each pitch, they soften and reduce the motion.
I did not get a chance to really test this on Sable, but I do know that on Morgan's Cloud, and her McCurdy and Rhodes sisterships, the overhangs play a big role in their easy motion, which has long made it possible for their crews to deliver nasty surprises to the crews of supposedly faster boats in ocean races, particularly when the going gets tough—the former can keep the hammer down long after the latter have cried uncle and shortened sail.
Bottom line, don't write off an older boat with overhangs, she may surprise you.
Sea Worthy
David, Sable's very experienced (lots of blue water miles) owner, tells me that he did quite a bit of offshore work, including a single-handed passage from Bermuda to Nova Scotia, in his previous Hinkley 41—yes, he has owned two, with another larger boat in the middle—and that he always felt safe in her when it got nasty. And, further, that she heaves-to easily and comfortably.
An Interesting Option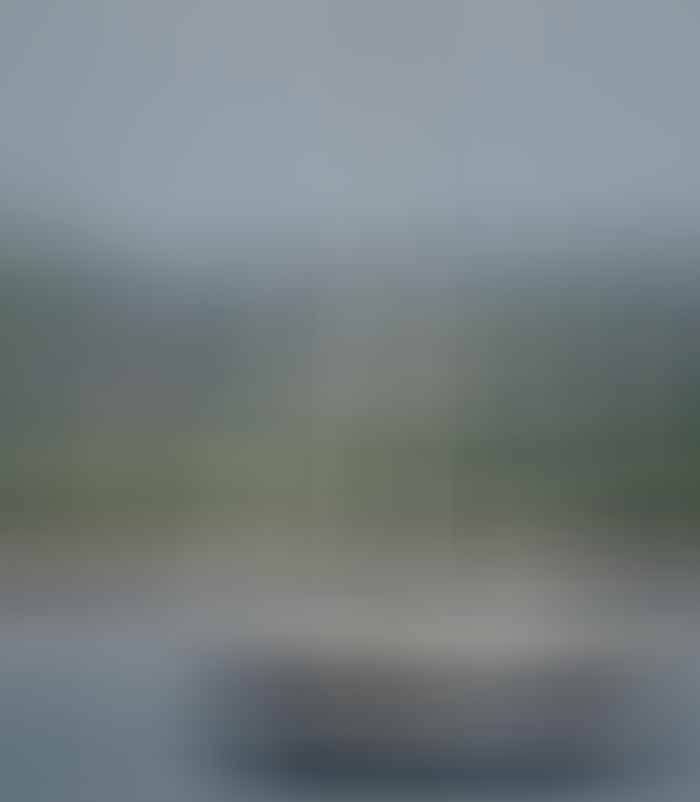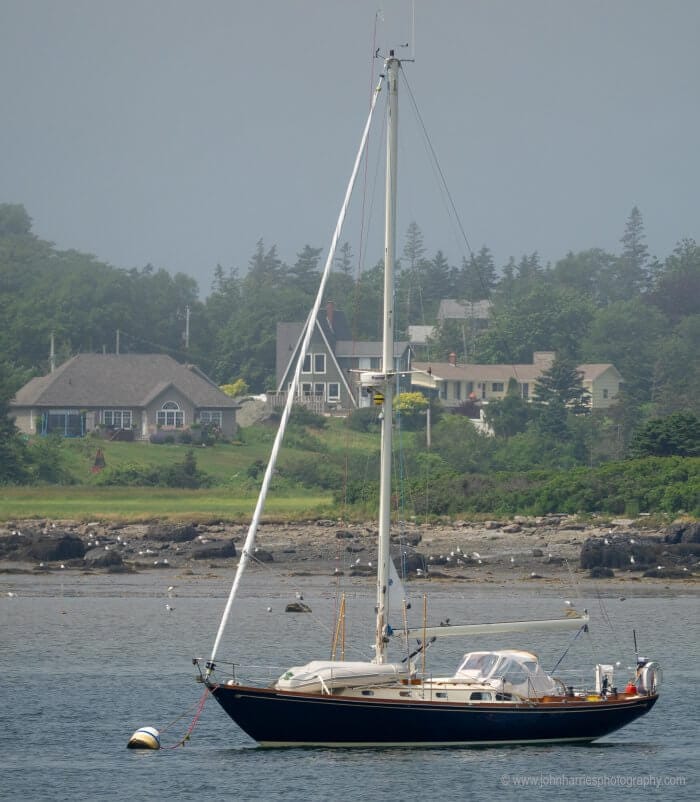 Add all of this together and we can see that there is a lot more to like than first glance might discern in older designs like Sable. 
For example, while Sable is no speedster, she was easily able to carry me 70 miles in comfort in one long day of motor-sailing into 10-16 knots (true) of breeze, most of it on the nose and accompanied by the nasty chop the Bay of Fundy is notorious for—the tide was running against the wind for most of the trip.
Sure, that's not the glamourous test of romping along over blue waters under sail alone, or surviving an Atlantic gale, but, at least in our part of the world, it's also a type of day that will be frequently experienced while cruising.
Would Phyllis and I go extended cruising in Sable? No. But, on the other hand, a Hinckley 41, or a high quality older boat like it, could be a good option for those with a budget around US$100,000, particularly given that at this point, as long as they took care of the boat, the depreciation hit over a one or two-year cruise might not be that bad.
And there are boats of the same size and type (many of them younger) around for less than that.
That said, not only were these early Hinckleys built well, the owners of high-quality storied boats like Sable tend to lavish money and care on them.
For example, although David is not thinking about selling Sable, she is pretty much ready to go extended cruising with good quality gear all around, including a carbon mast with mainsail furling (installed by the previous owner) and a new engine (installed by David). And a lot of these boats have spent at least half their lives stored inside away from the elements.
Bottom line, a high quality, "name brand" boat that appears expensive could, in fact, be a more economical option (more fun, too) than a cheap boat that requires a multi-year refit, particularly since many refits turn into horribly expensive—in both time and money—rebuilds.
Comments
Have you cruised on a smaller older boat? How did it work out for you?
Coming Soon
As I write, Colin is busy working on more article(s) about acquiring a real offshore cruising boat for around US$100,000, and I have a piece coming tentatively titled Buying An Offshore Boat, The Half-Assed Option.
Further Reading