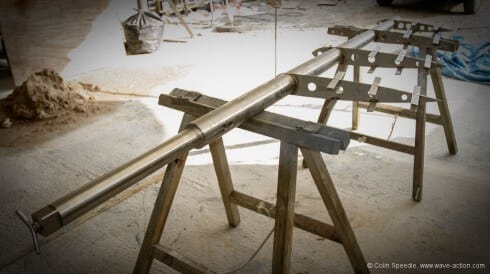 Some time ago I posted here with my views on the suitability of spade rudders for offshore cruising. Having lost a spade rudder that looked to be in A1 condition, naturally my thoughts at the time were coloured by that disaster. Despite the fact that I had up until that time owned three yachts that had spade rudders, had covered tens of thousands of miles aboard them, and but for a bad case of metal fatigue might never have had a concern about their use, my immediate reaction was to rule out having one on our next boat.
But I learned a lot at the time as we fabricated a new rudder from scratch; not least in terms of how difficult—and expensive—it can be to do it right. And since then I've put my habit of being an inveterate noser-around in boatyards to good use looking at examples of spade rudders both good and bad, to balance against the understandable antipathy caused by our loss. As a result of those examples and time for reflection I've altered my views in some regards—but not all.
Rudders Need Maintenance
One thing I have noticed is that very few owners include removal of a spade rudder within their maintenance schedule, which I think is fundamentally wrong, especially for any yacht intended to make extended voyages offshore. We removed our rudder every other year on our working boat, to examine and service it, usually as soon as we lifted the boat out, as it was impossible to do so with the boat in a cradle (otherwise we'd have had to dig a very deep hole), then replaced it at re-launch. Here's why:
It's virtually impossible to stop water getting into a conventionally fabricated (stainless stock/GRP shell) spade rudder. Getting the water out isn't easy either, and if left inside the shell over the winter may combine with other internal chemicals or pollutants in an anaerobic atmosphere and exacerbate internal corrosion. Our rudder was huge (and heavy!) and so took some handling, but we would turn it upside down, then tie it against a wall to allow the water to drain thoroughly over the winter. Another option I've seen employed is drilling and tapping the bottom of the shell to accept a nylon drain plug, capped with Sikaflex. This can then be removed in winter to allow the shell to drain.
I've often seen owners 'examine' the state of the bearings and seals by just waggling the rudder around. However, it's very difficult to ascertain the true amount of wear in the bearings in this way, especially with the steering system (rod or wire) attached. Detach everything from the quadrant and you may find a very different result.
Most standard rudder bearings are made of a hard plastic material such as Ertalon or Polyacetal. These take a real pasting, and so will wear over time, and if the bearing wall is not thick enough can crack, especially if there is any corrosion present. Inspection is the only way to properly assess their condition and, if they're OK, proper cleaning of them (they should be kept free from grease) will help prolong their life.
Removal of the rudder also allows the bearing surfaces of the stock to be examined for corrosion. It will also allow for a thorough inspection of the shell from all angles, where any cracking or crazing can be assessed and appropriate remedial action taken.
Whether your stock has a stuffing box or O-rings (both now fallen from favour) or simply employs a lip seal, sooner or later it will need servicing or replacing, especially if there is any play in the bearings. And it's not uncommon to find that the lip seal installed is not suitable for marine use (with a mild steel spring) and so won't last any time at all. As it's virtually impossible to remove and replace these lip seals intact (they don't cost much anyway) with the rudder in place, it makes sense to source the correct grade of seal in advance and replace it when you've got the rudder out (to achieve the best seal with lip seals a pair should be used). Or, if your rudder installation will allow it, consider fitting a specially designed gaiter. Worn or loose fitting lip seals or O-rings are a common source of leaks, especially in heavy weather, so it makes sense to replace them on a regular basis.
What's The Best Form of Construction?
I prefer one piece/material construction, which offers the best chance of structural and watertight integrity. As Matt so eloquently explained, carbon construction is now becoming more cost effective and seems to me to be the way to go for the future with GRP boats and, equally, one piece aluminium or steel makes most sense for hulls in those materials.
In production boats stainless steel stocks are generally being replaced by aluminium, which, if properly designed and fabricated, and most importantly properly isolated against electrolysis, offers many advantages in terms of weight and cost. But I've seen plenty of cases of corrosion of these stocks, including internally, and believe that there's even more reason to remove and inspect them regularly as a result.
I'll bet that most of us have heard of at least one sail drive being eaten by electrolysis in recent years—I've seen quite a few—but no-one seems to consider that if the sail drive has been eaten, what's happening to the rudder stock? Regular inspection of the exposed shaft at the hull/stock position should be a must—oh, and don't antifoul the stock with a conventional copper based antifoulant…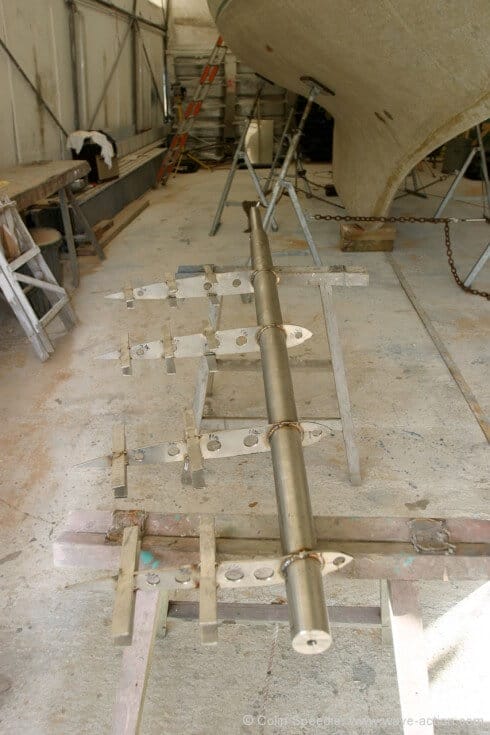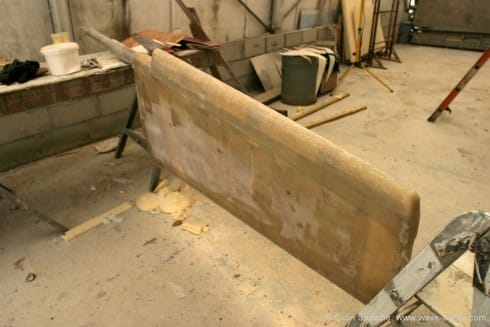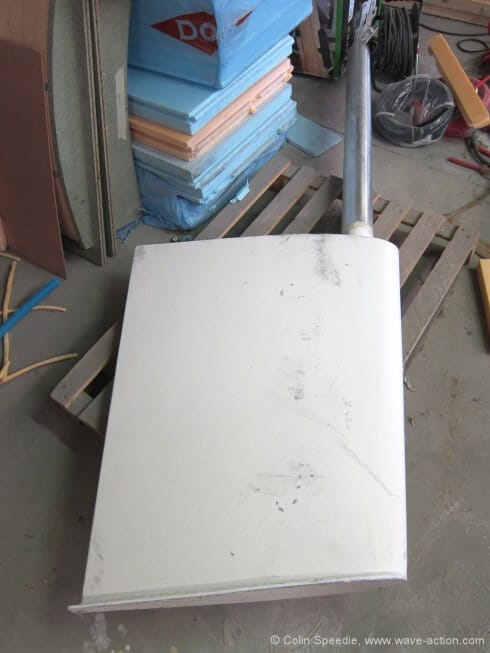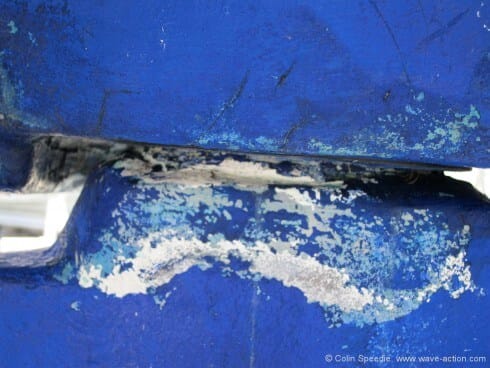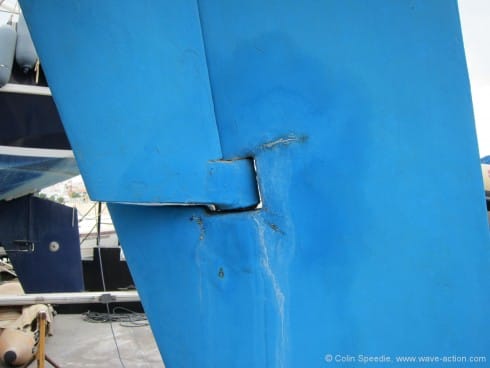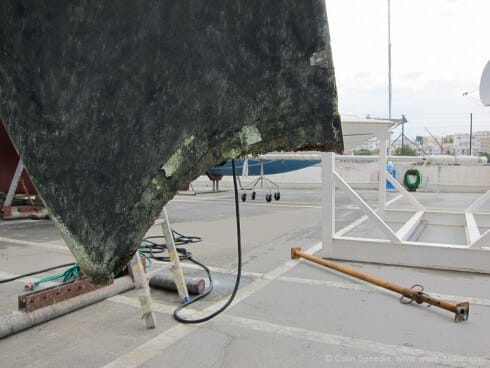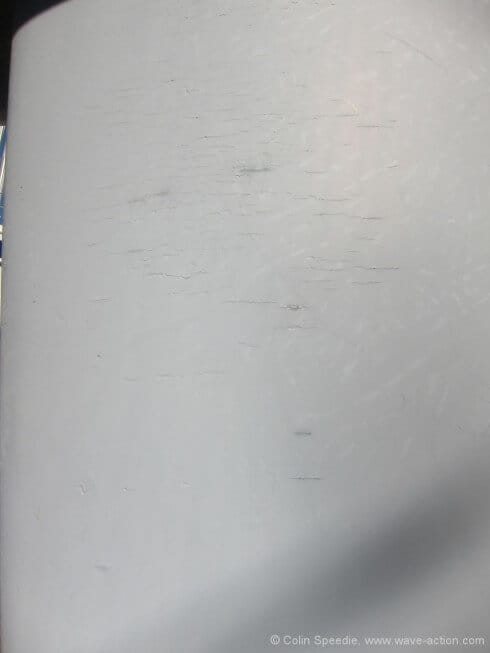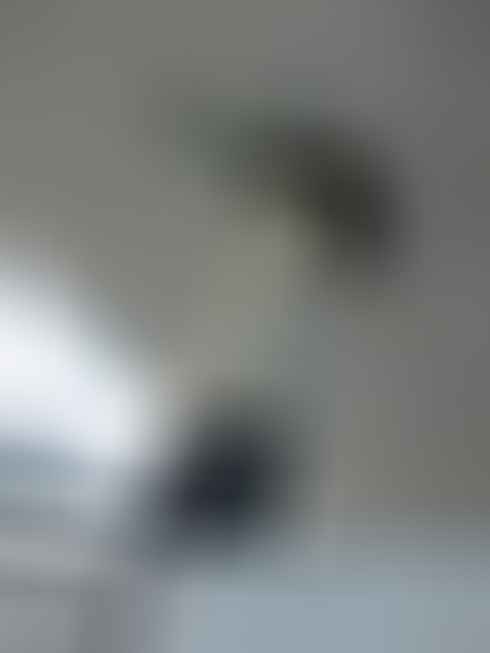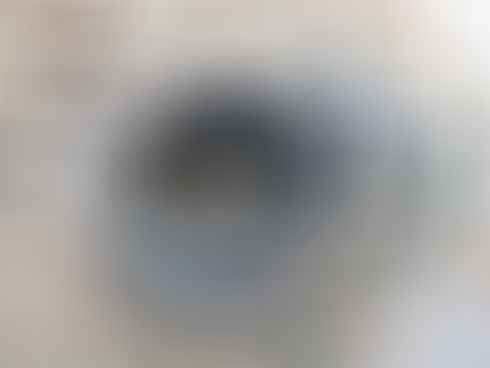 And So…
Whilst I still prefer the strength and security that a skeg offers, I accept that a properly designed and constructed spade rudder can be a viable choice, but it must have some form of protection ahead of it in the form of a keel or prop skeg to reduce the risk of collision damage. One of the reasons I am not a fan of twin rudders is that this is virtually impossible to achieve with this configuration.
But however a spade rudder is mounted, it is not a 'fit and forget' item, and needs to be checked and maintained religiously—however good the designer and builder.