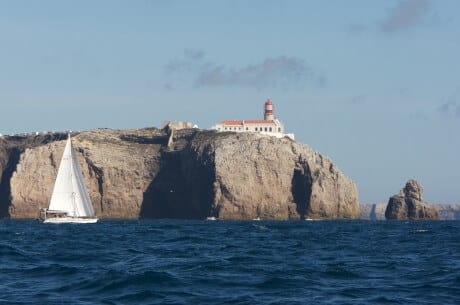 When we arrived in Lagos, Portugal, I recognised a very smart looking cutter berthed near us as belonging to people I knew, so when I could see there was someone aboard I wandered over to say hello. After a brief chat, I was told that this obviously ocean-ready yacht was now up for sale due to a change of plans. Somebody's going to get a great boat here, I thought, and this got me thinking about our own experience.
Pèlerin, an Ovni 435 from the French builder Alubat, is our fourth yacht, and the first new build that we've ever owned. And that hadn't been our intention at all, as we'd been dead set on finding a nearly new boat, fully kitted out if at all possible. It was only when that proved too difficult (we simply couldn't find a boat close enough to our spec at a sensible price) that we decided to go for new. And that has had its good and bad sides, as may be expected.
Less to go wrong?
The good is that we have a boat that is very close to ideal for our requirements, equipped with gear that we trust (for the most part). And as the vast majority of the gear is relatively new, reliability has generally been good. We like her a lot, and are looking forward to really exploiting her potential over the next few years.
The bad is that it has all taken far longer to get to this stage than we would ever have believed possible. We've had to sort out problems from the build stage, and that has held us up on many occasions, which we had (perhaps naively) never adequately factored in – and talking to many other people with new build boats we've heard the same story (and worse – far, far worse). Some of the gear has been unreliable, chiefly the electronics package, a result we suspect of over reliance on the current drive to interface everything. But ultimately, the big drawback has been simply the time it takes to develop a good package into a yacht ready for offshore work. We've put literally months of work into this, even with much input at the build stage – it has truly been a labour of love.
So what are the alternatives?
A nearly new boat to our current specification would fetch serious money, even in today's depressed market. Well-equipped boats with a good pedigree are always sought after. Part of the reason being contained in the above paragraph – nearly new gear implies reliability, you shouldn't have to buy much else to be good to go, and some other poor soul has done all of the snagging and finishing. It's an attractive package.
An older boat (say 10 years +) can be good value, but much depends on who has owned her and how much upgrading has been carried out during their ownership. Older electronics, for example, often present problems as spares are no longer available, and upgrading can be costly. Refits have a habit of running away from you financially, and at the end of it the boat may be in very good shape, but all of the time and money may not be reflected in the resale value should you put her on the market.
Buying an old nail and doing her up is only viable if you're really capable, with a wide range of skills and plenty of time on hand, in my view. All of the problems inherent with older boats are there x 10, and it's not for the faint hearted, although if that's all your budget will stretch to, then it's definitely better than not going at all.
So, if we were to be in the same position again, what would we do?
Almost certainly we'd go for a nearly new boat, accept the differences from our 'perfect' layout and go sailing. The only thing that might sway it would be if we were looking for a very specific type of boat (polar, for example), where compromise is more of an issue, when we'd want to work closely with a small, bespoke builder and hope to save the extra time at the build stage by having less to do post launch.
One final thought – much is made of the value of warranties with a new build, but we'd question this. Most yacht builders only offer a 1 year warranty (although some GRP builders offer up to 5 years for the hull), which is, in our view and experience, totally inadequate. As a simple comparison, take a look at cars – Jaguar offer 4/5 years, BMW 4, Volkswagen 3, and these are far less expensive items than a 40ft new build yacht. Perhaps if we, as customers, demanded warranties of similar duration for yachts, then builders would have to work far harder to deliver fault-free, reliable products, and that would in turn make buying new an altogether more attractive proposition. So why isn't that happening?
Additional Reading