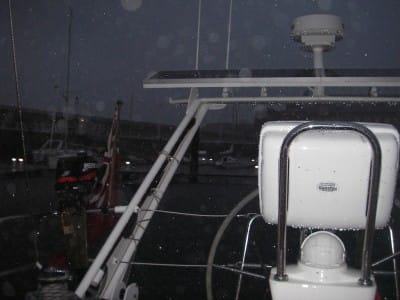 After nearly 20 years of going North, our decision for 2010 was to head South in search of new horizons and the sun. Last year in the Hebrides was wonderful, but when the weather broke in August we were glad to move on, and we know we'll be back one day.
Leaving Camaret, our home for the last winter, we faced a number of new challenges, all of which came and went with ease. We passed through the Raz de Sein in thick fog, had virtually no wind down to the Ile d'Yeu, and crossed Biscay under power for 90% of the distance to northern Spain in a flat calm sea and baking sunshine.
The aim was to visit some of the small harbours along that little visited coast, using the advantage of our lifting keel and rudder as much as possible. But reality came knocking when we ended up stuck in Gijon for five days, as the wind blew and the rain came down in torrents. Roads were flooded or washed away throughout the region, much damage was done to the local infrastructure and as the storm moved east into France many lives were lost. The local people seemed shell shocked by the relentless rain and the damage done, and time after time assured us that 'this wasn't normal!'
Out at sea the storm had also left its mark. Up to 10 miles from the coast the sea was mud brown, until we eventually crossed a clear-cut line into blue water once more. On our way West we passed substantial amounts of floating debris of all kinds, presumably washed out of the rivers, so we maintained an offing of around 15 miles keep out of the worst of it. With a spring tide, rivers in spate and a northerly swell many of the small harbours we had hoped to visit we felt were simply too risky, so we pressed on to La Coruna on the northwest tip of Spain, fortunately without any problems.
Others were less lucky. One boat travelling after us picked up a huge length of net, but gamely sailed her in safely. Another sailed around two small trees but then hit a third, fortunately not head on, with no more damage than some scrapes down their lovely blue hull.
With these types of extreme weather event occurring more frequently it can only be a matter of time before the fundamentals that are accepted as sensible choices for high latitude cruising become accepted as applicable for all cruising destinations, whether that be boat design, hull material or gear choice. This was Spain after all, where in June we expected sun and sangria, but the weather was truly Scottish, not what we had expected at all.
With watertight bulkheads fore and aft in our OVNI, and a tough aluminium hull, we hope we've got a good chance of surviving a direct collision with floating debris. But what about more lightly constructed boats?
As we rounded Cape Finisterre two days ago in a fresh NE6 I poured a small libation over the side to three friends of mine who were lost many years ago delivering a small racing trimaran in just this area. As no-one survived the loss of the boat, there could never be any certainty over exactly what happened. But whatever disaster befell them was sudden and catastrophic, as there was no mayday message received and vital personal gear such as oilskins were still in the main hull when it was found capsized some weeks later. The missing floats and damage to the main hull suggested a collision, either with a floating object or another vessel, either of which would likely have been terminal on such a fast and fragile boat.
That information made a substantial impression on me at the time, and having seen some of the stuff out here over the last few weeks the reality of the risk has been brought home to me all the more. It was the hardest of ways to learn such a lesson, but it was never forgotten, and it totally informed our choice of boat, and for that we'll always be grateful.
"Keep the water out"—for us, that should be the screensaver on every designer's computer, wherever the boat is going to go.