Help your fellow offshore cruisers by sharing your insurance-buying experience.
The latest statistics on the Adventure 40 mailing list as well as other news on swag and the specification.
The first decision we need to make when leaving a dock is whether to go out in reverse or forward. Here's how to choose.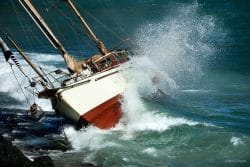 Getting Insurance for offshore passages is one of the biggest challenges facing many cruisers. The first step to success is understanding the problem.
In Part 1, I covered seven tips to get set up for coming alongside single-handed. Now let's look at the tricky part: actually getting alongside alone.
Bringing a sail or motorboat alongside (docking) by ourselves can be difficult, but good preparation will make it much easier.
To be reliable, marine electronics networks must be properly documented. Here's a quick and easy way to do that.
John forgot two important anchor selection criteria in the last article, so this one fixes that.
Let's support a guy who is making a real difference.
The sale of our beloved "Morgan's Cloud", a custom aluminum McCurdy and Rhodes expedition sailboat, closed yesterday.
John starts with testing from "SV Panope", adds a large dollop of experience, and comes up with his own best anchor table.
We can all learn a huge amount when two of the most experienced sailboat owners anywhere go boat shopping.
We have an approach from a credible team who have a plan to get the Adventure 40, a circumnavigation ready offshore sailboat for $US200,000, built.
A cruising boat without adequate shade and ventilation can make life a living hell once we head for the palm trees. Here's how to choose a cruising boat that will be comfortable in hot places.
New boats are horribly expensive, so most of us will be faced with refitting an older boat to get out there. We have recently reorganized all of our many articles on how to do just that.