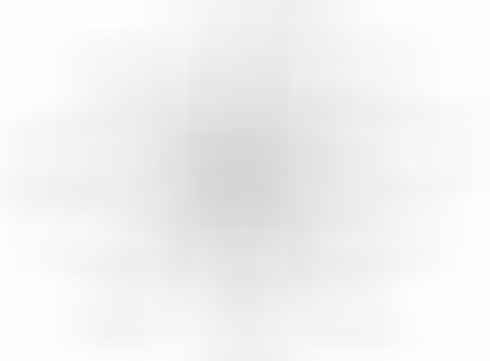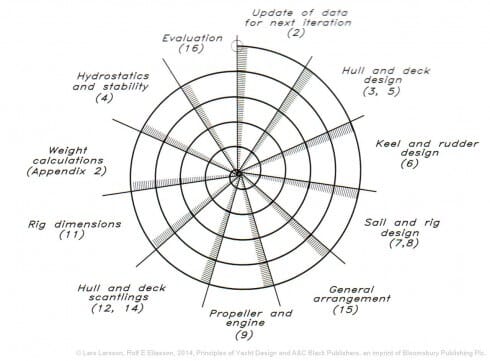 I had always thought, like most sailors I suspect, that a naval architect sat down with his or her computer and over a number of weeks a fully formed design emerged. But, in fact, nothing could be further from the truth, as I'm learning watching Erik work on the design of the Adventure 40.
Boat design is an iterative process with many steps that are well explained in great detail in the Principles of Yacht Design. See the diagram above. A simplified explanation goes like this:
First iteration:
Specify the boat broadly to meet the usage envisioned (in our case offshore voyaging) by defining numbers like sail area, size (more a matter of weight than length), beam, load carrying capacity, various important numbers like sail area displacement ratio and prismatic coefficient, as well as that all important number, target price.
Draw a hull to meet those specifications.
Evaluate the hull against the specifications.
Repeat till satisfied.
Second iteration:
Draw a general arrangement that includes sail plan, deck layout, and interior layout.
Scratch head a lot and think about all the different things we would like to get into the boat. Select the ones that contribute the most to the goals of the boat. Discard those that will detract without adding anything really important. This is hard stuff to get right and requires lots of offshore experience as well as laser-like focus on what really matters. It is also the point in the process where it is easiest to go off the rails and design a bad boat.
Re-draw general arrangement.
Do a rough costing to check that the boat can still be built for the target price.
Repeat till satisfied.
Third and subsequent iterations:
Engineer the boat including scantlings.
Specify and design the mechanical equipment, deck gear and rig. The last two require figuring out the static stability.
Figure out what all this is going to weigh.
See if the hull designed in the first iteration will float on its marks at that weight. (It almost certainly won't.)
Change hull shape so it displaces exactly the same weight of water as the boat will weigh dry (an iterative process in and of itself).
Check that everything specified in the second iteration still fits in the new hull.
If it doesn't, change hull and/or stuff that goes into it.
Make sure the boat has the correct static and dynamic stability to be safe in heavy weather offshore.
Check that the boat can still be built at the target price. Take out stuff or make boat smaller (probably means lighter) if the target price has been exceeded.
Repeat until done.
Last iteration
Run hydrostatic and velocity prediction programs on the design to make sure that the boat will be the best possible for the usage defined in the first iteration.
Make small tweaks resulting from computer model runs.
Have the design reviewed by another naval architect to make sure nothing has been missed.
Go back to the third iteration if things change a lot.
As I write, Erik is just finishing the second iteration, with input from me and based on the original specification with its attached comments.
Before he goes on to the next steps, we are going to do something pretty unique: publish the initial design so that you, our readers, who have given so much to the project to date, can see where we are now and contribute suggestions while it's still comparatively easy to make changes.
To that end, while Erik is away in the Arctic over the summer, we will be publishing three posts (hull, rig/deck, and interior). In these posts I will not only unveil the design, but also discuss the design decisions Erik and I made, including sharing many of the things that we considered and rejected.
And although Erik will be in the Arctic with limited internet, he will be part of the process and able to answer questions, since he and I will be in constant communication via satellite email.
One key thing I want to make clear is that this is a preliminary design and is subject to change. For example, right now we don't know for sure how long the boat will be. You see, length is one of the parameters that can be most easily adjusted to accommodate changes required by discoveries in the third and subsequent iterations. And, in fact (and probably surprisingly to many), changing length, within reason, has little effect on price, as long as static stability remains the same.
Thank you to Lars Larson, Rolf Eliasson and Michal Orych, authors of Principles of Yacht Design and their publishers A&C Black Publishers, an imprint of Bloomsbury Publishing Plc, for permission to use the design spiral diagram.