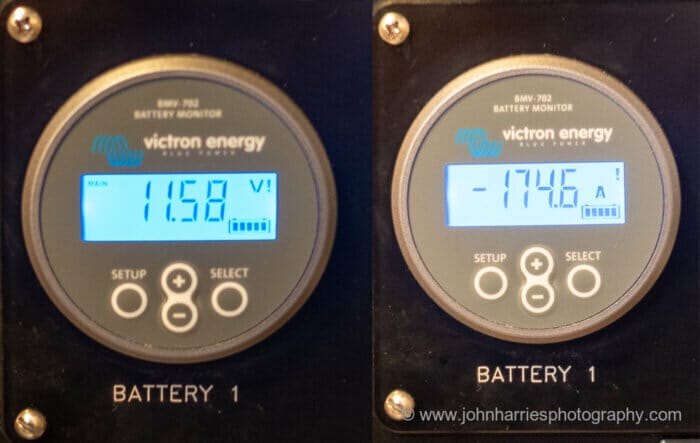 In the last three chapters we figured out what battery bank size we need for normal usage. But what about really big loads like induction cook tops.
How big do our batteries need to be to supply the peak loads we will be taking on without the voltage dropping below acceptable levels, even for an instant?
Loads We Need to Think About
To calculate that we need to be realistic about:
The worst case total load if multiple high-load devices are used at the same time.
The acceptable lowest voltage.
Not Just Electric Cooking
And further, this is something we need to take into account before installing any of the high-current-draw electrical gadgets becoming prevalent on boats today:
Electric cooking
Electric winches
In-mast and in-boom roller furlers
And on it goes.
That said, we probably don't need to take into account loads like:
Bow and stern thrusters, since the main engine will be running and supplying amps, at least as long as there is a big reliable alternator installed.
AC loads like washing machines and dryers, as long as we are willing to restrict their use to when the generator is running as part of our daily charge cycle.
(Note that I'm not advocating for installing either of the above, just being even-handed.)
Lowest Acceptable Voltage
11.75 volts is the absolute minimum we ever want to see on an offshore cruising boat's battery terminals, even for a moment.
Why that number? If batteries get below 11.75 volts, it's likely that the voltage at the inputs to important gear like radar, autopilots, NMEA 2000 networks, etc., will dip below 10.5 to 11 volts, depending on losses in the feed cabling (more on that in the next article), which is the level where said gear will get flaky, or even shut down completely.
It Matters
To see how important this is, just imagine we are broad reaching along in big tradewind seas while the cook is fixing dinner with two induction rings on—pasta and sauce—and the crew on deck trims the jib with an electric winch.
...The NMEA 2000 network chokes, the autopilot loses heading input from the compass...wipe out...dinner splattered all over the galley...cook is severely pissed off and goes on strike...survive on sandwiches for the rest of the voyage.
And that's a comparatively benign result. If we were running off, there could easily be a crash jibe, and if the preventer parts off—just happened to some friends of mine—horrible injuries or even a fatality are a real possibility.
Max Load
So let's use that scenario to calculate some average and maximum current loads (amperage):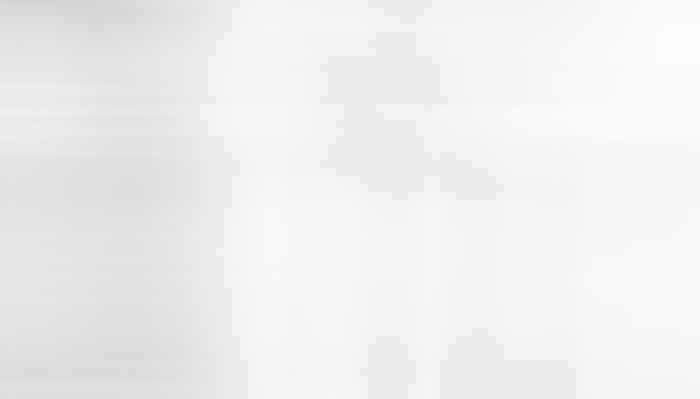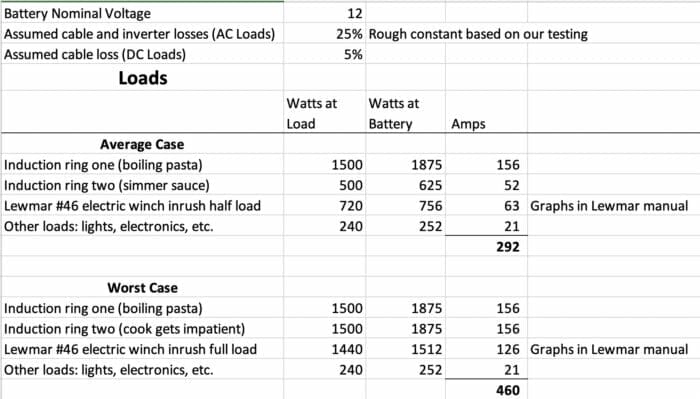 So which number should we use: maximum or average? I guess that depends on how scared we are of crash jibes. Me? Going with maximum every time.
Battery Behaviour
So the next thing we need to think about is how big the battery bank needs to be to stand up to these kinds of loads without the voltage dropping lower than 11.75.
To continue reading:
Or
Or