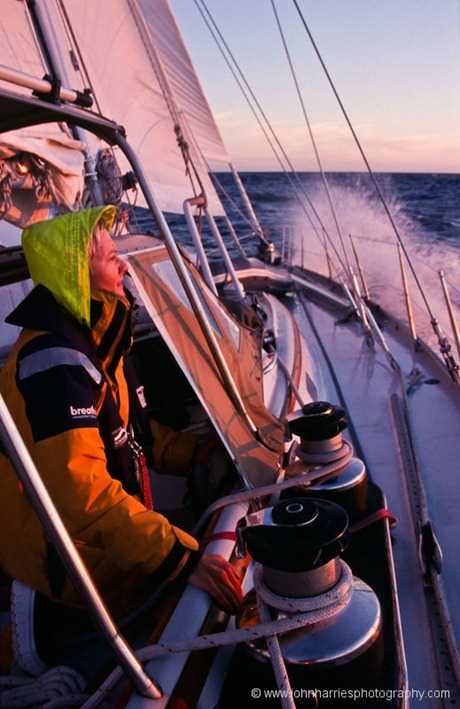 Don't miss the slide show at the end of this post
A couple of weeks ago we published a well-reasoned and interesting post written by Lane Finley on the benefits of traditional hanked-on sails over roller furling.
That post attracted a lot of great comments, both for and against Lane's position, with a lot in-between. If you have not already read that post and comment stream, I urge you to do so. There is a huge amount of wisdom there from people that have done a lot of miles, as well as from those with less experience trying to figure out how to rig their boats right for their needs—we learned a lot from both groups.
We have long used roller furling on Morgan's Cloud and would not be without it. The thought of changing headsails that can weigh over 100-pounds dry, and far more wet, doublehanded on a wildly tossing foredeck, every time the wind changes, gives me the horrors. I served my time as bowman on an ocean racer and I'm not going back!
However, roller furling, as Lane so rightly points out, is not without its disadvantages. Here is how we manage those disadvantages and the compromises we make:
Size Matters
Morgan's Cloud is over double the weight and sail area of Lane's boat. Having sailed and owned boats of both sizes, I feel that there is a break point at about 25,000 pounds (11 metric tons) displacement above which the advantages of hanked-on sails are outweighed by the dangers to a shorthanded crew while changing them.
No Overlap
I think that the single biggest issue that gives roller furlers a bad name is most boats have a headsail on the furler that is:
The wrong shape: low clew position.
Too big: 120 to 130% of the fore triangle area.
Such sails furl poorly, reef abominably, and require you to move the jib lead every time you reef the sail.
Advantages of a Roller Furling Cutter
However, if you do as we do and make the sail on the headstay roller furler a much smaller 100% high clew yankee jib (jib topsail) and pair that with a low clew staysail, also on a roller furler, everything gets better, way better:
The combined sail area is only about 8% less than a #1 genoa for our boat and actually bigger than a 130% #2 would be.
In the ocean, where power to push through swell and waves beats pointing every time, this rig can actually be faster than a genoa, even in light air. I will long remember blowing through a fully crewed Baltic 52 that had a #1 genoa up (a boat that gives us time and should be faster) in light air going to windward on the last day of the 1994 Bermuda Race on the way to winning our class.
A smaller high cut sail roller reefs quite well. We find that as the wind pipes up we first reef the yankee to about 70% of its full size. Then we roll the staysail to about 80%. As the wind continues to increase, we can stay sailing and pointing reasonably well with the yankee reefed to 50% and the staysail at about 70%. That rig, in conjunction with two reefs in the main, takes us up to about 25 to 30 knots of true wind (near gale force across the deck) by which time all sensible sailors, at least if the wind is coming from where they want to go, are heaved-to. To do that, we just roll the yankee all the way up, tuck in the third reef, roll the staysail as required to stop the boat tacking, and we are parked.
We don't have to change the sheet lead as we reef because of the high clew on the yankee. (We do have to move the lead on the staysail, when we reef, but we have made that easy by installing Harken roller bearing sheet cars with powerful 4:1 control lines.)
Good Roller Furling Sails
If you are going to roller furl and reef successfully, it is really important that your sails are designed and built right. Ours are:
Radial cut. Yes, it's more expensive, but radial cut sails hold their shape better than cross cut ones, and that goes double when roller reefed.
Have just the right amount of foam in the luff to absorb the fullness of the sail as you reef. Getting this right is more art than science, I suspect, but our sailmaker has it cracked.
Built with good quality low stretch cloth. We use a cruising laminate.
Equipped with a lightweight UV shield on the leach and foot that won't adversely affect the set of the sail. Our sailmaker uses a self-adhesive lightweight shield, instead of the more common Sunbrella, even though it does not last as long.
The Down Side
Like most things on an offshore boat, roller furling sails are a trade off and there are downsides:
When it's blowing hard and the headsails are rolled, our boat is simply not as fast and does not point as high as she would with a well-cut blade jib. But I will share our dirty little secret with you: 1200 RPM on the Perkins fixes that.
If we damage our staysail in heavy weather, we will be faced with changing to the storm jib without having the luff controlled, as it would be on a hanked-on sail. To make this a bit easier, we have webbing loops sewn on the luff that can be captured as the sail comes down.
Roller furlers are more complicated and by definition more prone to failure than something as simple as hanks. Having said that, our Harken headstay furler is 26 years old, with over 150,000 miles on it, and has never let us down. (It has been rebuilt twice.)
The furling line could fail and let the sail out in heavy weather. A very scary scenario. However, we are careful to always back up the clutch with a horn cleat when it is blowing, and keep a good eye out for chafe on the line. Bottom line, we have never lost control of a roller furling jib—the risks are manageable.
A sail that is regularly roller reefed will not last as long as a hanked-on sail, or at least it won't set well for as long.
Conclusion
Let me be clear. I'm not saying that our way is better than Lane's way, or any of the other good solutions written about in the comments to Lane's post, just that it works for us, and works well.
Comments
Do you have roller furling headsails? How has it worked out for you? Please leave a comment.
SlideShow
Control the slideshow with the strip below images. Mouse over show to see captions. Click on picture and touch "F" key for full screen. Slideshow does NOT advance automatically.
Slideshow requires a reasonably up to date copy of the Adobe Flash plug-in or iPhone/iPad or Android and that java script be enabled.
Further Reading