During most of our cruising life together, John and I have been on a strict schedule—a necessary evil to make our Arctic voyages possible. These days, however, we are trying to slow down and be more spontaneous, which paid off this summer during our cruise of Placentia Bay, when we spontaneously decided to change course and visit South East Bight.
It happened on our way from Arnold's Cove to Burin, when we saw an AIS target, Norcon Oceanus, leave Petite Forte, a small road-served community on the mainland, and head northeast across Paradise Sound. Intrigued, we looked up the ship on AIS and found it was a ferry that served the outport of South East Bight.
Now, 'outports' refer to year-round Newfoundland communities that are not road-served and we had assumed that the only existing outports were all located on the South Coast, where we cruised in 2012. But an outport in Placentia Bay? Who knew?
With no more ado, we made a sharp turn to starboard and steamed three miles up Paradise Sound to The Bight, which lines several small coves tucked into a large bay munched out of the east side of the Sound.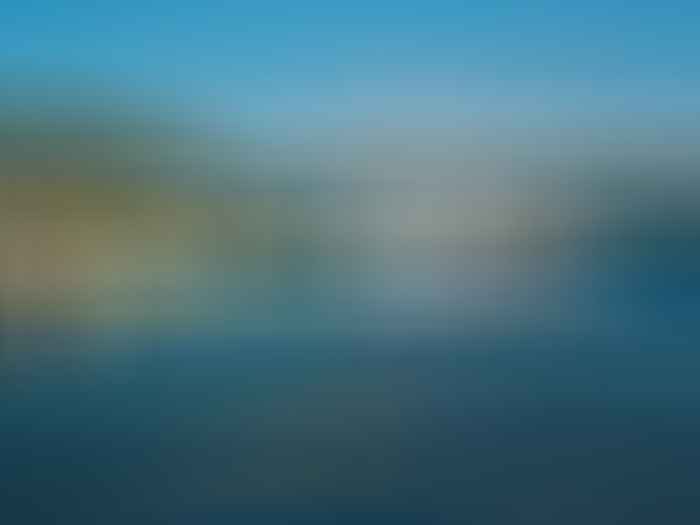 The north-most cove shelters the large tire-festooned ferry dock and a government-built floating dock, covered in fishing boats, with no room for a visiting sailboat.
So that left anchoring, which ended up not being as easy as it looked on the chart. The coves are packed full of boats and wharves and the south part of the outer bay, where we needed to anchor for protection from the prevailing south-westerlies, is a poorly charted rock garden (thank goodness for our forward scan sonar, which saved us from finding the reefs the hard way) and so we ended up having to anchor quite far out into the bay, in 17 m depth, where the swell coming up the Sound could just reach us.
The next morning, a beautiful sunny one, we launched the dinghy and motored into the north harbour where we tied up to the floating dock under the bow of a fishing boat. The boats and docks creaked and groaned in the gentle swell.
A guy working on his speed boat said we were fine to tie up there. He said life was good in South East Bight—he was getting $.68/lb for cod and doing well.
Founded by Rebels
We met Kathleen a short way along the gravel road that lines the harbour, where she was helping her son build a shed for his crab pots. She seemed happy to spend a few minutes in the sunshine talking about The Bight.
She told us that when the government resettled Clattice Harbour, where she was born, and told the residents they had to move to either Placentia, Arnold's Cove or St. John's, her father moved the family 10 miles west across the peninsula to The Bight—which was also being resettled—and said that that was as far as he was going.
The Bight was down to two families when Kathleen's family moved in but the population swelled as others returned in united defiance of resettlement. Today there are 80 full-time residents, with 13 kids in the school, along with several more in kindergarten and preschool. Kathleen said that three of her six kids and their families are living in The Bight.
There's always something on the go in the community—construction of a shed, or a wharf, or a breakwater; boat or road maintenance; people stopping to chat; someone whizzing by on an ATV or heading across the Sound in a speedboat—the entrepreneurial legacy of rebels who wouldn't bow to the government and move to a town.
A Hot Walk
After walking around the north harbour, we turned onto the cement road that leads to the other coves—only one lane wide for the ATVs that are, along with speed boats, the main form of transport within the community—with the intention of walking the 7-km ATV track that starts at the end of the pavement and runs to Great Paradise, a resettled community that we had passed in the boat just before making the decision to head for The Bight.
It was a beautiful day, but blazing hot, and the track, which meandered beside numerous ponds and up and down small hills, was windless. Topping the final ridge and descending into Great Paradise, we were ecstatic to feel a cool breeze coming from the water.
We ate lunch on the hill above the town—now you know why we hike: to get to somewhere nice to eat lunch—looking southwest over the thoroughfare that we had steamed through the day before.
After eating and cooling off, we walked back down into the community, where we met Kevin and Roseanne. Roseanne was born in Great Paradise and lived there until she was in Grade 4, when her family was resettled in Placentia. However, the jobs they were promised didn't materialize and so her father returned to Great Paradise to fish.
Summer in Paradise
Though Roseanne and Kevin reside in Placentia, where Kevin, a successful musician, has a recording studio, they spend a good part of the summer living in her grandmother's house in Great Paradise.
While we were talking with them, Kathleen and her husband came from The Bight in their speedboat to have a chat with Kevin and Roseanne (I have a sneaking suspicion that part of their reason for coming by was to make sure we had arrived safely). And, a few minutes after they left, Kathleen's daughter, son-in-law and grandson also stopped by in their speedboat on their way to Placentia. Roseanne said they have only, in all the summers they've been there, spent one night alone in Great Paradise—a testament to the vibrancy of this small summer community.
On our arrival back at The Bight, Albert and Eleanor, who live in a beautifully-maintained house with a fish store and wharf tucked into the south cove, invited us in for tea—a very welcome beverage after the hot walk. Albert said he used to work at the whaling station at Great Harbour Deep, a resettled community on the Great Northern Peninsula that we visited in 2005.
Not Always Easy
Since that job ended in the 1970s, he has spent most winters working out west in the oil fields or mines. It's hard labour, often in intense cold, with shifts of three weeks on, one week off, leaving maybe five days at home in a month. Though he's applied for jobs closer to home, none are forthcoming, and so he continues to make the trek out west, as so many Atlantic Canadians do. Eleanor admitted that living in The Bight is lonely, what with him gone so much and all their kids living in St. John's.
We spent another night anchored at The Bight and then left early the next morning for Burin, where we had been bound before we took advantage of spontaneity and were rewarded with a wonderful day spent learning just a little bit about what life is like in an outport in Placentia Bay.