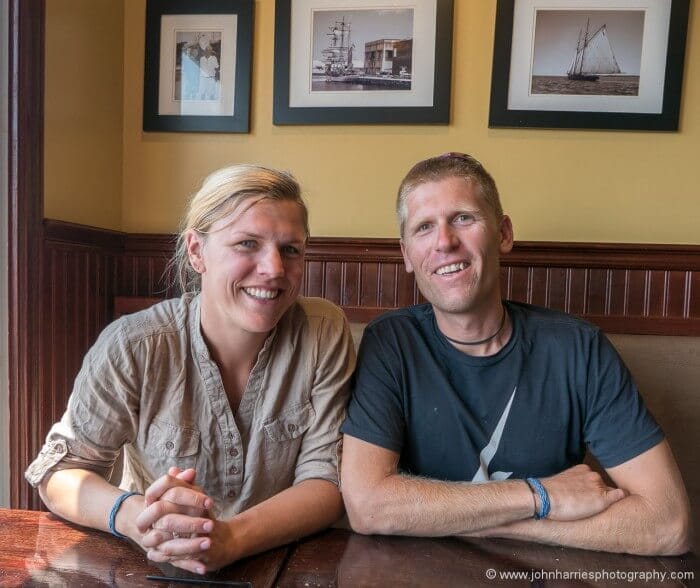 Young People Doing Cool Stuff
Over the last couple of years I have exchanged a bunch of emails and had a few conversations about offshore sailing with Andy Schell, but we had never met. We fixed that when he and his wife, Mia Karlsson, and I had a lunch in Lunenburg where they had stopped by in their beautiful new-to-them Swan 48 Isbjörn that they bought to take paying crews on offshore passages.

I got the distinct impression that these two really know their stuff and are, to boot, genuinely nice people whose passion is sharing the joys of offshore sailing with others—first last and all the time—my kind of people.
Alter all these years around sailors my bullshit meter is pretty accurately calibrated and said meter did not jump off the zero pin even once during our two hour conversation.
We also talked about ways that AAC and their company 59 North can collaborate in the future. Exciting stuff, look for the fruits of us working together in the fall.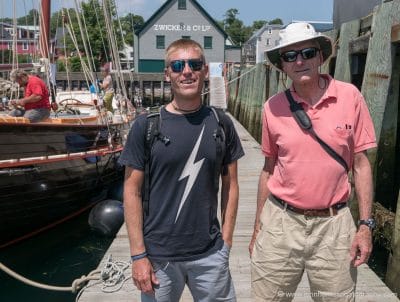 By the way, one of the things that I really love about my position at AAC is that it lets this old fart hang around with cool young people like Andy and Mia—and Matt, AAC Engineering Correspondent, and his wife Katy—who I would not normally get to spend time with.
That Makes us Feel Better
Would you believe that we have been publishing this web site for 14 years! Yup, it's true, talk about the hobby that got out of control. And for much of that time it has felt like we were, to put it mildly, labouring in the wilderness.
Even today, keeping the site financially viable is a continuing struggle, and I would be less than frank if I didn't admit that it gets pretty disheartening at times.
So this quote that Phyllis found on the Daily Good this morning really perked us up:
Giving the people what they want isn't nearly as powerful as teaching people what they need. There's always a shortcut available, a way to be a little more ironic, cheaper, more instantly understandable. There's the chance to play into our desire to be entertained and distracted regardless of the cost. Most of all, there's the temptation to encourage people to be selfish, afraid, and angry.

Or you can dig in, take your time, and invest in a process that helps people see what they truly need. When we change our culture in this direction, we're doing work that's worth sharing. But it's slow-going. If it were easy, it would have happened already.

It's easy to start a riot, difficult to create a story that keeps people from rioting. Don't say, 'I wish people wanted this.' Sure, it's great if the market already wants what you make. Instead, imagine what would happen if you could teach them why they should." Seth Godin
In the past 12 months over a quarter of a million sailors have visited us, so I guess we are finally getting there in our quest to make offshore sailing better and more attainable.
It Was Ever So
John's 1st law of offshore sailing: No matter how well you prepare, something important will always shit-the-bed in the first week of a voyage. In this case the heater. Good that we had the parts required for a fix and knew where they were stowed.
First time in 15 years and over 6000 hours of run time that our Espar has ever let us down. Of course it's a complex machine and there are tradeoffs.
A big thank you to Eddie, lead technician at Ocean Options in Rhode Island who hand held me over the phone through the fix and the full service that I did while I was at it. If you buy an Espar, buy it from Ocean Options, you won't regret it.
From The Far South
I'm not a big video watcher. Heck, I haven't had a television in over 20 years. But I found this short video shot by Alexis Guillaume in Patagonia, on our friends Jean-François Eeman and Jean-François Delvoye's Boreal 44, absolutely captivating—really captures the feel of high latitude cruising, albeit in a different hemisphere than I'm used to.
Enjoy:

This is Comforting
Steve Dashew has a post over at Setsail detailing a plate thickness survey of one of his early aluminum Deerfoots. Over 30 years old and almost no wastage. Aluminum boats age well, here's another one.
Great Boat
We will leave you with a couple of photographs of our friends Thelma and Wilson's beautiful self-built William Atkin-designed wooden cutter Christina Grant. You can click on the shots to see them bigger.