It's been a while since we did a this and that post, so here goes.
An Accidental Purchase
The photo above is the shop window at Arthur Beale, a chandlery (yacht shop) in London.
Earlier this year our friend Alasdair Flint, who we originally met on a dark and foggy night when we talked him into a tight anchorage (using our radar) at Bear Island in the Barents Sea, sent us an email saying that he had "accidentally bought a chandlery"—only an Englishman could put it that way.
Since then Alasdair has put a huge amount of work and creativity into revitalizing this 400 year old (yes, you read that right) London institution. And really, there could be no one better to take the helm at Beale's than Alasdair who, aside from a rather worrying varnish perversion, is a supremely smart and competent offshore sailor as well as a Tilman medal Winner.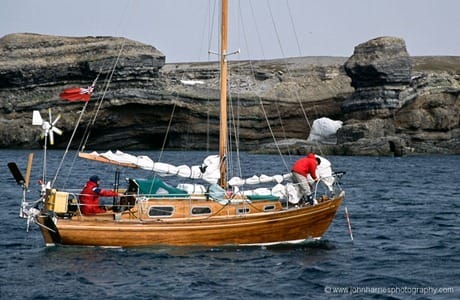 Stop by at Arthur Beale the next time you are in London. In this world of chain stores that often sell rubbish gear, we need to support the few remaining real yacht shops.
59 North Revitalized
Andy Schell and Mia Karlsson are two young people dedicated to offshore sailing—something Phyllis and I really like to see in this ever greying lifestyle of ours. They just remade their website with a focus on their ocean passage and offshore sailing workshop business.
My favourite quote from Andy:
Offshore, it's all about expectations. If you expect life onboard to be like life at home, you won't enjoy it and you probably won't be successful at creating it. It's supposed to be an adventure, so treat it [as] such.
Don't young people say the darndest things…smart too. Of course Andy must be smart since he is a huge fan of the Adventure 40.
You can read a nice interview with Andy here.
Warren Brown
Walk into any sailor's bar in the world and yell out "leaving now", in a distinctive somewhat nasal voice, and several veterans will turn with a knowing look. Those men and women will be some of the scores (maybe hundreds) that raced and cruised with my fellow Bermudian, Warren Brown. They are reacting to Warren's signature cry when his always itchy feet were telling him it was time to go to sea.
I myself owe Warren a huge debt of gratitude for my first high latitude experience on his 62-foot Sparkmen Stevens designed War Baby, a voyage from Arctic Norway to Scotland via the Faroes that, despite its relative shortness, well and truly infected me with the high latitude bug.
Warren has now made his final voyage.
Thank you, Warren, for the huge amount you did for offshore sailing, in your 60 year plus sailing career that included participation in most of the world's great ocean races, an Olympic campaign, and in later years cruises to both the northern and southern high latitudes.
High Latitude Book
Norwegian Jon Amtrup, who we spent an interesting day with discussing cruising guides some years ago, and Bob Shepton, have just published a how-to book on high latitude sailing. Jon was kind enough to send us a complimentary copy, which I have read.
While there are some parts that I disagree with—it was ever so—there is a lot of good and useful information here.
The book could do with a much tighter content edit as well as a good copy editor but, having said that, I have sympathy with the problem of how much time and resources Jon could reasonably throw at a text that will in the end sell relatively few copies.
Worth getting if you are heading north.
Safe Wifi

A few years ago I wrote a post about the importance of using a Virtual Private Network when on public WiFi. Since then we have been using WiTopia, with generally good results.
One More Thing
Happy New Year to all our readers.