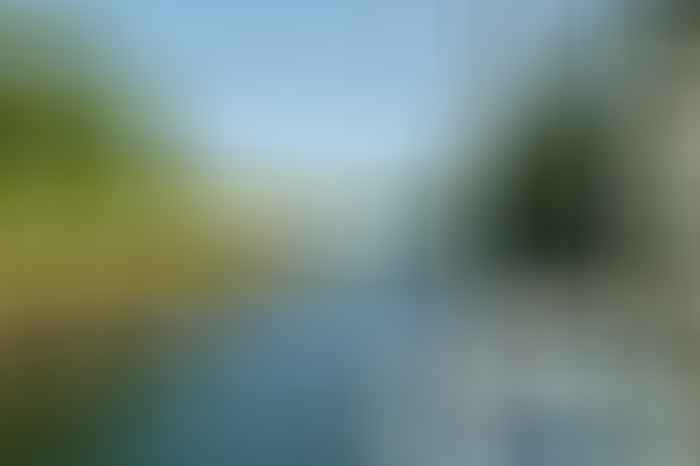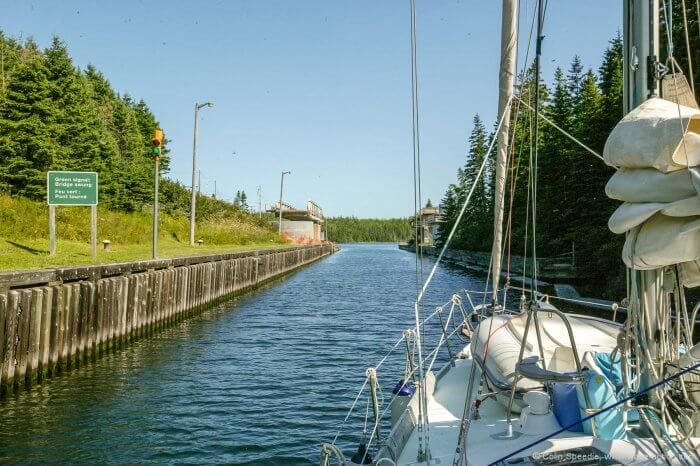 When we entered the Bras d'Or Lakes last year it was pure business for us, as the end of the season was beckoning and we planned to haul Pèlerin for the winter at Baddeck. Which is never the way to take in a place in all its glory as things are too rushed, deadlines approach with unnerving speed, lists are being made and the phone, silent for so long, starts to ring relentlessly. Which is not cruising, but commuting…
But even so, the place worked its magic on us and even as we prepared to bid a sad farewell to Pèlerin, we were mentally noting the places we'd like to explore on our return.
Getting ready to leave a boat in a far distant land for months on end is never easy, but with careful preparation and safe hands at the yard, once you have done your best it's time to leave without a backward glance.
We weren't unduly worried, as we were confident that she was indeed in safe hands with the great team at Baddeck Marine, who would look after her as if she were their own. And so it proved, so when we returned this summer we were able to take to the water once more without any major issues, ready to start exploring the Lakes at our leisure.
Completing The Formalities
Before we could do that, though, we first had to clear out of Canadian waters to complete the formalities that would allow us to spend a second season sailing in Canada. So on a breezy afternoon we slipped out through St Peter's Inlet into a stiff south-westerly to beat our way out beyond the National 12-mile limit.
Once out into international waters we took a photo of our plotter screen displaying our position as evidence that we had complied with the letter of the law before making a swift about turn and enjoying a fast reach back to St Peter's Inlet ready to begin our stay in the Lakes.
A Sensible Way
In this way, the Canadian authorities have come up with a really sensible regime to allow foreign yachts to stay for more than one season in their waters and enjoy all they have to offer—after all, there's so much to see that one season could never be enough.
This enlightened approach benefits everyone, visiting yacht crews, boatyards, marinas, shops, bars, restaurants and basically the entire local economy. Obviously, it will only work as long as we yacht owners respect the terms of our stay, but that's no hardship. What a sane and well thought out policy!
Anticipation Can Ruin Reality…

When everybody you meet who has visited a cruising ground raves about it, it can cause you to raise your own expectations too high, which can only set a place up for a fall. So it would have been easy for us to tumble into that trap with the Bras d'Or Lakes as we had heard nothing but positive things about them since we had left Britain nearly ten years ago. As a result, they were high on our bucket list of places not to miss.
Happily, the Lakes lived up to their reputation, being beautiful, far from busy and with an amazing selection of secure, remote anchorages. Other pluses include the sheltered waters—even when it's blowing hard there's next to no sea running—the tiny tidal range and the lack of any strong currents except in the channel between the main Lakes and the northern exit to the sea.
For those of us who have sailed the Nova Scotia or Newfoundland coasts to arrive here, challenged by the cold, damp fog that regularly besets those shores, the warm and relatively fog free nature of the Lakes also offers a welcome respite.

There are easily accessed pitstops to refuel and stock up on supplies at St Peter's Inlet and Baddeck. The local Lions Club run the marina at St Peter's, where yachtsman's friend Gerry Gibson will look after you.
Baddeck Marine can offer most technical services and a range of spares should you need support. In short, it's an almost perfect small cruising ground for a few weeks (at least), especially if you are in no hurry or are drawing breath on your way back from Newfoundland or even Greenland.
Fine Anchorages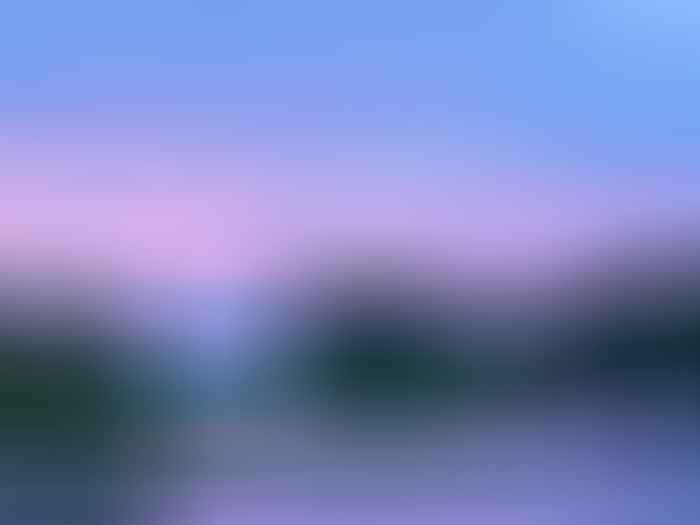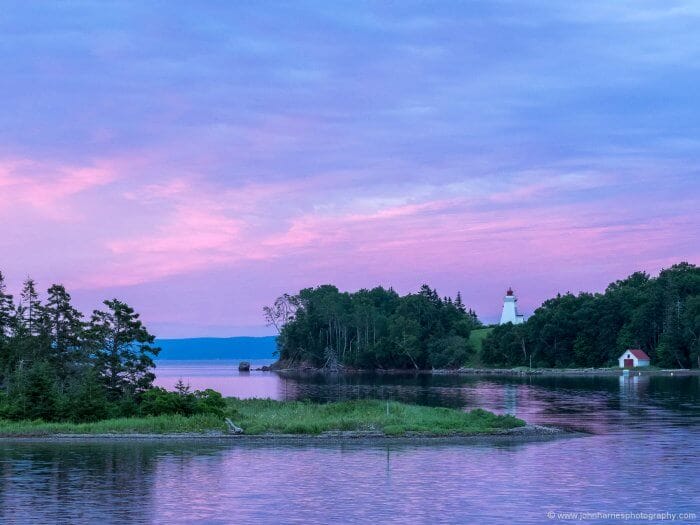 Some of the anchorages are justifiably famous, such as Maskell's Harbour, an almost landlocked pool with space for a substantial fleet of boats. Of course, such places tend to become over popular, but in the case of the Lakes that's a relative thing and we never shared the place with more than half a dozen boats at the height of the season. Besides, if you're really reclusive it's easy enough to get away from it all and have an anchorage to yourselves as we did on many occasions.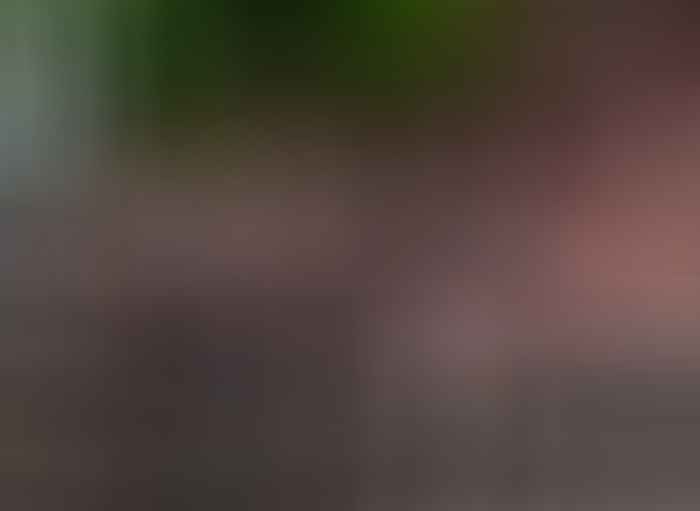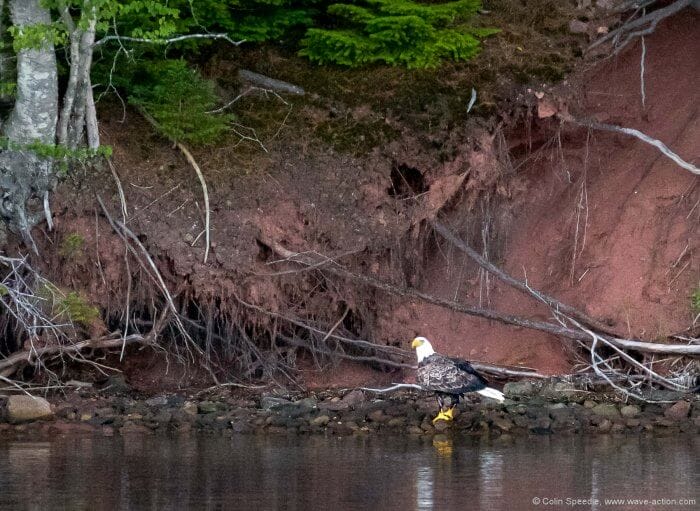 We enjoyed total peace and quiet during a spell of windy weather in both Indian Cove and Deep Cove in the Washabuck River, the latter almost a hurricane hole, perfect for our shoal draft Ovni.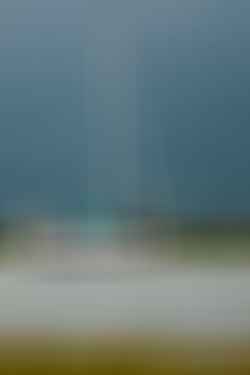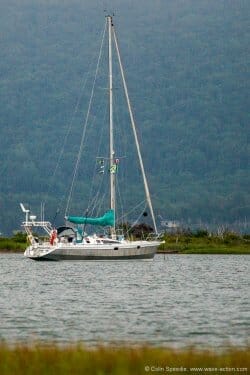 We also had several lovely days in the Indian Islands, close to the main settlement of the Mi'kmaq, the local First Nations people, disturbed only by sparring bald eagles and ospreys. And so it was with dozens of other inlets and coves, most of them almost undeveloped and traffic free, though we did notice an ominous rash of real estate signs on the shore line in many beautiful coves, especially those closest to 'civilization'.
Many of us judge the beauty of a place by how closely it resembles its native state, prior to man's arrival. It's easy to get sniffy about this and view the sight of a lone pylon as a sure sign of ruination, whilst at the same time enjoying the conveniences of the nearby shops and laundry facilities that the power line is going to. Perhaps the sanest way to view this is somewhere in between, in which case the Bras d'Or Lakes should definitely be on your 'must visit' list.
The Call of Home
Emigrants always carry home close to their hearts, as evinced by their habit of naming places after their lost homeland on arrival. So passing through the Barra Narrows between the great and little Bras d'Or Lakes looking up at the pretty white painted Iona Church took us back to where many of the local families originated from, the Western Isles of Scotland.
Ashore the Gaelic influence is strongly felt, too, with a nightly ceilidh in Baddeck, and the annual Celtic Colours Festival on the island each autumn that hosts fiddlers, pipers and story tellers from around the Scottish diaspora.
None of it is just a cheesy recreation of a lost era, either—Cape Breton continues to produce some of the finest traditional musicians anywhere in the world, who keep the spirit of their origins current and vibrant in the very best of ways. As autumn also offers some fine weather to watch the changing colours of the trees, too, maybe that's yet another reason to visit this charming place.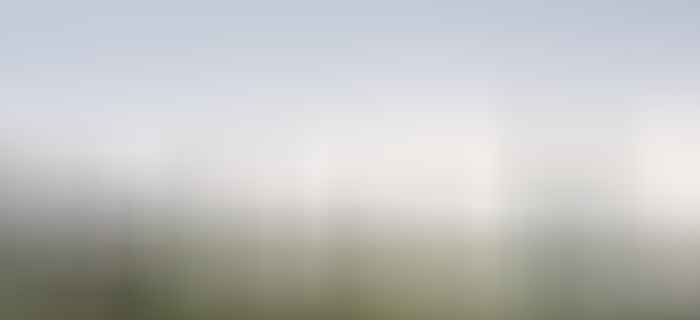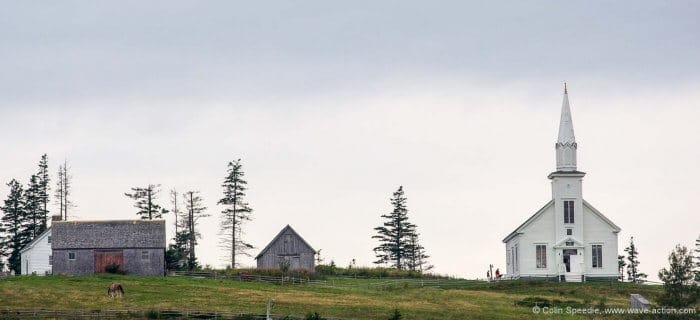 Meeting Friends
During our stay in the Lakes we had arranged to meet up with our German friends Martin Hollenhorst and Lydia Goll, owners of the Boreal 52 Cheglia who were travelling through on their way to Newfoundland. Being connoisseurs of fine food, they had already identified a suitable venue for us to get together at the Cape Breton Smokehouse, on the shores of Little Harbour, yet another almost landlocked pool with almost total shelter from wind of any direction.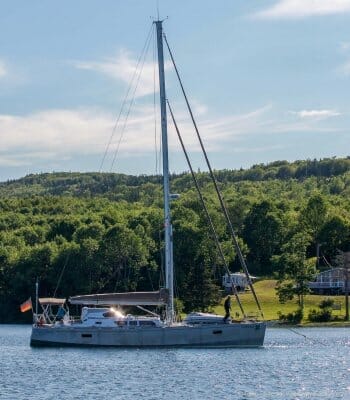 Now I last saw Cheglia as I left her in the marina in Porto, Portugal almost a year before, since when she had put quite a few miles under her belt.
Having assisted Martin and Lydia with her build I (as always) feel a strong connection to this powerful boat, just as I had with Christopher and Molly Barnes' Sila and all the other Boreals that I have worked with, so to watch her come powering through the narrow entrance channel after crossing an ocean was quite a moment.
Anyone who thinks that a yacht is just a machine is missing the point. Sailors have always known that the craft that carry them safely across an ocean have a soul—who amongst us hasn't patted a cockpit coaming and muttered "thanks for looking after us" after a torrid night watch?
Having been so closely associated with her and sailed aboard her, too, I feel that same mix of affection and respect that all good owners have for their craft. To see her again and to hear Martin and Lydia's tales of their travels was a real tonic.
Good Food Too
As was the fine meal we enjoyed at the Smokehouse, which is an extraordinary place, a giant log cabin with amazing views over the anchorage. Owned by a charming German couple who arrived here on their own liveaboard ketch and decided to stay, we were the only guests that night and so had the best views over Pèlerin and Cheglia, followed by a quiet evening on the pontoon below watching a resident beaver doing his rounds as the sun went down. Even the substantial mosquitoes couldn't mar such a special evening.
And I wish that the slab of house smoked salmon that we bought to take with us should have been never ending, just exquisite.