Twenty-five miles in five days. Wow! We are slowing down in our old age.
But, in our defense, there was a CCA raft up at an anchorage only five miles from Base Camp on our first day out, and then we needed a day to recover from the social whirl.
Day three we had the rig to tune under sail (i.e. sailing to windward on starboard tack while we tighten the port shrouds a half turn…eye it…tack to port…tighten the starboard shrouds half a turn…eye it…repeat as necessary), which meant we only got another 20 miles east.
And then the heater packed it in, so we spent the fourth day replacing the blower motor (which might or might not have fixed it—it's an intermittent problem, which is the worst).
However, on day five we were determined to finally make tracks, so we set our sights on Shelter Cove, 60 miles east. That morning we got the boat into coastal daysailing mode, retrieved the anchor, and steamed out of sheltered Scott Cove.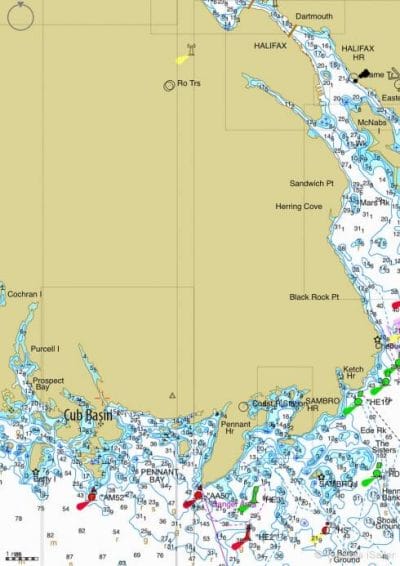 Outside the anchorage the wind was 15 knots right on the nose, with a forecast for it to pick up, accompanied by thick fog, heavy rain, thundershowers…John and I looked at each other, said "screw it", turned hard to port and entered Cub Basin, where we have never anchored before, a big five miles from Scott Cove.
I have to say, that was one of our better ideas. Cub Basin is our kind of anchorage: lots of room, several anchoring possibilities for various wind directions, and even two possible entrances, depending on wind and wave conditions.
The only visible sign of humans in the anchorage were a few small cairns on a little point off our stern and the occasional troupe of kayakers transiting the torturous channels between the islands that surround the cove.
And we heard sirens once from the little community of Prospect, which is only a few miles away, and a few planes on their approach to Halifax Airport, which is actually a long way away, but otherwise the only sounds were the warbling of wrens, chirping of ospreys, and squacking of great blue herons—not a bad accompaniment to the lapping of water against the hull.
I could feel my shoulders relaxing and my mind slow its twirling as I started to depressurize from the past month of last minute boat fixes, provisioning and moving aboard, and dealing with Base Camp, AAC, and family issues, which always seem to crop up just when we are getting ready to head out.
It made me realize once again how fortunate we are to have the opportunity to "run away with home", as John and I call cruising. To anchor all alone in a lovely anchorage like Cub Basin, to turn off the phones and the computers for a few hours, and to sit in the cockpit doing nothing except looking and listening to the beauty around us.
And then the fog got really thick, and we could have been a million miles away from anywhere, instead of just 25 miles from Base Camp.