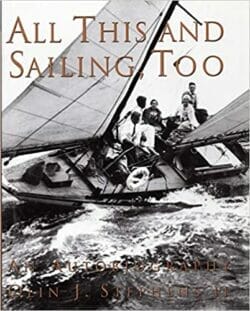 I just finished reading Olin Stephens' autobiography All This and Sailing, Too and highly recommend it.
It's a beautifully written account of the amazing life of arguably the most influential person in recreational sailing in the last hundred years, maybe ever, including many wonderful photographs and fascinating line drawings.
The book was edited (very well) by John Rousmaniere (author of Fastnet Force 10 and many other important books about sailing) and Joseph Gribbins.
Stephens seems to have been a genuinely nice person, with none of the bluster and ego that having so much influence engenders in so many—think a certain rocket-man who also builds electric cars.
And if you, like me, came to sailing in the second half of the last century, there are fascinating, and kindly told, insider stories of many of the iconic boats, races, and sailors of our time to enjoy and reminisce over.
And even if you came to our sport after the heyday of Sparkman and Stephens' designs, reading this book will give you a better understanding of why boats are the way they are and how to choose one that will take you across the world's oceans in safety and comfort, and quickly.
You will also read Olin's fond and admiring stories of his brother, Rod, who was one of the best yacht seamen of all time. Rod had a relentless drive to do stuff right, from correctly forming a split pin to keeping an engineless yawl named Dorade, and later another yawl named Stormy Weather, (both designed by Olin) safe from harm, while winning many of the world's toughest ocean races.
And all this before the availability of aids we take for granted today and well before the brothers reached their 30th birthdays.
We might be able to call the names of other individual sailors to rival either Olin or Rod Stephens in our world of sailing—I have to confess that I personally have always preferred the boats from McCurdy & Rhodes to those of S&S—but there has never been, and probably never will be, two people in sailing to rival the brothers Stephens as a team, or the accomplishments that synergy created over some 60 years.
While reading the book I felt a special connection to Olin Stephens because, like me, he never finished university (I never started) and, like me, he always regretted that and particularly not going further with mathematics, although he was certainly way ahead of me.
And, while I only ever met him once, and then only briefly, Rod Stephens has always been the seaman I have aspired to be. When I'm considering taking a shortcut or not completing a task properly, I sometimes say to myself, "What would Rod Stephens say about that?", and buckle down.
Now, for my library, I need a biography of Jim McCurdy…yes, Sheila and Ian, that's a not-so-subtle hint.
Comments
Have you read any good sailing book lately. If so, leave a comment and help out those stumped for a holiday season gift.
We don't use Amazon affiliate links and therefore do not make any money if you buy this book.