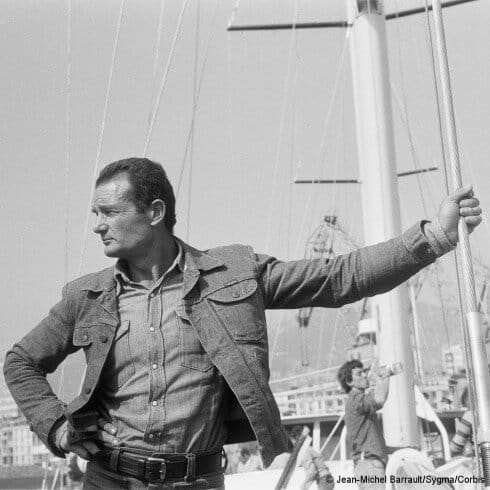 The red trimaran alongside us crashes through another short steep sea and a jet of water with the ferocity of a fire hose blasts her from stem to stern as she claws her way upwind into a steady 35 knots at the start of the 1986 Route du Rhum race off the French port of Saint Malo. I haven't caught a clear view of the skipper for the last five minutes and I ponder whether he, like myself, is wondering what on earth possessed the organisers to start a single-handed Transatlantic race in such northerly waters in early November.
Not that it has dampened the enthusiasm of the public for the event. An estimated 2 million people visited the city in the week prior to the start to view the yachts and catch a glimpse of their national sporting heroes. And on this foul morning they are out in force, with approaching 100,000 people watching from the cliffs between here and Cap Fréhel. And arguably the reason they are here is largely because of the man on the trimaran I've been straining to see—the legendary Éric Tabarly.
Éric Tabarly was born into a sailing family, his father owning one of William Fife's beautiful creations. Named Pen Duick, built in 1898 in Ireland, the young man loved this yacht like no other, and she was to remain a constant figure throughout his life.
After his father gave him the yacht in the early fifties, she was found to be as rotten as the proverbial pear, and a lesser man would probably have given up and scrapped her. But in 1956 Tabarly set about rebuilding her, taking a moulding off the original hull and laying up a new one in glass fibre—at the time the largest such hull in the world. She was far more than just a boat to him and he wasn't going to let her die.
Serving in the French Navy allowed him the time and opportunity to sail aboard their fleet of yachts, and he soon made a name for himself as a competent and highly competitive skipper. A series of Pen Duicks ensued, each bearing his imprint as a relentless innovator, and the victories soon followed. In a remarkable career he won just about every major ocean racing event, single handed or crewed, from the OSTAR (twice) to the Fastnet and the Sydney-Hobart, in a racing career that spanned nearly 40 years.
His Greatest Victory
For me his greatest victory has to be the 1976 Observer Single-handed Trans Atlantic Race, an absolute war of attrition, which saw the fleet decimated by five severe gales from the West, one after another. Sailing the 73ft ketch Pen Duick VI—a yacht designed for a crew of 12 to contest the Whitbread Round the World Race—Tabarly saw his self steering gear smashed just a few days into the race, but decided to continue anyway. Radio out of action, navigating through fog for the last miles, he had no idea what had happened to his fellow racers until he arrived off Newport after 23 days to claim his second win in this toughest of events.
Design Philosophy
His design philosophy? Simple, strong and light should sum it up. One of the first to adopt aluminium construction (Pen Duick III from 1967) he was also an early promoter of multihulls, starting with Pen Duick IV. But for me the greatest of his boats was the smallest, the 35ft Pen Duick V. With her light displacement, wide stern, flat underbody and water ballast, this pocket rocket is arguably the forerunner of the Vendee Globe boats of today, and was lethal in competition: In 1969 Tabarly won the single-handed Trans Pacific Race in her by more than 11 days over the second placed boat.
Not that he wasn't also capable of getting it wrong. Pen Duick VI was dismasted twice in the 1973 Whitbread, the race she had been designed specifically to win. And the depleted uranium used as ballast caused her to be disqualified from a number of future races and alarmed many of his young crew members, who feared that their chances of future parenthood might be drastically reduced by sailing aboard her…
And His Crews
A guy I knew who sailed with him regularly told me that as far he was concerned, crews were no more than a nuisance to Tabarly, who would have done without them to save weight if he could. Sometimes if a job needed doing he'd simply elbow them out of the way. If it hadn't been for the fact that certain races specified a crew, he simply wouldn't have bothered—and I wasn't entirely sure he was pulling my leg. Whether true or not, he did inspire great loyalty amongst most of his crews members, and his campaigns became an academy for future French talent, some of whom are still at the peak of their careers today. Olivier de Kersauson, Philippe Poupon, Jean le Cam, Michel Desjoyaux, the Pajot Brothers, and many more benefited from their time aboard with Tabarly.
And Cruising?
All the time that he was breaking records he was saving money and working on his first love, the elegant Fife designed Pen Duick, restoring her to her original glory. As his racing career wound down she soon became a familiar sight at classic boat festivals and regattas with Tabarly and his friends enjoying her. Marrying and starting a family late in life, restoring with his own hands a beautiful old French farmhouse on the banks of the Odet river with Pen Duick on her mooring below, Officier de la Légion d'honneur, and a national idol, a happy, well-deserved retirement beckoned.
But Pen Duick still had to be sailed, and Eric loved to be amongst other enthusiasts for the glorious Fife designs; despite a reputation for taciturnity, few who met him said that this was so, unless reporters were around, when he clammed up entirely. In May 1998 Pen Duick celebrated her 100th anniversary amidst a fleet of Fife designs in her home waters, following which she set off to take part in the Fife regatta at Fairlie on the Firth of Clyde in Scotland, the birthplace of many of the surviving Fife designs.
Pen Duick lay stormbound for several days in Newlyn, Cornwall, awaiting a break in the weather to round Lands End. Anyone who knows these waters will be aware that that's only the first of your worries as the next major tidal gate between south-east Ireland and south-west Wales awaits you 24 hours later, and it's one of the nastiest pieces of water around Britain. A confluence of ferocious tides, shallow waters and the mighty Atlantic swell make this a place to get past as quickly as possible.
During the night of the 12/13th of June 1998, whilst approaching the Pembrokeshire coast, the wind and sea got up and the decision was taken to shorten sail drastically. Éric Tabarly was working alone on deck stowing the main when the boat rolled badly, the swinging gaff struck him and he was pitched into the sea. On a dark night in such a place and in such conditions, even the most experienced of crews would have struggled to retrieve a man from the water, and despite their best efforts he was soon lost from sight. So ended the life of France's greatest sailor, tragically lost from the boat that he had spent a lifetime preserving.
His Legacy
It may seem strange to have an Anglo Saxon say this (after all, he spent much of his career beating us!), but I don't think sailing would be the same without him—and not just racing, either. Inspired by the exploits of Éric Tabarly and Bernard Moitessier (talk about the yin and yang of sailors!) the French public embraced sailing as the national pastime, which in turn spurred the development in the 1970s and onward of the colossal French boatbuilders (Dufour, Jeanneau, Beneteau, to name a few) who went on to dominate and democratize yacht ownership not just in France, but around the world, too.
In France, of course, he remains a much-celebrated legend. Most of his Pen Duicks are still actively sailed (as I'm sure he'd have wanted), and as a result his exploits live on. Fifteen years, to the day, after his loss at sea from his beloved Pen Duick, I'm sure I'm not alone in wanting to pay respect to a man who embodied so much that is best about France—a fierce, brave, competitive patriot who loved the sea as much as he loved his home country —Chapeau! Éric.