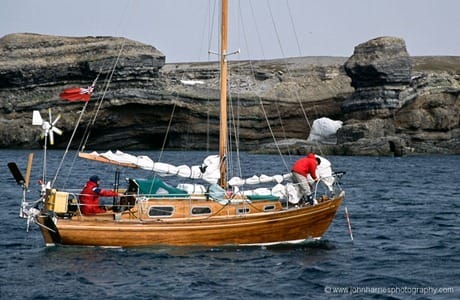 On our way to Svalbard (Spitsbergen) in Morgan's Cloud in 2002, we stopped at Teltvika, a cove on the west side of Bjørnøya (Bear Island), a virtually uninhabited island which lies at the halfway mark on the 550 nautical mile passage from Norway.
During our second evening at Teltvika, the fog came in pea soup thick and the wind started to blow hard. Around dinner time a very English voice came over the—until now silent—VHF, saying it was the sailing vessel Sumara calling for Bjørnøya Radio, a radio relay station on the north coast manned by a few Norwegians. When they were unable to raise Bjørnøya Radio, John managed to connect with them, only to find that they were hoping to anchor in Teltvika for the night.
As Sumara didn't have radar and the entrance was an uncharted rock garden, John talked Alasdair and crew in between the rocks using our radar and, when we saw that they were just off our stern, John suggested they drop the anchor. (All this without ever seeing a sign of them, the fog was so thick.)
Imagine our surprise when we got up the next morning to no fog and the sight of a 26' Vertue, brightwork hull, anchored just off our stern! And that is the story of how we met Alasdair, Sumara's owner.
Well, Alasdair is getting ready for a very challenging voyage this summer: His goal is to sail to Jan Mayen and climb Beerenberg, the 7500-ft ice-topped volcano that towers over the island. He then hopes to sail to East Greenland before returning to the UK.
Alasdair and his crew are going to great pains to prepare themselves and S/V Sumara properly for this immense undertaking. You can follow his adventures on his website. I promise it won't be boring—Alasdair has a great sense of humour, most of it aimed at himself!