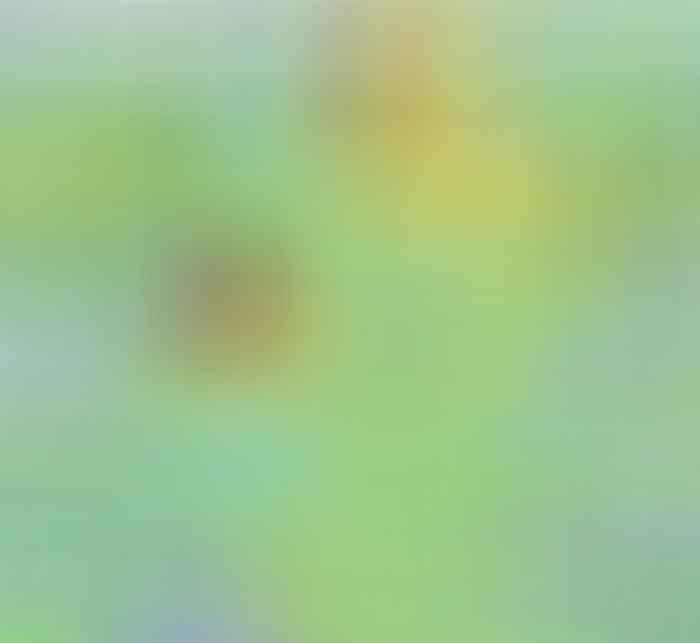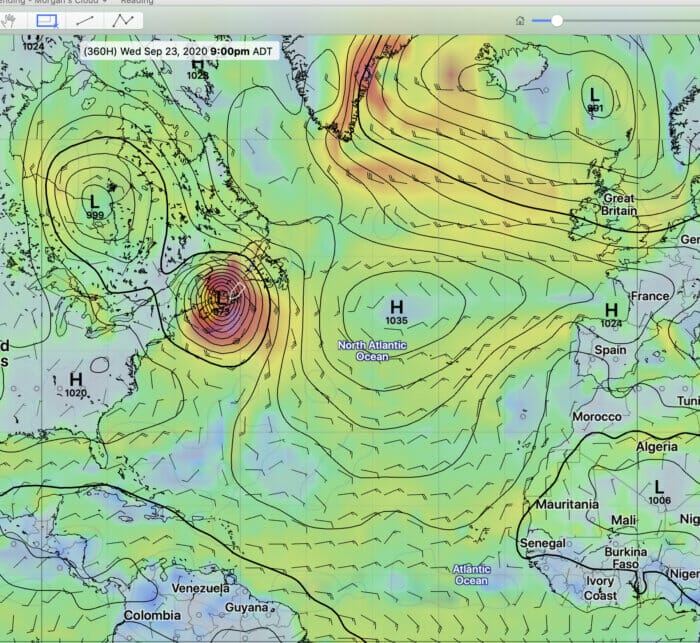 Here is something totally and utterly banoodley, gob smackingly, amazing.
The screen shot above, from my favourite GRIB viewer Luckgrib, shows a tropical nasty named Teddy hitting Nova Scotia on Wednesday 23rd September…but that's not the amazing part, given that's exactly what happened.
The part that just blows me away is that the GRIB comes from a GFS run on Tuesday 8th September…I'm pausing for a moment to let that sink in…that's right, two weeks before Teddy hit us!
If that doesn't blow your socks off, well, you're just not paying attention.
But wait, it gets even more incredible. This screen shot is from the same model at hour zero, over two weeks before the opening graphic, and it shows absolutely no sign of Teddy—the two lows to the west of Africa became other storms.
That's right, somehow the meteorologists, mathematicians and programmers at NOAA have built a system that detected a camel fart in the African desert, or whatever it was that touched off the tropical wave that became Teddy, and accurately predicted that a hurricane would strike Nova Scotia two weeks later.
And not only that, the positions of the surrounding systems—high pressure over the Great Lakes and low over the Labrador Sea—are about right, too.
OK, they were a little off on the time and place Teddy came ashore. What am I saying? Anyone who bitches about that is…be kind, John…an ungrateful idiot.
I admit this example is exceptional, but I'm regularly seeing the GFS predict storms, both tropical and mid-latitude, 10 days out. And it's rare not to get seven days warning.
But Only If We Use It
I  wrote a bunch three years ago, after getting back from Labrador, about how we pulled off our entire cruise without any weather surprises, using these tools and some others, and we had the same experience circumnavigating Newfoundland two years ago.
The big take away here is that all of us yachties need to be regularly looking two weeks out, particularly at this time of year, and increasing our understanding of how to use these tools strategically to plan our voyages, both ocean and coastal, rather than just thinking about the area immediately around us and only a few days out.
There is now little or no excuse for getting caught out far from good storm shelter or with the boat unprepared, at sea or in harbour.
Also, it might be worth giving the next NOAA meteorologist you see a great big hug…oh wait, there's that COVID thing, maybe not.
And, finally, a big thanks to you Americans who pay for this through your taxes and then share it with the rest of the world for free.
Bad News and Good News
And here's another thought. There is no question that climate change is causing more frequent and violent weather, and that this trend will only get worse. But at the same time these advances in weather modelling are giving us two to three times longer warning of impending bad stuff—I used to assume three days, I'm now seeing at least six and often nine—so that will go a long way to keep offshore voyaging viable in future years.
And Bad News
However, none of that means that we should go to sea, or even coastal cruise without preparing for the worst, particularly great anchoring and offshore storm survival systems. These models are truly incredible, but, in Phyllis's words, it's still
a forecast, not a prophecy.
Further Reading