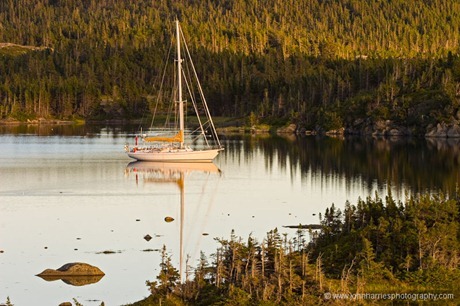 It always amazes me how often you see boats motor into an anchorage, choose a spot, seemingly at random, and then immediately drop the anchor with no more ado. And it's not really surprising how often the same boats go through the whole anchoring process again because they ended up too close to the shore or another boat.
Over the years Phyllis and I have developed a method of anchoring that means that we just about (no one is perfect) always anchor so that we don't have to move and so that we can sleep soundly without worrying about a nasty crunch from swinging into shallow water or another boat.
The Eye is Not Good Enough
It may come as a surprise, but even after years of anchoring, we have learned that our visual estimates of distance are very often way out, even though we use a visual trick of imagining our own boat's size and then laying multiple Morgan's Clouds out end to end in our mind's eye.
There is a better way:
How Big a Circle
Our first step is to determine how much scope will be required by checking the water depth in the anchorage from the chart or with the sounder after making a rough guess of where the anchor will go. We then calculate the length of the rode by adding the height of the bow to the water depth at high tide and then multiplying the result, preferably by five but never less than four (we like to sleep well), to yield rode length.
Radar as an Anchoring Tool
We then set the result from the above calculation, plus a boat length, on the variable range marker (VRM) circle on our radar. When doing this it is helpful to know that 0.01 of a nautical mile is equal to about 60-feet (18.5 meters). In fact we have this marked on our radar with a labeller—if you can't be smart, be methodical, we say.
The resulting radar display gives us a good idea of the relationship of our anchor circle to the shoreline and any fixed obstructions, such as an unoccupied mooring that won't tend to move much with a wind shift. (Anchoring in harbours crowded with other boats is the subject for another post.)
If there is plenty of room, the radar display will enable us to position the anchor properly with no further ado. We just place the radar circle about in the middle, perhaps with a bit of bias away from the expected lee shore, well clear of other boats and the shallow areas that can be determined from the chart, and drop.
A Radar Example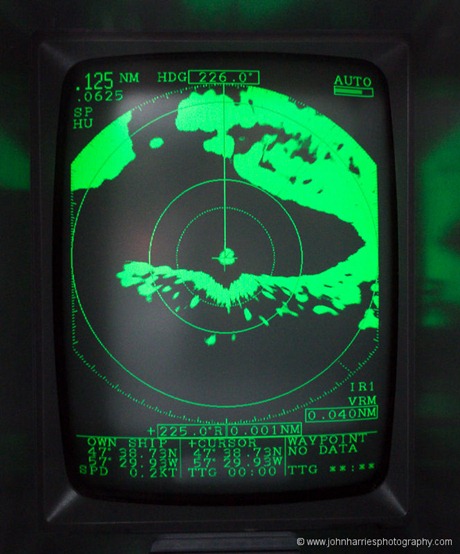 In this case shown above we had determined that we needed at least 150-feet of rode plus 56-feet of boat so the VRM (dotted circle) is set to 0.04 nautical miles or 240-feet. We were just able to anchor in the middle since the shore was steep to. In making your calculations when things are this tight, you do need to take into account the position of the scanner when dropping the anchor. In our case, because our scanner is aft, we biased the drop point a little aft of the center of the anchorage. (Note that the above image was made after we had anchored and does not indicate where the anchor is laid.)
Difficult Anchorages
But suppose the anchorage is only barely big enough. And let's make this really hard. Suppose the chart is not accurate or the datum is a bit out, which will displace our GPS position, or both. It's amazing how often we find these conditions, even in supposedly well charted places. Or, suppose you are not blessed with radar.
In these cases we need to make our own chart—well, sort of. To do this we very carefully and slowly motor around the edges of the anchorage getting as close as we dare to areas that will be too shallow for us at low water. (Prior to coming into the anchorage, we look up the state of the tide and check what the maximum drop from the current level will be over the time we plan to stay.)
Counter Clockwise
We nearly always do this scan of the edges of an anchorage in a counter-clockwise direction. Why? Because Morgan's Cloud has a right hand propeller and therefore if we reverse hard in the case of getting too close to a shallow patch, or even touching the bottom, the stern will kick to port, which will be the direction of deep water. Of course, it's a lot better to play this game on a rising tide.
Clunk is Better Now Than Later
Sure there is a risk of touching bottom, but as long as we keep the speed below about a knot, we should be able to reverse off. And we would rather touch in daylight with everyone on deck and alert, than at zero-dark-thirty in a raging thunderstorm.
Sonar is Cool
We have a forward scan sonar, which makes this easier, although not as risk free as you might think since the machine only looks out about three times the water depth, so when we are getting close to grounding we are only really looking out 20-feet. The point being that you can still do this with a normal calibrated sounder—you did calibrate yours, right?—and someone on the foredeck to look for rocks.
Once we have made a full circle it is a simple matter to examine our track on our plotter and check that the total diameter is enough to accommodate our potential anchoring circle. Then, assuming that the anchorage is big enough, we just move to the center of our circle and drop, secure in the knowledge that as long as we don't drag, there will be no bumps in the night.
"Charting" Example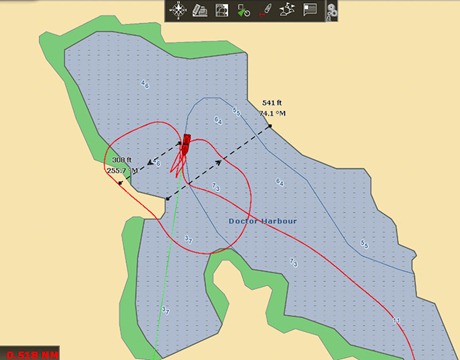 In this case the datum was out, so that just trusting the chart and setting the anchor in the middle would have resulted in hitting the shore. Also the chart seems to indicate an anchoring area of nearly 500-feet across, but in fact the actual usable area is more like 450-feet. Note that although the diameter of our traversed circle is only about 350-feet, because we were using a forward scan sonar, we were looking out another 50-feet or so at the steep-to shore either side and were therefore able to determine that we would be just OK with 150-feet of chain out. A tight anchorage to be sure, but using this system, we knew we were safely anchored.
Comments
How do you determine where to anchor? Please leave a comment.
Further Reading