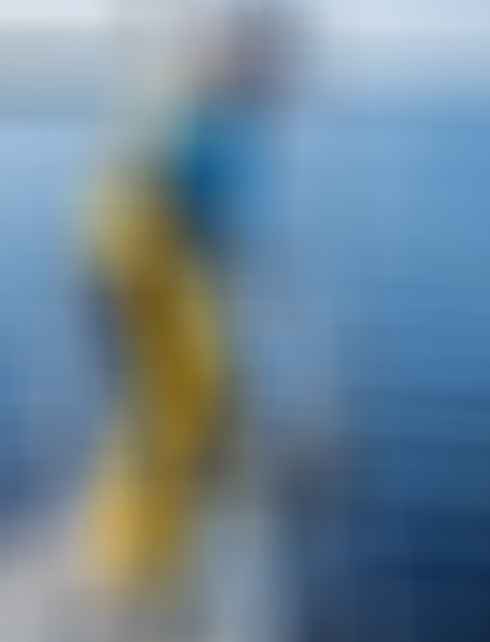 Want to save a bunch of money?...I mean really big money?
Buy and install a really good deck washdown pump.
"Huh? OK, now John really has lost his marbles", I can hear you say. But read on, this piece of gear could save you thousands of dollars, pounds, or euros every year.
The reason is that in cruising grounds where muddy bottoms predominate (most?), one of the worst chores is cleaning the anchor rode off with a bucket, particularly if said rode is chain.
So picture this: It's the end of a long day. There's a good anchorage but there is also a marina not far away. What are you going to do?
We have to be up early and gone in the morning and cleaning the chain means half an hour earlier out of bed.

But that marina is $3.00 a foot so it's going to cost us $135 plus tax!

I know, but my back hurts and bucketing kills it.

Oh, OK, just this once.
Wait, it gets worse:
And since we are at the marina anyway...well, we might as well have a drink at the bar.
And later...
I'm pooped and don't feel like cooking, let's have dinner at the restaurant.
By the time you get going in the morning, your credit card has taken a $400 hit.
And pretty soon, despite the best intentions to always anchor out that you had when you started cruising, checking into a marina, or picking up a mooring, becomes a habit. A habit that can easily cost you five to as much as ten thousand of your preferred currency a year!
But, if you had had a good deck washdown, none of this would have happened.
There's More
Of course, having a decent deck wash is only part of making anchoring easy. You need to put a whole system together that includes:
An anchor that sets easily and that you can rely on not to drag.
An anchor locker that stows all your rode without the need to hand flake it.
A bow roller that lets you safely stow your anchor for sea by simply tensioning the rode and locking off the brake.
You can find out about all of that in our Online Book, Anchoring Made Easy.
The goal here is to get to the point that anchoring is little more trouble and aggravation than parking a car, as it is for Phyllis and me.
I know all of this sounds like a lot of work and expense, but when compared to marina charges—over 10 years, say 50,000 to 100,000 of your preferred currency—building and learning to use a good anchoring system becomes the deal of the century.
Tips For Washdown Pumps
Here are some tips for buying and installing a good deck washdown pump:
To continue reading:
Or
Or