A real world example demonstrating how each of us must think carefully about our own needs when selecting an anchor, not just blindly follow tests or anecdotal reports.
We can learn a lot from field reports, as long as we select the right ones to learn from and keep an open mind.
John forgot two important anchor selection criteria in the last article, so this one fixes that.
Let's support a guy who is making a real difference.
Colin shares some techniques he was reminded of while spending the summer cruising the south coast of Newfoundland, a challenging place to anchor if ever there was one.
There are so many anchors and so many conflicting claims it's hard to know what to buy. In this chapter we cut through the fog with clear recommendations of the anchors that work and a warning list of those that we don't trust.
Colin shares his technique for making sure the anchor is well set.
I have written in the past about our distrust of moorings and how we generally prefer to be on our own anchor when the winds blow hard. However, there is one exception to that rule: our own mooring at our Base Camp.
Chafe-Pro provides an off-the-shelf solution for protecting vulnerable lines from chafe.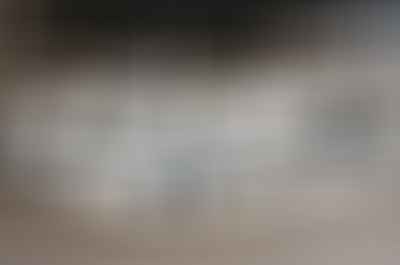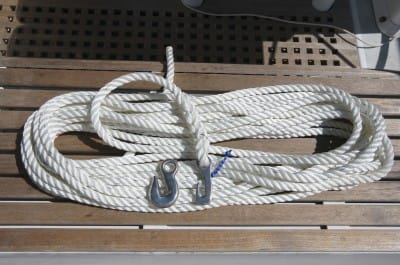 During our time in the Rias of Galicia we've enjoyed many comfortable nights at anchor. But as is the case in any area surrounded by hills we've had plenty of wind at times, rolling down off those same hills, or funnelling down the valleys. We had one memorable night where despite the fact that we had some shelter, the gusts were blasting ferociously around a small promontory to windward, obviously due to a curious land effect. And although we were well sheltered from any sea, some of the gusts were fierce enough to send Pelerin swinging around her anchor.
Question: We're about to build a shoreline system. We have two reels from Easyroll that can take about 150 m of 12 mm line each. I've seen the system used by Polaris, and it looks very solid, but my concern is, obviously, the cost of using Dyneema [Spectra].
As far as I can see the only alternative to Dyneema will be polyamide [Nylon]  lines, less cost, but also by far less strength. 12 mm gives about 3,4 metric tones breaking load, versus 10 mm Dyneema with 9 tons.
How strong (breaking load) should a shoreline be to be sufficient to suit our 20 ton boat?
What kind of, and how much shore line do you guys carry?
Are they often used (normal anchorage situations during cruising season)?
If you were about to make a system, like we are, which system would you choose, money taken into consideration?
On 28th December last year a beautiful Saga 40—an English design not to be confused with this boat—was lost when she went ashore at Sint Eustatius in the eastern Caribbean when a mooring provided for yachts by the local marine park, STENAPA, failed in what looks from the photograph to be benign conditions.

A few months ago we published a photo essay about Polaris, the custom Hutting 54 especially designed and built for cruising remote places, owned by our friends Michael and Martina. Since then several people have asked about the line reels shown in the photographs. I passed these questions on to Michael and got the following answers.
What does the word "harbour" mean to you? A safe haven, perhaps, sheltered from all sides? Well, in some of the less frequented parts of the world it can mean something quite different. Many "harbours", such as Hugh Town on St Mary's in the Isles of Scilly, are far from safe in all conditions, being open to winds from the west and to the Atlantic swell.