As I write, the still gale force remnants of the Halloween Storm of 2011 are howling in the rigging as Morgan's Cloud tugs at her anchor and bucks to the chop here in Great Salt Pond at Block Island.
I sometimes call cruising, particularly when tired and crotchety, "death by a thousand decisions". And deciding where to seek shelter with a storm on the way, particularly when far from home and in unfamiliar waters, can be one of the most stressful calls we voyagers are called upon to make. So here is the thinking process we went through and some of the alternatives we considered before deciding to ride out the blow at Block Island.
There Are No Right Answers
But before I get into the post, I need to make clear that I'm not presenting any of what I'm going to say as the absolute right way to pick an anchorage for this, or any other approaching storm. I'm not even sure that we would not have been more comfortable doing something different from what we did do. Take from this post what you will, but make your own well reasoned decisions.
The Wind Won't Hurt You
There are few more intimidating sounds than the wind howling in the rigging once it gets to gale force and above. And the high pitched scream of gusts over 50 knots, as we had last night coming over the low treeless sand bar separating us from15 miles of fetch across Block Island Sound, certainly knots my stomach up.
But the fact is that the wind itself, at least up to full storm force, will not damage a properly snugged down cruising boat or hurt her crew. And if we had let our desire to avoid the cacophony of high winds influence us—and let me tell you, we have had enough of that this season—we might have been driven to another anchorage where other less obvious, but more real, dangers lurked.
But The Waves Will
One of the things we really like about the Great Salt Pond at Block Island—we have weathered two gales here this year—is that it has a tiny narrow entrance that can be closed up no matter what anchoring position the wind direction may dictate. Sure you can get a good chop building up, but there is no way any really big waves or swell can get to you, no matter the wind direction. And it is big waves and especially swell that will snatch even the best anchor out of the bottom, or break the deck gear it's attached to.
For example, a boat that we met this summer was lost in Greenland and her crew barely escaped with their lives when an unexpected wind shift brought breaking waves into the small anchorage they were in, yanking both their anchors out of the bottom and dashing their boat and home onto the rocks of a lee shore (that had been a sheltering weather shore when they anchored). Within a short period their boat and home was a total loss, leaving them hypothermic on the shore. (I should make clear that I'm not criticizing this crew's judgment since there are few anchoring options in the area they were in and I don't know all the circumstances that led to their anchorage choice.)
However, an unexpected wind shift at Block Island would have just resulted in a longer fetch and a bit more chop, but nothing dangerous. Worst case, we would have just moved over to the new weather shore.
We did look on the chart at several anchorages with more shelter from the expected wind direction, but we rejected all of them because of the long fetch into them from other directions, and even with the great forecasts provided by the US National Weather service, storms do unexpected things. All it would have taken for the forecast northeast, backing northwest, wind to turn into a southeast, veering southwest, wind would have been a less than 120 mile change in the storm's path. And this was a storm that had already surprised the forecasters by intensifying more rapidly and tracking much closer to the coast than expected just two days before.
Smaller Is Not Necessarily Safer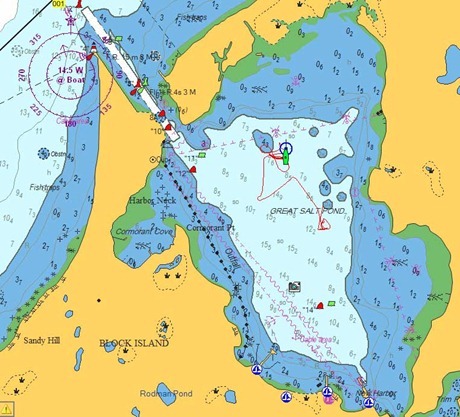 The cruising guides are not particularly complimentary about Great Salt Pond as an anchorage partly because its relatively large size (nearly a mile across) means that a good size chop can build up. But we like it a lot because it is big. In fact we would call it about perfect-sized.
From our anchoring position last night the distance to the lee shore beach varied from a quarter to a half mile as the wind backed. Plenty of space to sort things out if we dragged. Contrast that to being anchored in one of the "snug coves" that so many cruising guides favour where the beach, or worse still rocks, may be just feet off your stern and any failure of the anchor tackle means a grounding in seconds—small may feel safer, but often it's not.
How do you choose an anchorage when a big blow is on the way? Please leave a comment.
In the second and final part I will write about some other issues that influenced our decision:
Bad holding, or bad anchors?
A time to fight the herd instinct.
Wharves (docks) and marinas can be your friend or wreck your boat.
Further Reading