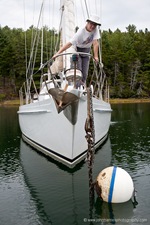 On Morgan's Cloud we are always looking for new and better ways to minimize the chance of damage when riding out storms or hurricanes at anchor or on a mooring. And given that we  have spent a lot of time in the high latitudes and further that I kept boats on moorings year round in Bermuda, where it blows like the hammers of hell in the winter, never mind a pretty good hurricane strike every year or so thrown in for good measure, we have had a lot of opportunities to experiment with gear and techniques.
After observing over the years that many, perhaps better than half, of the boats that get wrecked in storms go ashore due to failure of a rope rode or mooring pendant, we long ago decided that whenever really nasty weather is coming we want high quality chain all the way from a massive strong point on the boat to whatever is holding us to the bottom.
This is one of the reasons that these days we prefer a single massive anchor that we can really trust on an all chain rode—with a snubber of course—over two smaller anchors; where one, at least in our case, had to be on rope.
But what about when we are on one of our two home moorings (Bermuda and Nova Scotia); what then?
In winds up to gale force we connect to the mooring with a single massive 1-1/4" Dacron pendant protected with fabric chafing gear. Dacron because it is less susceptible to internal heating due to cycle loading than Nylon. And fabric in place of the plastic hose, we all used to use, because it has been implicated in bridles melting due to the heat being trapped by the hose.
But if we are expecting winds of storm force or over, out comes the chain as a backup to the rope. Sure, if the rope fails and we end up on the chain, some damage may be done by the chain crashing back and forth on the roller, but that beats a one way trip to the beach.
With the rope gone, you could also  worry about shock loading, but I'm not sure a 10 to 15 foot long Dacron pendant makes that much difference anyway. In fact, we have found that the spring provided by our massively heavy ground chain, at least in our sheltered cove, seems to have more amelioration affect than the pendant, even in hurricane force winds.
Here are some shots showing our current system.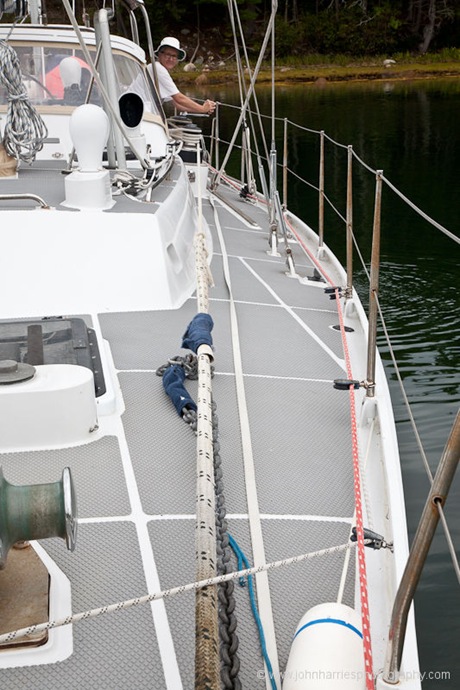 Phyllis winding a winch to haul our combined rope and chain mooring pendant on deck after we deployed it in hurricane Earl. Done this way, we can add the chain or remove it in half an hour or so.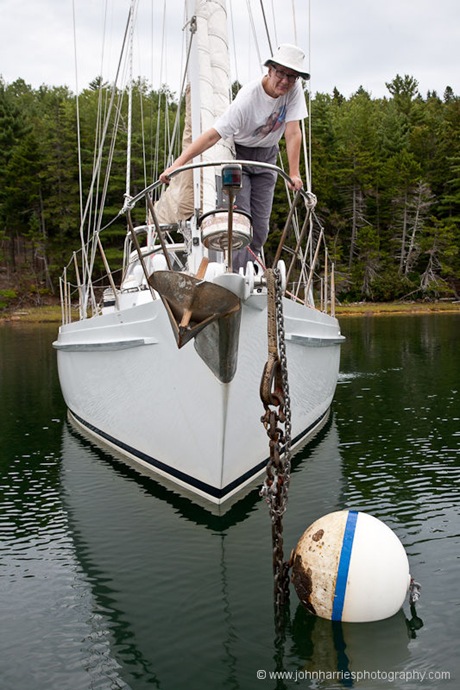 The mooring chain lifted out of the water so that we can install the safety chain and also check things out while we are at it.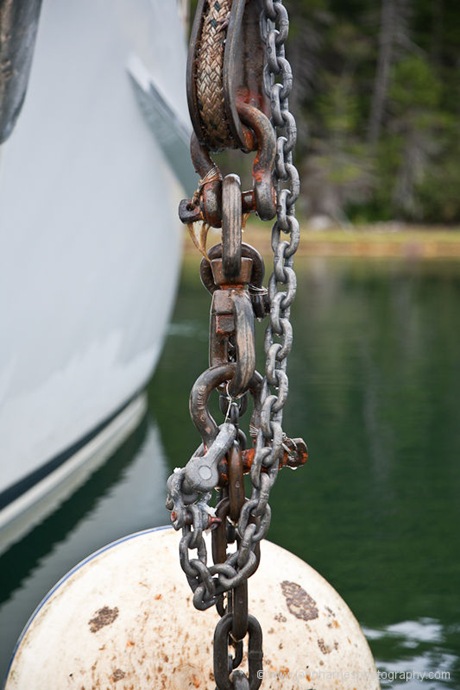 We attach the safety chain under the swivel in case that fails. As you can see, we have our swivel installed at the top of the chain, rather than the more common position between the up chain and the ground chain. This is so we can inspect it frequently since we have first hand experience of two mooring swivels that came close to failing when the weld holding the retaining nut corroded through and the nut backed off.
We are even considering removing the mooring swivel altogether, as I gather at least one mooring field operator in the USA has done without ill effects. Has anyone had any experience with a mooring without swivel? If so, please leave a comment.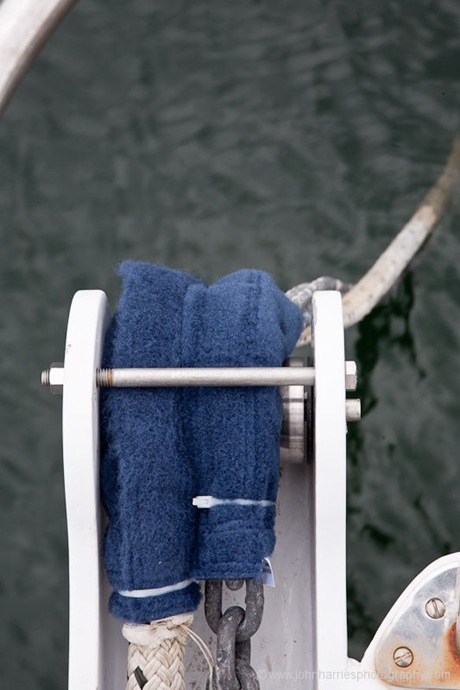 We used to remove our bower anchor from the other bow roller and lead the safety chain through that. But that left us with no anchor to deploy if we were forced to cut away from the mooring, say if another boat dragged down on us.
Now we just lead both chain and rope through  a single bow roller and protect both with chafe gear. This has worked well with no tendency for the chain to chafe the pendant.
Note that we also wire tie the chain and rope together every 3 feet or so, which stops the buoy passing between them, which can cause a hell of a tangle if the wind goes light.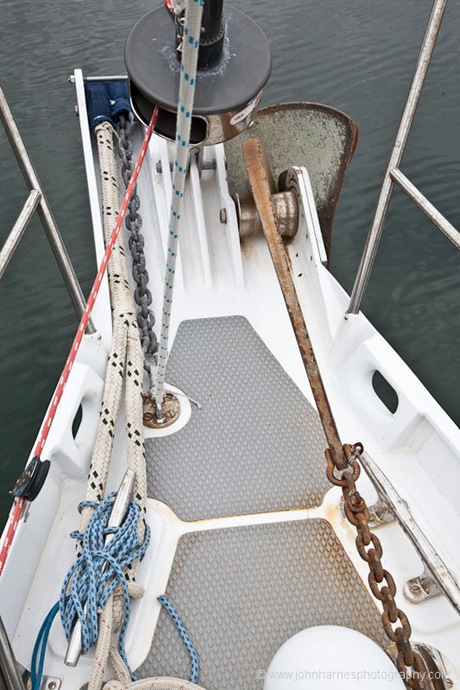 The safety chain is 9/16 G40 high tensile attached with a Crosby high strength alloy shackle at the mooring and with 20 turns of spectra line to a massive Harken pad eye that is through bolted with an aluminum backer plate.
The idea of the spectra line, and also why we leave the line to the bridle from the cockpit winch in place, is that if we did have to cut away, both the chain and the pendant could be released under load without risk to life and limb.
With this rig in place we sleep better, aboard or not, knowing that we have substantially reduced the chances of losing our boat through mooring failure. And for relatively little work or expense.
If you have questions or wish to share your own mooring system, please leave a comment.
Furthur Reading