Morgan's Cloud, our boat and home, is a custom McCurdy and Rhodes 56-foot cutter. Here is a general description of her including what has worked well and what we would do differently.
Designer
Jim McCurdy was one of the best offshore sailboat designers that has ever put pen to paper; think of the Hinckley Southwester 42 and 51, the US Naval Academy Cutters, and the famous ocean racers Acadia and Carina. McCurdy & Rhodes draw boats that can cruise comfortably and safely anywhere in the world and still give a good account of themselves racing offshore. McCurdy's unparalleled eye for a perfect shear line and overhangs give his boats a classic beauty that only Herreshof and a few others can aspire to. Jim's son, Ian, still runs the business.
Morgan's Cloud has two near-sister ships; the original was Paquet, designed for Fred Schaefer of Schaefer Marine as a show and test boat for the company's gear. Both her sister ships are ketches.
Builder
John Merreck who, along with his wife, spent six years building Surnage, as they called her, in the back of their custom metal fabrication plant in Cleveland, Ohio. Their plan was to sail in warm waters, while doing metal work to earn money. Tragically, John died of a heart attack in the engine room in his early forties before ever launching the boat.
Specifications:
LOA 55′-6″ (16.9 m)
LWL 41′-3″ (12.6 m)
Beam 14′-10″ (4.5 m)
Draft 6′-6″ (1.98 m)
Displacement (actual from measurement, all gear aboard but tanks empty) 48,700 lbs (22,089 kg)
Sail Area (100% Fore triangle) 1360 sq ft (126.35 sq m)
Mast height from water 73′ (22.25 m)
Measured rig height 68′ (20.73 m) (I measurement)
Fore triangle base 22′-6″ (6.86 m) (J measurement)
Cruising history
Scott and Marybeth Teas bought the boat in Cleveland and trucked her to Maine where they finished fitting her out, christened her Abbie Haymaker after Scott's grandmother, and launched her in 1986. They then circumnavigated South America in 13 months with family and dog, before returning to Maine.
We bought Morgan's Cloud—named for the cloud that hangs over Bermuda, my (John) home, on a sunny day—in 1991 and have sailed her over 100,000 miles in the ensuing years; much of it in the high northern latitudes and including multiple Atlantic crossings. We feel very fortunate to be owned by such a well-designed and well-built sailboat!
Racing history
Scott and Marybeth raced her in the 1987 Marion to Bermuda Race as scratch boat under a crippling rating, as well as competing in local races in the Gulf of Maine.
I (John) and our friend, James Hallett, raced her in the 1994 and 1996 Newport Bermuda Races, winning the double-handed class both years. In 1994 we had the fastest corrected time in the fleet, beating all of the fully-crewed boats, hot racers included, although, since Morgan's Cloud was racing in the double-handed class, she was not eligible for the overall prize.
Size
People often ask us why we have such a large boat and if she is difficult to sail. Well, first off, she is a very small 56-foot boat by modern standards. Her fine ends and comparatively short waterline of 41.25-feet yield an interior that is smaller than many modern 45-footers. But when the sea builds, those same features and her V-sections forward mean that she never pounds, unlike more roomy and boxy designs. Her easily driven hull means that we can shorten sail early, making her easy to handle, but still keep a good turn of speed using her effective waterline once her overhangs are immersed. I (John) actually find her easier to sail offshore than my old 45-foot boat.
Aluminum
When we bought Morgan's Cloud we were not specifically looking for an aluminum boat—she was the best boat for our needs and happened to be built in aluminum. However, having worked with the material for 17 years, we have come to believe it is the best material for a rugged offshore boat:
Weight for weight it is the strongest non-exotic material available—yes, stronger than steel. Carbon is stronger, but has poor impact resistance.
When hit, aluminum bends an extraordinary amount before it ruptures.
Even if an aluminum hull is ruptured in a collision, say with a container, the hole is likely to be fairly small since damage will be limited by the extensive skeleton of ribs and stringers.
While more expensive than steel, aluminum is much cheaper to maintain. It is interesting to note that both Skip Novak and Hamish Laird and Kate Ford have switched to aluminum after many years of sailing and maintaining the steel Pelagic.
There are a lot of horror stories told about aluminum: "drop a penny in the bilge and it will burn through in a week." Most of these stories are rubbish. Yes, there are concerns and you must be careful with the electrical system on an aluminum boat, but it's nothing that a bit of common sense can't deal with. Incidentally, while doing our annual bilge cleaning last year we found a coin from Chile that had clearly been there since Scott & Marybeth's trip 17 years ago. There was only a slight discoloration where it had lain all those years.
Rig
Morgan's Cloud is a true cutter, meaning that the staysail is used with a high cut jib-topsail (Yankee) and is set most of the time when the apparent wind is forward of the beam, not just as a heavy weather sail. We would rig any boat over 45-feet to be sailed short-handed as a cutter.
In 2006 we replaced her aging and cracked aluminum mast with a new one fabricated in carbon fiber by Hall Spars.
We have roller furling on both headsails, but the main is handled and reefed traditionally with the bunt of the sail caught by lazy jacks. We have no electric winches, other than the anchor windlass, but pay a lot of attention to low friction and easy to use rigging systems. The working sails are all made from laminated materials, which has worked well. They may not last as long as woven materials, but laminates keep their shape and stay faster longer.
We have a storm trysail set on its own track and a storm jib. Neither has ever been set in anger since the mainsail reefs down to a very small size and the staysail can be rolled to a handkerchief.
For light air off the wind we have an asymmetric spinnaker that we easily set double-handed using an ATN sleeve. (The new Code Zero reaching and running sails set on a removable furler look interesting and we will consider them when the asymmetric needs replacing.)
From time to time we have looked at more automated rigging systems, but always decide to stick with our simple tried and proven set up.
Mechanical systems
Morgan's Cloud is fitted with a 4-cylinder Perkins 87 hp naturally aspirated engine driving a three blade max-prop through a ZF gear with a two-to-one reduction.  In smooth water we motor at 7.8-knots burning two gallons an hour. If we cut back to 6.4-knots the consumption is one gallon an hour. We carry 285 US gallons of fuel in integral tanks in the keel stub.
For electricity we have a Northern Lights 5KVA 115VAC generator.
We carry 250 gallons of water and so feel no need for the added complication and expense of a water maker.
Our refrigeration is from Glacier Bay and is a holding plate system driven by a ½ hp DC electric motor. It's very efficient and has been reliable for 10 years. We don't like engine driven systems because of the clutter on the engine and vibration that will, sooner or later, cause leaks in the refrigeration piping.
Electronics
We have a full suite of sailing instruments from Nexus, a B&G plotter, Furuno Radar, and Simrad autopilot driving a huge Hynautic hydraulic ram. To us, the two most important pieces of electronic gear on the boat are the autopilot and radar and ours have been great.
(The autopilot is backed up by a Sailomat vane gear. Morgan's Cloud is a bit big for a vane gear, and it took us two years of fiddling about with line systems and re-machining most bearings in the gear to get it working satisfactorily. Even so, we don't use it much, but it's nice to know that we have an alternate self-steering system that requires no electricity.)
For communications we have fitted two Icom VHF Radios, one on deck and the other below, and an Icom SSB. We have an Iridium phone and GO!.
In 2008 we finally bit the electronic navigation bullet and installed a dedicated computer and on-deck screen with waterproof mouse and keyboard running TimeZero software.
While doing computers, our change from film to all digital photography demanded that we install a powerful computer with a big screen for photo storage and editing and a network to tie all three of our computers together complete with a Wi-Fi client hub and external hi-gain antenna.
Some other things that make Morgan's Cloud a great boat
With her fine ends, sweet and moderate lines, and powerful rig she sails well with a soft motion that's easy on her crew.
The same easy lines coupled with a big engine give a good, but economical, speed under power.
An engine room with full standing head room under the center cockpit makes it easy to work on her mechanical equipment, as does a work bench opposite the engine room.
She has large chart tables each side of the companionway, sheltered by the dodger, in keeping with our thinking that navigation should be done on deck.
What we've changed
Moved all navigation instruments on deck and converted the old below decks navigation station into an office.
Added a forward scan sonar.
Added a hard top but soft side dodger.
Upgraded the central heating and added an exchange heater on the main engine.
Removed her teak decks and glued down Treadmaster in their place.
Removed or painted over most of the wood on deck that used to be varnished.
Upgraded her chain and anchors and built a self-stowing mechanism for the anchor chain.
We are constantly upgrading and tweaking her running rigging to make her easier to sail but have no plans to add in-mast or in-boom furling.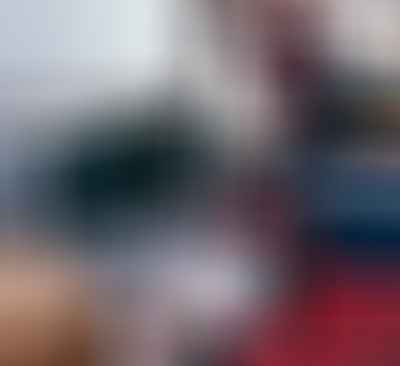 Our on deck navigation station