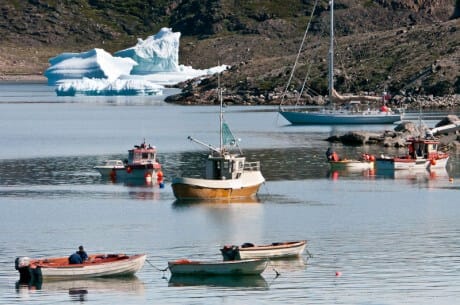 We have now been working on the science project detailed in an earlier chapter for ten days, visiting a number of villages in Disko and Uummannaq Fjords. As both of these are ice fjords and the villages were located in proximity to the hunting grounds—not on whether they had a good harbour for a deep draft (2 m/6.5 feet) sailboat—we have faced a few challenges.
For one thing, we've not been able to stay in any village overnight, meaning we've had to travel between the villages and the few good anchorages on a daily basis, upping the exhaustion factor and emptying our diesel tanks faster than expected. We've also had to set anchor watches almost every night due to the amount of ice, and we even had to steam through 1/10th to 3/10th ice to get to one village. But we've been able to visit all the villages on Grete's list for this area, so we've completed the first part of the project.
From a lay person's viewpoint what John and I have noticed in terms of climate change are water temperatures up to 9°C/48°F (11°C/52°F in one shallow anchorage), even out to the entrance of Uummannaq Fjord. We've also had a few steaming hot days with temps of up to 25°C/80°F! Let me tell you, we didn't bring clothes for that kind of weather! Even smart wool itches when it's that warm! The water and the air temperatures were much lower when we were here 16 years ago.
I'll let Grete tell you what she's found from her interviews:
We have now visited 6 villages and the trend is clear. The weather is observed as warmer throughout the year, and it is more unstable and unpredictable. The sea ice is forming much later than it used to and is in poorer condition. Sea ice used to form in October, and over the past ten years it has formed later and later in the season, this year as late as March. This cuts the season for traveling, hunting and fishing on sea ice by 4 to 5 months. Dog sled remains the choice for transport, although snowmobiles are on the increase. Without good ice conditions it is not possible to use the sea ice as a platform for traveling, so there has been a shift from sea ice to open water fishing and hunting.
Yesterday we left Uummannaq Fjord and traveled 100 miles north to the Upernavik area. This area is definitely different than the fjords we just visited. For one thing, sea ice still forms up here; in fact, it only went out three weeks ago. We noticed sea temperatures of 4°C/38°F at the mouth of the fjord and only 7°C/42°F in this anchorage. Snow patches are still in places right down to sea level. And the geography is substantially different than further south: more barren rock and lower more rounded hills cleft by numerous river valleys. From a navigational point of view, there is a lot more white space on the charts up here (areas without soundings), so our forward scan sonar will be getting a real workout.
It will be interesting to hear what Grete finds out from the people in this area.