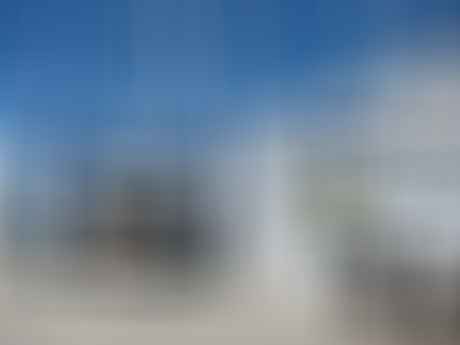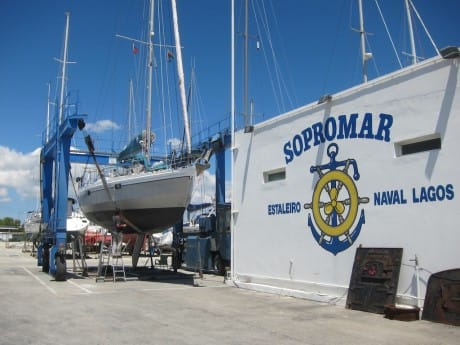 Back afloat at last, and it's so good to feel Pèlerin swing to the wind and tide at anchor once more, after what seemed an endless winter.
The last few weeks in the boatyard have been exhausting, as we've slogged through the work getting her ready for the long haul after a series of false starts. A patched up repair to our rudder coming down the Portuguese coast last year was obviously not going to be the long-term solution that was required.
Local knowledge always helps
Not knowing the area some homework was required to identify a yard capable of carrying out the work. A phone call to an old delivery skipper friend led us straight to Sopromar, a family run yard at Lagos, and that's where we've spent the last few months. And what a great yard we've found it; technically sound, spotlessly clean, good chandlery (boat store), and a genuinely warm welcome.
Knowing that we want to be off the beaten track for the foreseeable future, it was time to bite the bullet and go through everything, checking and servicing, and making a number of engineering modifications that we'd long wanted to carry out. And it was a real pleasure to find that the guys at Sopromar were ready to listen and advise on our requirements, and possessed all of the necessary skills to carry them out.
The engineer in charge of the machine shop particularly inspired confidence throughout the whole exercise, quietly competent and completely unruffled by any challenges the work threw his way. As he didn't speak English and my Portuguese is lamentably lacking, we communicated in pidgin and gesture, and got along fine. But when he started speaking impeccable Spanish I had to ask where he picked it up – 26 years as a fishing fleet engineer in Ecuador explained that, and much, much more.
Who can you trust?
One of the worries for any crew intending to visit remote places is what happens when a major engineering challenge occurs? The sort of thing that is beyond even the best toolkit – it fills me with dread. I once had to replace the fresh water pump on our old Perkins engine in a very remote part of the western highlands of Scotland. Being a Perkins (and being in the UK) the part arrived the next day; but, to my horror, the drive pulley wasn't on it. With a party of volunteer crew arriving in a matter of hours and expecting to spend the next week in remote sea lochs, this wasn't the best news I'd had for a while, but the local fishing boat engineer got straight on to it, so there was hope yet.
As the pulley had been heated and then shrunk on to the pump spindle as it cooled, heat was required to get it off the old pump. But after a couple of hours, applying more and more heat, and with a succession of ever more robust, specially fabricated pullers that all bent or collapsed, I was really getting into a tailspin, and asked him if he thought we'd ever get it off. Without even a glance in my direction he absent mindedly muttered 'oh, it's coming off alright' – and I ceased worrying immediately. Half an hour later he was proved right, and we were on our way.
So if you, too, share my nerves about such matters, remember that these are guys that at times will work all hours to keep the fleet on the water, nothing phases them, and they are often the most versatile, resourceful engineers out there – in my experience (at least) you'll be in good hands, as we certainly were at Sopromar.
So, so far so good, for us, and we're so happy to be out here feeling the breeze – and on our way again.