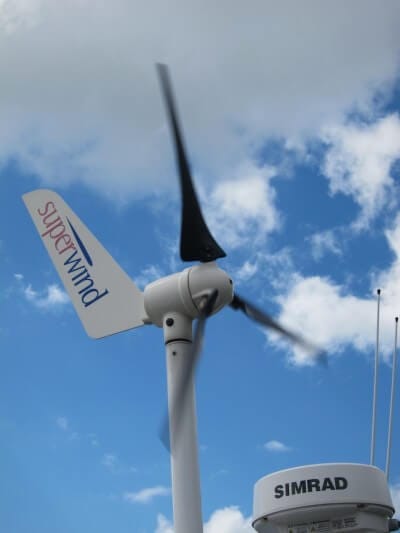 Readers of my previous post on the subject will be aware that we try to generate as much power as possible via renewable resources – wind and solar. This is driven by a desire to keep the boat as simple as possible, and to avoid the need to run our engine at rest for charging – a real no-no for us.
So far our mixture of solar (180W full time + 85W in harbour) and a Superwind 350W wind turbine has done us proud. Even at higher northern latitudes when one source is not effective, generally the other takes up the slack. The solar panels especially have been a revelation, silent and highly efficient.
But the wind generator has been something of a conundrum. Well made, excellent power output above 10 knots of breeze, no vibration (unlike some others I've tried) but nobody could pretend it was the quietest unit. Not so much in steady winds, but when accelerating or decelerating it made an infernal 'whipping' noise, which made us want to turn it off except in stronger winds – defeating the object of having it.
So when we heard that Superwind had developed a new 'silent' blade we thought it had to be worth a try. The website spoke of 'a reduction in noise emissions of 50% (10db), achieved through aerodynamic structures on the blades similar to sharkskin, which induce micro turbulence to improve aerodynamic and acoustic performance'. Hmmm, I thought.
Straight out of the box the blades looked to be identical with the originals, apart from the aforementioned 'aerodynamic structures', which actually appear to be little more than a row of raised V shaped mouldings pointing towards the leading edge of the blade. My inner cynic began to work overtime, and the icy thought of the possibility of yet more wasted money began to chill my Scottish heart.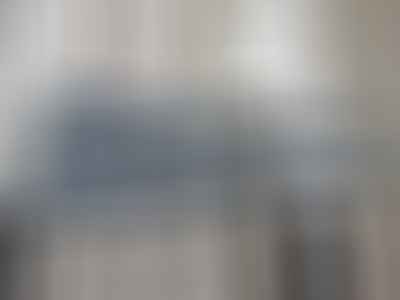 But paid for they were, so up I went and fitted them. The next day dawned breezy, so we hit the on switch. And the result? Amazing – you simply wouldn't believe it's the same machine. No whipping noises at all, and the overall sound levels are definitely down. No scientific measurement here I'm afraid, but the difference is remarkable, and I'd have to accept that the figures quoted must be about right, certainly on our machine – fair enough, and all credit to Superwind for producing something that 'does what it says on the tin'.
In the past we've had to shut the turbine down on occasion. At anchor, for example, when other boats were near, or when nerves were already jangling during a tricky manoeuvre (switch it off, and the wind automatically goes down two wind strengths), but I doubt we'll ever have to do that again. It is now so quiet that the ambient wind noise from rig and fixed structures would make as much noise, and so mask any sound the turbine generates.
Which is great news, because there's no point in having a wind turbine that you can't bear to use, and we're looking forward to more 'free' power as a result. And whilst we still reckon that the solar panels deliver more bangs per buck, the new silent blades will help to rebalance that equation more towards the wind turbine. The cost wasn't cheap (around £180), and we wish these blades had been fitted when we bought the unit, but the cost has to be worth it in the long term. And all new Superwind units now have the silent blades fitted, which should undoubtedly remove what was a powerful obstacle in terms of sales appeal.
So – peace at last!