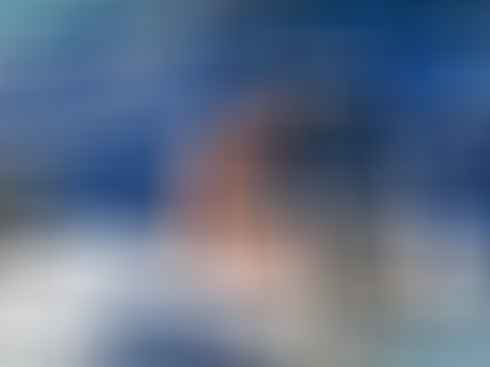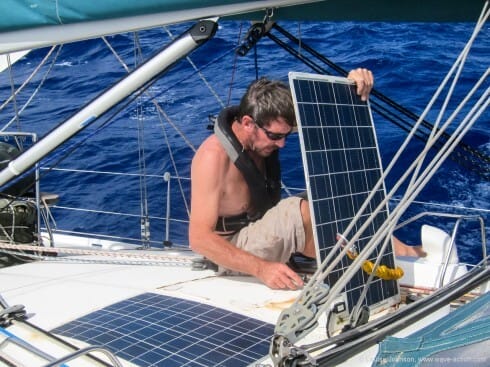 It's Boat Show time in Europe at the moment, with Southampton in the UK and La Rochelle in France packing them in to see what's new in the world of sailing.
Being in the market for some new solar panels and wanting to catch up on the latest developments in alternative energy production, we made the pilgrimage down to the Solent and joined the crowd for a day. And we found that there were some interesting new developments on display that certainly justified our journey.
Fuel Cells
I've been watching the development of these units for some time, but have been skeptical about their benefits for a number of reasons. Early units were very expensive in relation to their output, didn't like operating when the boat was heeled, used costly fuel that was hard to find, and there were widely expressed doubts about the longevity of the core energy generating 'stack'. I mentally filed them under "to review" until such time as these central issues had been addressed—or not—and I have to say it does look as though they have been for the most part.
The helpful team from Fuel Cell Systems talked me through the latest versions of the German made EFOY range and I came away impressed.
Basically, a fuel cell generates power via a chemical reaction involving hydrogen and doesn't produce any toxic emissions. In the case of these marine units, liquid methanol is used as the fuel as it is hydrogen-rich and easy to handle. In operation they're quiet at 25dB(A) and produce only a small amount of water as a waste product.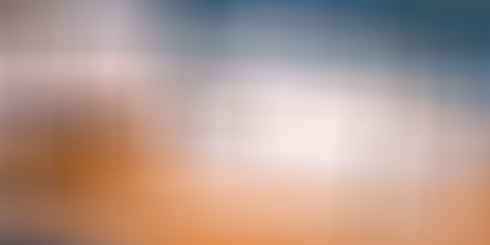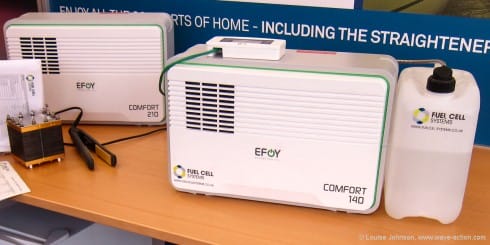 Three models are available with different outputs, ranging from 80 to 210Ah per day. All share a common sized casing and weigh between 7-8.2kg (15.4-18lbs), plus fuel. Each unit comes with a mounting kit consisting of a base plate and retaining strap, plus exhaust hose, operating panel, heat ducting and wiring.
The minimum amount of space required for the fuel cell plus associated fuel canister isn't huge, certainly no more than a small diesel generator, so it would fit well inside a (dry) cockpit locker, as long as it had adequate ventilation to allow the fuel cell to operate efficiently and dissipate the small amount of heat generated.
The EFOY fuel cell acts as a 12V DC battery charger, and the control unit simply senses when battery voltage drops below a certain level (normally 12.3V), and directs the unit to charge the batteries. When the batteries are charged the unit switches back to stand-by. It's compatible with other alternative power sources such as wind or solar, and would in my view work well as part of an integrated system. No maintenance is required. It's a simple, quiet, and apparently reliable device.
What of my original concerns?
Cost
Well, fuel cells are still not cheap: between £2,364 ($3814US) for the 80 to just under £5,000 ($8061US) for the 210, and you'd need to budget for at least a day's work to install the unit, although anyone reasonably competent could certainly install one themselves.
Fuel
EFOY insist you use their very pure methanol (they believe less pure grades will damage the unit) at around £30/$48US  for 5l/1.3US gallons. One liter of methanol will produce around 1kWh (~80 amp/hour at 12 volts) of power, so the cost/output ratio is acceptable. And it does mean, of course, that you've got to find space for and carry that fuel—no big deal for short voyages, but for longer ones to remote places that could be a problem.
Update April 2020: John here:
Member Robert just pointed out
that methanol is a potent poison, but worse still the vapours are heaver than air and so can pool in the bilge posing an explosion risk.
To me, the latter would disqualify EFOY for use on a yacht.
Heel Angle
Manufacturing improvements mean that they can now operate at an angle of 35 degrees continuously and 45 degrees for up to 10 minutes (and who'd be worrying about battery charging at those angles!).
Reliability
EFOY obviously have confidence in their product, as they offer a standard two year warranty for the smaller units, which can be upgraded to five years at reasonable cost, whilst the 210 comes with five years warranty as standard. And whilst it used to be said that the lifespan of the stack was around 5000 operating hours, reports suggest that many have already exceeded that figure considerably.
Another point to remember is that, unless your boat's power consumption is very low, it might be best to go for one of the bigger units, which would run for less time to meet your daily needs. One of the smaller units would be running almost constantly to keep up with high demands, and so reach the end of its useful life far sooner.
Fuel Availability
One fly in the ointment remains the availability of fuel on a global basis, although Europe is now well covered. There are dealers on both US coasts and a few Caribbean islands, but much of the rest of the world is still without stockists. It is clear that EFOY are trying to spread their coverage though, which will be essential if they are to capture more business in the long-distance cruising market.
Conclusion
But for boats cruising in waters closer to home, for more 'holiday' based cruisers, or for an Atlantic crossing, I think there's a lot going for them. Equally, one would be ideal for a smaller cruiser where the space required and the weight penalty would make a genset unattractive, or simply as a back-up if you're that well off financially.
As with all supplementary energy generating systems, it all depends on your needs, but I can see a growing market for these attractive units, especially if they become more cost-effective, and the support network continues to expand.
Solar Panels
After the demise of our deck mounted Sunware solar panels (died from delamination after only five years) we've been looking around for a suitable replacement. Obviously we'd like to get more bangs per buck, but have been somewhat limited by the space available and the fact that we have to use semi-flexible panels (as before) that can accept being stepped on, so we weren't sure that would be possible.
But we think we may have cracked that after looking at the Solbian SP panels available in the UK from Barden. These mono-crystalline panels use the latest SunPower back-contact technology to achieve a conversion efficiency in excess of 22.5%, which is really impressive, and should allow us to replace each of our 45W panels with ones of 100W for just a fractionally larger footprint.
Naturally, after our original disappointment we looked very carefully at the standard of construction, particularly the encapsulation, which is where our old panels failed. The Solbian panels appear to be much more heavily constructed, and the encapsulation is carried out well beyond the edge of the panel, and so should last far better.
The Solbian panels are very light (1.3Kg/2.9lbs) as they incorporate no metals in their construction. They also have an innovative range of options for mounting them, including a zip fastener so that the panels can be mounted securely on a bimini or an awning or removed for security reasons when the boat is unattended—nice idea.
All of this comes at a price, though, £792/$1278US for a 100W panel. But given that we could end up with over twice the output from the same area on deck, we think that may well be a price worth paying. As long as they last this time…