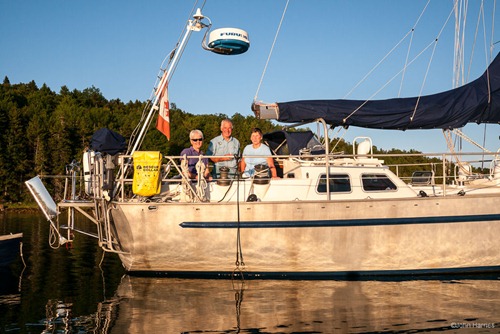 For us offshore sailors who are trying to get out there voyaging, it's really important to distinguish between our wants and our needs. Sounds simple, but is it?
Wants
In some cases recognising which bits of gear just satisfy our wants is obvious, or at least should be. Here are some:
Just about anything to do with iThings.
Gimballed satellite TV antennas.
Huge barbeques capable of roasting an ox.
Air-conditioning and the generator to run it.
Complex instrument systems.
Needs
And here are some obvious need satisfiers:
A strong and stable hull that stays the right way up and keeps the water out.
Easy to deploy storm survival gear, tested and ready to go that will not require steering and will allow us to rest below in any weather.
A rudder that won't fail us.
Lifelines, jacklines, harnesses and tethers that will keep us and our crew on the boat.
A mast that will stay up.
Good reliable rigging system that allows us to set the right amount of sail safely for any conditions.
A reliable diesel engine.
A reliable self-steering system.
A good well engineered anchoring system.
Clear uncluttered decks with great non-skid.
A comfortable and safe berth to sleep in at sea.
Proper clothing and foul weather gear that will enable us to stay warm or cool, and dry, so that we can function effectively on deck in any conditions that we may be exposed to on our voyage.
A GPS (with backup), charts and navigation instruments.
Needs or Wants?
But this is where it gets tricky. Which of the items below are just want satisfiers and which are really needed so we can go voyaging safely and in reasonable comfort? (Note that I am assuming "normal voyaging" not voyages out of season or to the extreme high latitudes.)
A plotter.
A reliable underdeck autopilot.
Halyards and reefing lines run back to the cockpit.
A cockpit enclosure.
An electrical system capable of supplying all of the loads on the boat through an extended ocean crossing.
Wheel steering.
Refrigeration.
Mainsail roller furling.
A RIB.
An outboard for the dinghy.
A metal hull.
OK, let's look at one of the above in detail: You can find any number of experienced, smart, ocean voyaging sailors, who I respect, who will tell you that the halyards and reefing lines on a voyaging sailboat should be led aft so that you can reef from the cockpit.
On the other hand, many experienced sailors, including myself, Hamish Laird, and the late Hal Roth, actually prefer to reef at the mast.
Question: So, faced with this conflicting information, how do we decide which is the right way to rig our boats?
Answer: It really doesn't matter, because reefing from the cockpit is a want not a need.
The Test
How can I be so certain? Is it just that I prefer to reef at the mast? No, the reason is that the three sailors listed above, one of whom is an avowed wimp, have safely sailed over half a million miles reefing at the mast. And countless others have made successful cruises rigged that way too.
So, applying the above test, we can quickly see that all the items on the questionable list are, in fact, want satisfiers, not needs.
Don't Use Outliers
One caution with the above test. Don't use an outlier. For example, don't assume that the storm survival system, that I have on the needs list, is, in fact, just a want because Bernard Moitessier was able to steer in storm force conditions in the Southern Ocean for days at a time; or that a reliable diesel engine is a want satisfier because Lin and Larry Pardey manage without one—we need to apply the test using average people and a reasonable sample size.
Why Does it Matter?
If you are spending a bunch of money and time running all your halyards and reefing lines to the cockpit, that's OK. After all, we have six of the items on the questionable list on Morgan's Cloud. (But only one on the want list.)
But if we:
are adding things to our needs lists without applying the above test;
or constantly delaying our departure dates while we install systems to satisfy our wants;
or insisting that we will only consider buying a boat that satisfies a big list of our wants, while ignoring our needs;
or blowing our cruising budgets on gear that satisfies our wants;
…well, we are not going to be successful and happy voyagers and some of us will never even get out there.
It's just the way it is, even for owners with the big bucks, because trying to satisfy too many wants burns time and detracts from reliability, as well as costing a lot of money.
It's the needs satisfiers that get us out there, and keep us safe, and the wants satisfiers that keep us tied to the dock.
The Photograph
That's Phyllis visiting with Tony and Coryn Gooch on their lovely and beautifully maintained aluminum sloop Taonui. Tony and Coryn are masters at focusing on their needs and have some amazing voyages under their belts to prove it.
Comments
I used the collective "we" in this article, because over the years I have certainly got my needs and my wants confused on numerous occasions. What about you? Please leave a comment.
The Adventure 40, A Boat to Satisfy Needs.