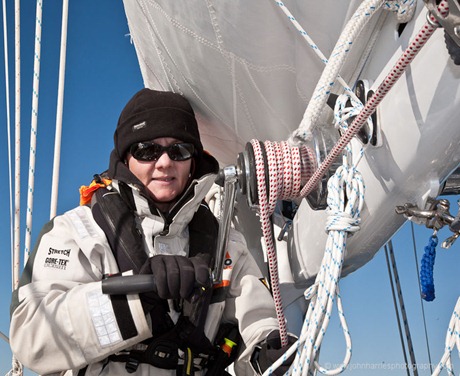 Don't miss the slide show at the end of this post
A few months ago Phyllis wrote a post on how surprised she was to find that many, perhaps most, boats can't reef or un-reef without rounding up into the wind. A process that is with all its attendant crashing and banging hard on the sails and gear. Not to speak of the fact you can get wet doing that!
After that post we received several requests for a detailed post on how we reef on Morgan's Cloud and more specifically, how we reef when sailing downwind—here goes.
Required Gear
First off, the boat needs to have the right gear:
A really powerful two-speed (on all but the smallest boats) self-tailing winch capable of grinding the reefing pennant in while the sail is full.
A winch with the same capabilities as above for the main halyard.
A simple and quick way to secure the tack of the reef.
A really beefy vang that is capable of holding the boom down while reefing. Ours on Morgan's Cloud is hydraulic, but there are mechanical ones that will do the job. In a pinch, you could even just rig a tackle from the boom center to the toe rail. (Be careful doing this since if you forget it and trim the main sheet it is a sure way to break the boom.)
Good quality low friction sheaves for the main halyard and reefing pennants.
Desirable Gear
A full batten main, while not absolutely required, makes reefing easier.
Ball-bearing mainsail track cars. We used to reef off the wind without them, but it's a lot easier with our current system.
The Technique
You can click on the slide show to enlarge it so you can really see the details of our gear. Use the buttons at the bottom to move through the show (it does not advance automatically).
This SlideShowPro photo gallery requires the Flash Player plugin and a web browser with JavaScript enabled.
Slideshow requires a reasonably up to date copy of the Adobe Flash plug-in or iPhone/iPad or Android and that java script be enabled.
Our reefing system is just one way to get the job done. And while it has worked well for us for over 100,000 miles, I'm sure there are as good or better ways to reef. If you have a suggestion or a question,  please leave a comment.
Also, how did the how-to slideshow work for you? Do you like it, or would you prefer the photographs in the main body of the post with the text underneath?