In our early days of a sailing life, the idea of anchoring for the night seems improbable. Logic tells us that we'd be far less likely to come adrift if we're secured to a buoy, or safe alongside in a harbour.
As time goes by, we become more adventurous but still seek as much shelter as possible. Nothing wrong with that, but it isn't conducive to making fast passages, especially when sailing coastally and pressed for time.
If we want to cover the ground expeditiously, then we'll need to look back at what our forebears did: anchor in far less protected places, that sometimes are no more than open roadsteads.
Sometimes we may stay for only a few hours, to get a rest, tidy up, get a proper meal or catch some valuable shut-eye. Or we may make an overnight stop, as part of a carefully planned passage. Whatever the reason, it's a very valuable addition to our cruising arsenal, which can also bring much enjoyment of some remarkable places, seldom used in these 'safety first' times.
Naturally, when I was skippering boats for a living we were always 'on delivery' and so soon got used to using passage anchorages. Compared with going in to marinas or right up into sheltered anchorages we saved an enormous amount of valuable time.
Sometimes it wasn't the most comfortable option, but that wasn't the point, rather we just wanted to draw breath and get a few hours' rest. On the other hand, we often enjoyed some extraordinary places in total shelter and exquisite solitude with unmatched views. And we always arrived on time…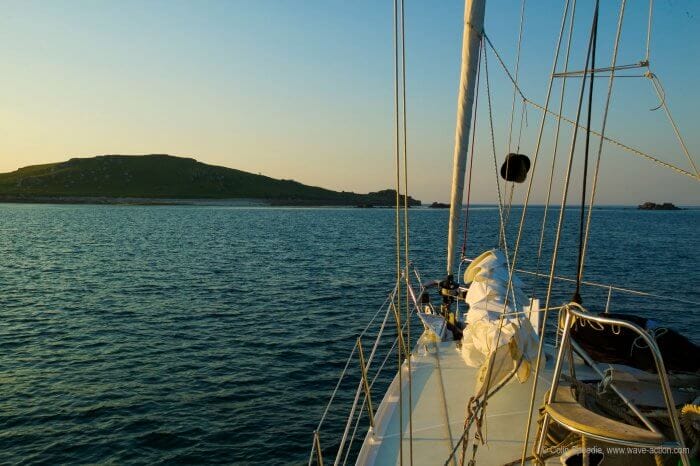 Choosing a Passage Anchorage
We would never anchor in unsafe, onshore conditions, ever. So we're assuming that the only time we'd anchor in an exposed place would be when conditions are, for the most part, 'in our favour'. But what that means is a relative thing.
So, when picking a passage anchorage, we must ensure we have shelter from:
Traffic
Swell
Current
Wind
And, yes, generally in that order. Let's take a look at those four in more detail:
To continue reading:
Or
Or