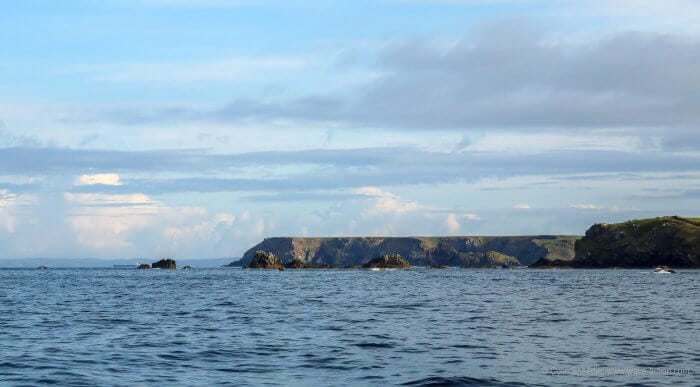 Sailors visiting our home waters around the western shores of the British Isles and Northern France are often astonished at the powerful effects that our strong tidal streams have on passagemaking.
With a tidal range of up to 15 m (50') in the Bristol Channel, and the Bay of St Malo close behind at up to 13 m (42'), that's perhaps not surprising. If you sail (or plan to) in the world record Bay of Fundy with its up to 16 m (52') range, or the Inside Passage between British Columbia and Alaska on the west coast of North America, then you'll know that this is relevant to you, too.
[John here. Even on coastlines without large tidal ranges, being in the wrong place at the wrong time can have nasty consequences, so we can all benefit from Colin's experience and the wisdom he will share in this series of articles, no matter where we cruise.]
A Tough Example
To make this interesting and relevant, join me, in this five part series, on a late April passage through the Irish Sea, from Falmouth in Cornwall to Oban in Scotland (c. 450 nm), a voyage I have made dozens of times in a variety of ways, from day sailing all the way to non-stop.
On this passage, easy to enter all-access ports, especially those able to accommodate larger (> 12 m/39') yachts, are few and far between. On the positive side, there is an area of relatively slack tide in the middle sector of the passage, which can allow you to relax a little.
In the northern sector of the Irish Sea the tidal streams pick up once more to become stronger with each additional mile, leading to a major tidal gate in the North Channel between Scotland and Northern Ireland. Once through that gate it's back to working the tides once more, dealing with some strong tidal streams and associated races before arriving at Oban, our final destination.
In summary, a passage that demands a good boat with a capable crew who possess flexibility and gumption in equal measure. And two passages are seldom alike due to the vagaries of wind and weather. Challenging it may be, but potentially rewarding, too.
[John here. Having made this passage in the fall in the other direction, I can say categorically that a mariner who can plan and execute this voyage well can do the same anywhere. And a mariner who has done it safely as many times as Colin has is worth listening to.]
Let's start with my tips for planning this, and other, coastal passages:
To continue reading:
Or
Or