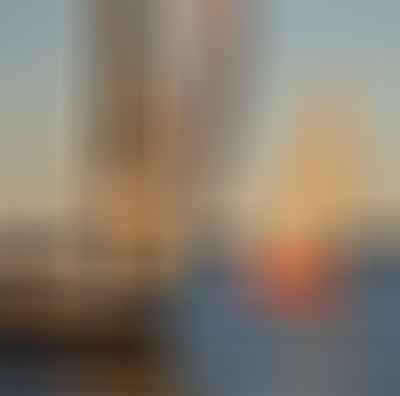 Why do we give so much thought to our sails? Well, first, as we talked about in this post, good sails equal good speed and good speed equals more fun. Speed also contributes to safety because you are vulnerable to bad weather for less time. Finally, if your sails are slow in normal weather, they will be doubly slow in heavy weather, particularly as your desired course gets closer to the wind direction.
But wait, there's more: With sails for a voyaging boat, the devil really is in the details. Just one example: take something as seemingly trivial as batten pockets and particularly those for full length battens like we have on Morgan's Cloud. If the inboard (at mast) end of a batten pocket fails, the batten will protrude very quickly and if that batten pocket is above a spreader you will not be able lower or reef the mainsail until you climb the mast and deal with it. Add the fact that this will inevitably happen in the dark in a rising gale and you can see that a few corners cut in the sail loft can result in a world of hurt for us offshore sailors. It is surprising how often the failure of a critical sail offshore is the start of a chain of events that lead to someone getting hurt, or even abandonment of the boat.
For these reasons, we regard our sails as one of the most important sets of gear on our boat. This is how we go about buying them:
We Buy From a Real Sailmaker: A lot, perhaps a majority, of the people that call themselves sailmakers are not, they are salespeople. The actual sailmakers are at a different location, and sometimes even in another country. We like to do business with the person that will design and hands-on supervise the construction of our sails. Further, when something needs tweaking with our new sail, which is almost inevitable since we are really picky, we want to talk to the actual person that will fix it.
We Buy From a Racing Sailmaker Who Voyages Too: Richard, our sailmaker, has successfully raced for decades using sails and even boats that he designed and built himself; he knows what makes for a fast sail. But he has also raced and cruised across oceans and, I suspect, been the guy up the mast at 3:00am wrestling with a sail-caused screw up. I don't have to explain to Richard why the batten pockets have to be right; he already knows why.
We Buy From a Sailmaker With Computerized Design and Cutting Capability: One of the drawbacks of buying from smaller local sailmaking firms is that many of them do not have the volume to buy a computer driven cutting table or the experience and training to use it properly, even if they had one. As an ex-sailmaker who was involved in the very early days of mathematical sail shape design, I can tell you that this now mature technology makes a huge difference in how good new sails are.
We Buy Sails from Laminated Sailcloth That Are Radial Cut: It is true that a simple cross cut sail from woven Dacron will be cheaper, probably a lot cheaper, than one with a sophisticated radial cut made out of a laminated material. It might even last longer before ripping too. But we, like most voyaging sailors that value the performance of our boats, don't wait for a sail to fail catastrophically before we retire it. Instead our sails hit the store room—why can't I bring myself to actually throw them away?—when their poor shape starts to result in substantially reduced performance. Using this criteria, the sophisticated, more expensive, sail has a longer useful life and is actually more cost effective than the cheaper option. Our last set from Richard went about 35,000 miles before replacement.
This is how we buy sails and it has worked well for us for fifteen years and tens of thousands of offshore miles. Is it the best way for everyone? I don't know. There is no question that the big outfits that have their lofts in developing world countries where labour is cheaper can and do make fine sails for offshore boats. However, I would suggest that the next time you are in the market for a new sail you give a smaller loft like Hallett Canvas and Sails a chance and carefully evaluate the real value they are delivering. Personal service, particularly when something goes wrong or doesn't fit, can be worth a lot. Better still, give Richard a call and tell him I sent you. I love holding a favor over his head. It's almost as much fun as reminding him of the Bermuda Race we whupped his butt in using sails he designed and built for us!
Disclosure:
Our long time sailmaker, Richard Hallett, and his family are personal friends of ours of nearly 20 years standing. Further, Richard is one of our voyage sponsors, having given us a reduced price on a staysail in return for a small advertisement in the left column of this site.
Other than that, we have paid full price for all the other sails, covers and upholstery that Richard has made for us over the years. Though much of this post is a blatant plug for a friend's business, there is no way we would compromise the quality of our boat's sails just to give our friend our business. We buy from Richard because we sincerely believe that he provides us with the best sails and value available.
Further Disclosure:
Well, hopefully because some of you contacted Richard based on the above post, he gave us a discount on our last sail exam and repair…without us even asking! What a guy!