Question: What do you use for time keeping at sea? If you use a wristwatch then which one?
Answer: When this question first appeared in our In-box, I wrote it off as too basic to answer in a post; however, upon reflection (actually, John pointed it out!) I realized that there really is more to our choice of time keepers than first meets the eye.
There are a number of features that we won't do without:
A large enough digital readout that we can see the time with our middle-aged eyes, even when we are tired and/or in dim light.
Really good back-lighting, so that we don't have to turn on a light or use a flashlight to see the time during night watches.
An alarm that is loud enough for us to hear with our middle-aged ears, especially when we are dressed for cold weather with a watch cap and hood on (actually, this is becoming more of a problem all the time as we both get deafer).
A timer that is easy to set, start and stop for use in tracking radar targets (we set the timer for 6 minutes, mark a target's position at the start and again when the timer goes off, and multiply the distance by 10, giving us our relative speed in knots).
Two time settings so that we can keep one on GMT and change the other depending on our location.
Easy to manipulate buttons, for when it's cold and we have gloves on.
Water resistance, for reasons that should be obvious!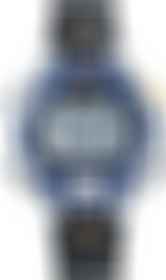 Looking at that lengthy list of requirements, I wouldn't blame you for expecting our time keeper of choice to be an extremely expensive watch advertised in glossy magazines by the likes of André Agassiz; however, we (and our banker) are happy to report that it's a lowly Timex Ironman 30-Lap
that retails for a whopping $35.00 (at discount), costing us a total of $105.00 when we buy one for each of us, along with a spare.
I don't mind being particular as long as it only costs us $105.00, but don't get me started on how much our pickiness regarding foul weather gear costs!