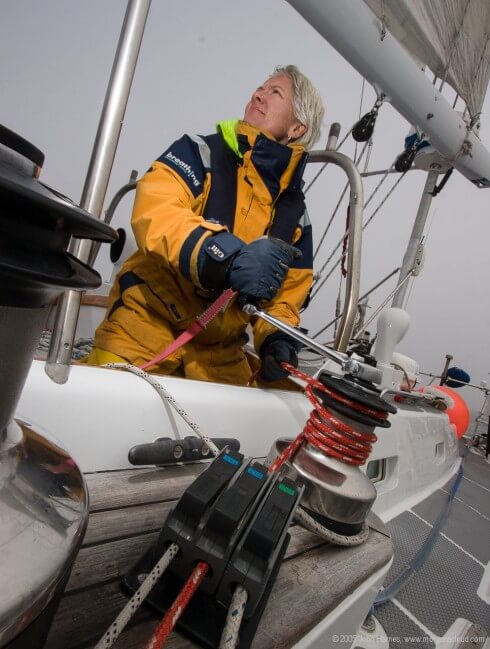 Seamanship, it's a word that those of us who write about voyaging love to throw around, me especially, but what does it really mean? Can we define it? No, I don't think so, not completely, because what constitutes seamanship can depend on the person, the boat, and the circumstances. And for each of us our seamanship is very much the result of our experience. That's why I have titled the post John and Phyllis' rules. Having said that, there are also fundamental things one must do to be seamanlike that the sea dictates to all of us, hence the word immutable.
And yes, I have written about this before, but seamanship posts bear repetition and anyway, since that post was written, we have thought of a bunch more items to add to the list.
Also, I think that these days it is more difficult than ever before to stay focused on basic seamanship, with the distraction of all the wiz bang gadgetry on offer, so that regular repetition of the basics is probably a good thing for all of us, me included.
As usual with these list posts, I have linked to underlying posts where available, that expand on a particular point (most, but not all, require membership).
So here we go.
Before going to sea, we will always prepare our boat and ourselves for a multi-day storm. When the day comes that we are not willing to deal with that possibility, we will stop going to sea.
Before heading offshore, we will always remind ourselves that a task that takes us ten minutes at the wharf, will take an hour while sailing in smooth water inshore and four hours–and several pukes, if you are anything like me–when offshore in waves.
When preparing our boat for offshore sailing, we will never get everything on our list done, so it is vital that we concentrate on the big five before messing with anything else (and that goes triple for cool electronics):

Keep the mast up.
Keep the rudder on.

We will always stay as far away from lee shores as possible.
We will never forget that it's rarely the sea that kills sailors, it's the hard bits around the edges–we are almost always safer offshore.
We will do whatever it takes, including reversing our course or heaving-to and waiting, to stay out of parts of the ocean where a current of more than 1 knot is, or will be, running against a wind of more than 25 knots.
We know that short handed offshore boats, like ours, must have an easy to deploy way to deal with heavy weather that does not involve steering and guards against a roll over.
We will never forget that simple is almost always better than complicated.
We will not install anything on our offshore boat that impedes the crew's ability to properly handle the rig and sails. (The  three worst offenders we're seeing are huge arrays of solar panels, cockpit enclosures, and big RIB dinghies.)
We will not tie anything with any appreciable surface area to the life lines. A wave hitting such deck-litter can rip stantions right out of the deck. (The worst offenders we're seeing are racks of jerry jugs, kayaks, and once again, solar panels.)
Every part of the deck of our boat that a crew member could conceivably step on will have good non-skid. (Yes, that means no solar panels where someone can step on them.)
We know that, within reason, fast boats are safe boats, more fun too.
If we plan to sleep or leave the boat, we will always anchor as if it will blow gale force.
The time to reef is when we first think about it–an oldie but a goody.
I will never yell at Phyllis and/or our crew, it won't make them move any faster when things are going pear shaped, and it will fluster them and make the situation more dangerous than it already is.
I will remember that being a seamanlike skipper will sometimes make me unpopular with my crew and not let that influence my decisions; they will get over it and may even thank me in the end.
At sea, whenever we don't have something pressing to do, we will sleep, or at least rest–a rested crew is a safe crew, and that goes double for the skipper.
There is only one skipper on a boat. Although I will listen to my crew because they can teach me a lot and they deserve to have a say in where we go and what we do, I will never forget that it's me that makes the final decision and who is responsible when that decision does not work out well.
We will not be lazy about provisioning before a voyage and cooking at sea. Good food for the crew is as important as good fuel for the engine, or maybe more so.
We won't drink booze at sea.
I won't be lazy about getting and analyzing weather reports. (We won't always be able to avoid heavy weather, but at least we will know it's coming.)
We will never blindly follow the instructions of a weather router. We will do our own due diligence and make sure that we understand the situation. The router may have overlooked something, but it is us and our crew that will pay the penalty for that.
In the high latitudes, we will always know where the nearest ice edge is and which way the current is expected to flow and the wind is expected to blow–ice happens quickly.
We will always know what the bearing to leave an anchorage is.
Even though our engine is not on the big five list, we will take good care of it. It has in the past, and could again, dig us out of some very deep yoghurt.
We will make sure that we have at least one big anchor ready to drop in less than 60 seconds at all times.
We will always remember that being a good seaman is hard work.
We will always remember that the easy way is very rarely the seamanlike way.
But, on the other hand, we won't take action just to make our anxiety go away.
We will remember that in an emergency, it is almost always better to pause and think before leaping into action.
We will attempt never to confuse discomfort with danger. For example, it may be uncomfortable to stay offshore, but it is dangerous to make a night approach, or approach a lee shore.
We won't make night approaches, particularly to strange harbours.
We will always set a course, navigate and know where we are, and not just blindly follow the plotter keeping the cute little boat icon in the white (deep water).
We will always set a course to arrive to windward of our destination. [Thanks Colin, see comments.]
We will never depart on a voyage across an ocean that contains a tropical storm or hurricane, even if it's forecast path is well clear of out intended course–hurricanes are not, even today, reliably predictable. [Thanks Arlen, see comments.]
We will never forget to always visualize a 500-foot cliff outside the lifelines. It may take a bit longer, but the result of going over the side from a short handed boat at sea will almost always be the same. Person overboard prevention is what matters. [Thanks Val, see comments.]
I'm sure there are more that Phyllis and I will think of five minutes after we push the publish button on this post, but this is a good start.
Comments
List posts like this are, by definition, pretty cryptic, so if you have a question or would like me to expand on an item, please ask in the comments. Ditto if you think I missed something out.
However, in both cases, please read the linked post first, if appropriate, to make sure we have not already written at length on that particular point. And yes, reading most of those linked posts does require membership, but that's what keeps the lights on around here, and together with our sponsors, makes free posts like this possible.