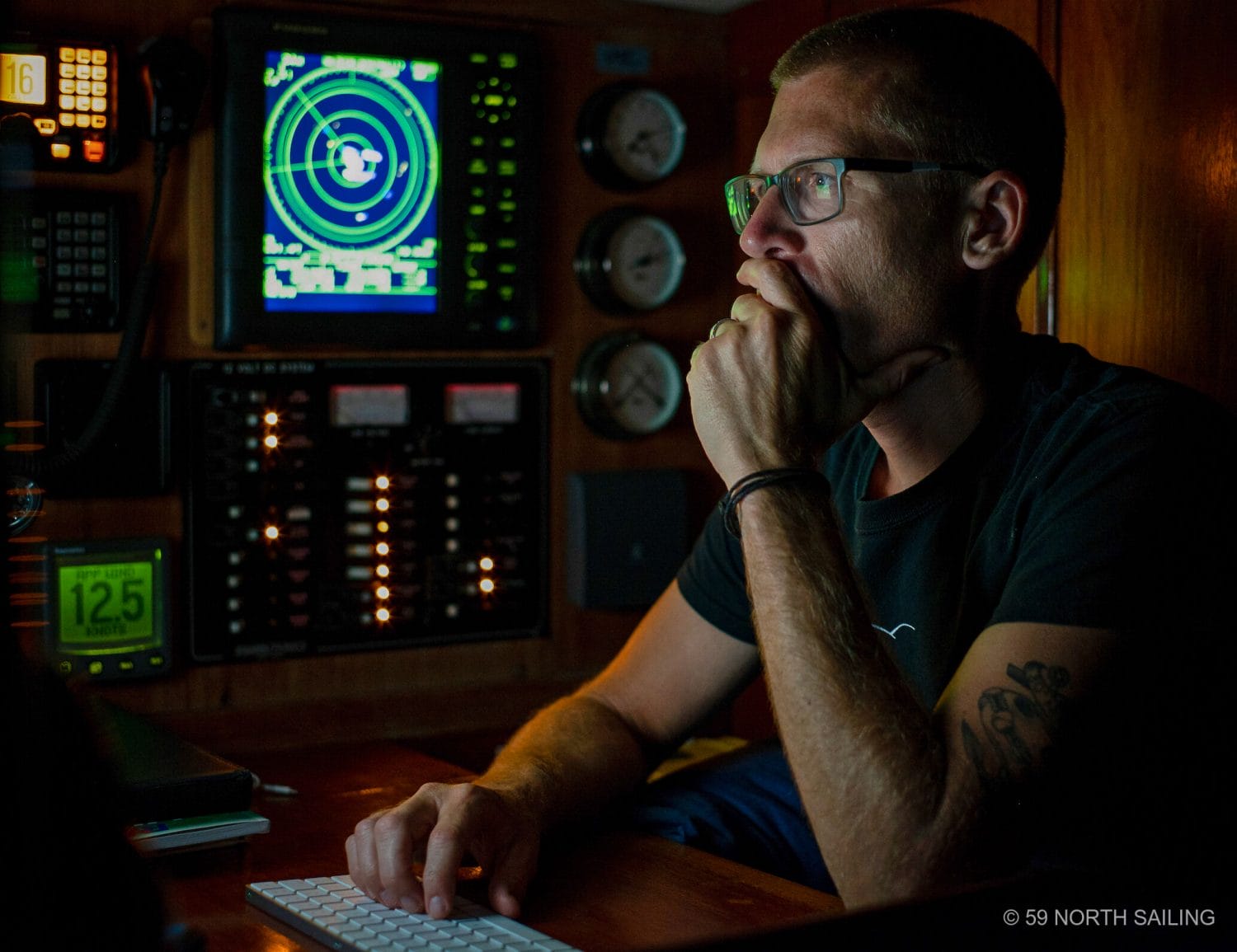 If anything's gonna happen, it's gonna happen out there.
I don't like sea stories. My number one and two goals on every passage I embark on is to get the people back in one piece, and get the boat back in one piece. If I can't do both, I'll take the former.
But do this long enough, while continuing to push your skills to a higher level, and things are going to happen, no matter how much we practice good preparation and seamanship.
I'm writing from the nav desk on Icebear, our Swan 59, somewhere in the Baltic on a calm night en route towards Stockholm. The inspiration for this piece was born from John's (appropriate) reply to my recent spinnaker fiasco¹ en route across the Atlantic a few weeks ago that cost us an almost brand-new sail—an expensive loss.
¹You can read the entire account, even watch the video debrief first mate Emma and I recorded immediately after the fact, but you gotta be a Quarterdeck member.
But I don't regret losing the sail. It's a tool, and tools are meant to be used. If you can't afford to lose them now and then, you shouldn't use them. (I feel the same way about the drones we fly off the back of the boat offshore).
I was deliberately pushing my own comfort zone to carry the sail into the night and with a bit more breeze than usual, partly knowing that in a couple years we'll be really pushing our comfort zone in the Southern Ocean, racing around the world with the OGR².
²When I wrote this we were still committed to racing OGR…since then, everything has changed. Icebear will still race with new owners, but we've since bought a Farr 65 that's being restored right now in England and which will become the flagship for 59 North. And there will not be an OGR for us, by choice.
Regrets
I do regret two things:
Not discussing the big-picture plan with my mate Emma before she went off watch.
Not briefing a Plan B with the crew on what to do if things went sideways during the takedown.
We had no Plan B and that was contributing factor #1 in the sail's demise.
The crux of this article then, is how to identify and learn from the tipping points, both when things go wrong and when they go right.
What Went Wrong
For years we've hoisted and doused spinnakers in exactly the same way I'd briefed it to the crew that night on Icebear, never having had an incident, even in much stronger winds, and yes, also at night.
The process had become habit.
Problem is, not having properly debriefed all those good experiences, I realize now my habit was wrong all along. And when things went just a bit sideways that night off Nova Scotia, my bad habit of not securing the downline on the sock was made all too apparent.
Systematic Learning
Since hiring a few new skippers and mates to run our offshore programs, as we grow 59º North to now three boats, we've developed a standard passage debrief form that gets completed after each trip by the skipper and mate while it's still fresh in our minds.
Parts of it are standardized, to allow us to easily compare the relative success of one passage to another. Like how we rate each trip, subjectively, on a scale of 1 to 100, then add in the degree of difficulty that went along with it—factoring in crew dynamics, weather, time of year, external factors, etc.
But the largest section prompts us to debrief the things that went right and wrong and asks us to think critically about them.
The most important part of any debrief is properly identifying the crux of why something went sideways. Even more difficult, and equally important, is identifying why something went right. Was it good decision making? Or was it luck? And how do you tell the difference?
To continue reading:
Or
Or