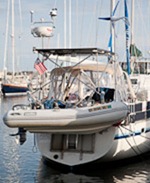 Don't miss the slide show at the end of this post
I'm a big time fan of the
Aubrey/Maturin
series about the days of sailing warships. As often mentioned in these books, the best captains, the ones that brought their ships home in one piece and vanquished their foes at sea, were holy terrors for clear decks. Times have changed but the sea has not and stuff on deck still has the potential to cause trouble offshore, even if you won't be faced with a
fleet action
.
Over the more than 40 years that I have been going offshore in sailboats I have noticed a disturbing trend toward ever more clutter on deck: Huge RIB dinghies in davits, rafts of poorly secured solar cells, portable generators, windsurfers, bicycles, television dishes; there seems to be no end to the stuff that festoons cruising boats today.
OK For Inshore
I guess there is no real problem with all this clutter for boats that will be spending their time inshore in sheltered waters, although, on a personal basis, I would still want a clear and tidy decks.
But Not Offshore
But offshore this stuff has the potential to cause real harm when the weather gets nasty. Not only do these obstructions make it difficult and dangerous to move around on deck, they also increase the chances that you will have to do exactly that when the lashings holding all the deck stuff loosen, as they inevitably will in a gale.
Clear Decks Require Sacrifices
When getting soaked in a chop while putt-putting along in our soft inflatable tender we often envy those whizzing past us in big RIBs. And a big bank of solar cells would be really nice. But at the end of the day, when considering such things, clear decks win out for us.
And/Or Planning
I'm not saying that an offshore boat should have neither solar cells or RIBs; plenty of sailors we respect have both. But I am saying that we voyagers need to limit the stuff we keep on deck and mount and lash the stuff we do have in a seamanlike way, not just tie it on and hope for the best.
For example, the solar cells and wind generator mounted on the massive welded arch on Colin's Ovni, pictured above, are not going to go anywhere, no matter the weather.
Here is a slide show of some boats with cluttered decks and the problems that I foresee, should they go offshore.
You can click on the slide show to enlarge it so you can really see the details. Use the buttons at the bottom to move through the show (it does not advance automatically).
This SlideShowPro photo gallery requires the Flash Player plugin and a web browser with JavaScript enabled.
Slideshow requires a reasonably up to date copy of the Adobe Flash plug-in or iPhone/iPad or Android and that java script be enabled.
What do you think about clutter on deck? Leave a comment.