In the last two chapters in this Online Book, I wrote a lot about the huge benefits of having an aft spring running from the boat at her balance point.
But what to do if you are not blessed with the required cleat and/or fairlead (most boats are not)? That's what this post is about.
Truth and Consequences
But first, let's pause for a moment for a reality check. I know many of you will say installing a new fairlead and/or cleat is just way more aggravation than it's worth.
I totally get that and so will have some alternatives in a moment.
But first, to help you in your decision-making, here's the consequence of not making the change:
Spring Not at Balance Point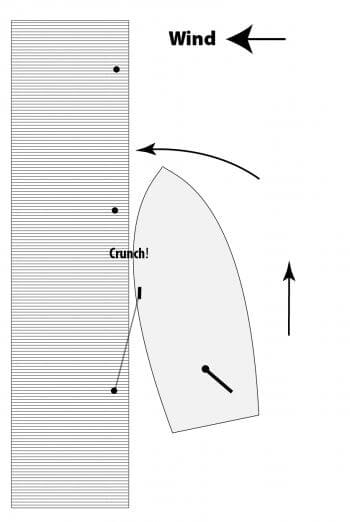 A boat that does not have a fairlead at the balance point will, in many circumstances, need to get two lines, instead of one, onto the dock, adjusted for length and secured, before the docking situation stabilizes.
The reason is that on some (most?) boats, going ahead and loading an aft spring led from the more common amidships fairlead or cleat, will result in the bow swinging in and hitting the dock, perhaps quite violently, while the stern swings out, regardless of rudder position.
This might be manageable when coming alongside a floating dock with a bunch of fenders hung forward, particularly on a smaller boat, but cruisers who venture further afield will be faced with fixed wharfs and/or coming alongside other boats, and sooner or later damage will be done with this method.
Spring at Balance Point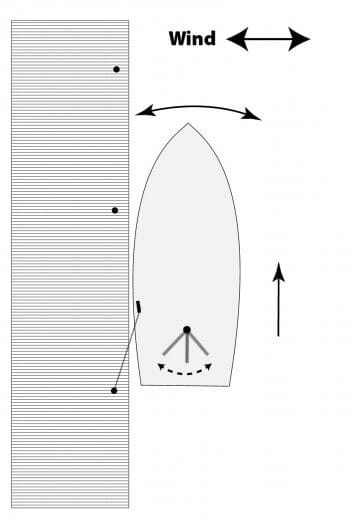 And, anyway, a balance-point fairlead just makes the whole docking process easier and more elegant, with no need for pulling on lines to get the boat straightened out—particularly important when the breeze is up and/or the crew are not quite as spry and strong as they once were.
I want to emphasize that last point. If our standard docking procedure requires the crew to pull the boat into position using brute strength, said procedure is fundamentally flawed and should be fixed. Otherwise, except with very small boats, sooner or later there will be a disaster and that may include someone getting hurt.
And one final plug: Although Morgan's Cloud was designed and built with a fairlead in just the right place—Jim McCurdy was a smart guy—now that Phyllis and I have experienced the joys of the aft-running spring at the balance point, we would not live without it and would modify any boat we might own in the future to suit, pretty much no matter the cost and hassle involved.
Two Alternatives
All that said, if you do decide that the balance-point fairlead improvement is not for you, here are some work-arounds:
To continue reading:
Or
Or