There can be very few offshore cruising boats that don't have at least one book by Jimmy Cornell aboard—World Cruising Routes, World Voyage Planner or World Cruising Destinations, for example. Drawing on his experiences from nearly forty years of cruising he has successfully developed a range of authoritative books that are indispensable to the ocean traveler.
Cornell Ocean Atlas
Having bought several of his books over the years, I thought that he'd pretty much covered all the angles, until I saw his latest publication, the Cornell Ocean Atlas, and realized that this might well be the best thing he has ever done. And then the next that I heard was that he and the team at Cornell Sailing were planning a new rally that aimed to raise awareness of climate change, with a particular focus on the Northwest Passage.
Fascinating stuff, so I made contact with Jimmy, who kindly agreed to give Attainable Adventure Cruising readers some background on these most recent developments.
Better Data
Looking to develop a new ocean pilot guide, Jimmy found that he was limited to using the original pilot charts developed in the mid-1800s by Lt. Maury of the US Navy. Jimmy mentioned this to his son, Ivan, a computer scientist, who assured him that if he could get access to the latest geospatial and remote buoy sensing ocean and current data, he could develop an algorithm to interrogate and interpret those data in a way that would bring the pilot chart concept completely up to date. Finding that the last 20 years of National Oceanic and Atmospheric Administration (NOAA) and Earth and Space Research (ESR) data measurements of winds and ocean currents were in the public domain, Ivan set to work. And the results are highly impressive.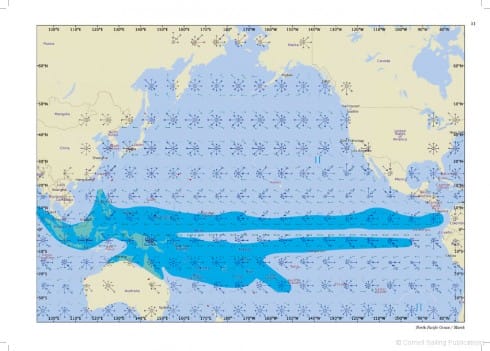 These new charts have enabled comparisons to be made with the original pilot charts, and show that along many of the world's most popular cruising routes there have been significant changes in recent years, particularly in terms of seasons, wind speed and direction. Jimmy is confident that the wind data is spot on, with a high degree of accuracy, but points out that with ocean currents the picture is more complicated due to the nature of such currents and their local and regional variability, as is well understood by ocean navigators.
A World of Change
Whether or not you are a believer in anthropogenic climate change, Jimmy points out that these changes are undeniably real. He tells me that this is making it necessary to regularly update his other works—he's currently hard at work on the seventh edition of World Cruising Routes as a result.
Jimmy believes that in the future this information will be of most use to the ocean sailor in a digital format, available via an app that he and Ivan hope to launch very soon, which will enable a far greater degree of interaction, and will also have the benefit of being much easier to update—cutting edge stuff that will benefit all serious cruising sailors.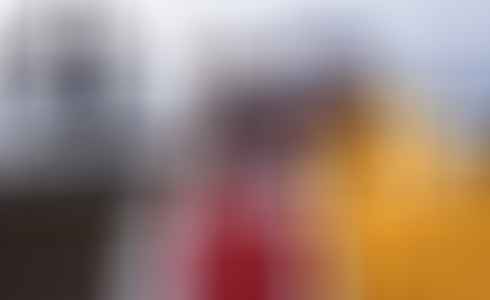 I'm interested in learning how he views his recent exposure to the stark, harsh numbers of climate change and its effects on the oceans. Delving into the world of climate science is a bit like opening Pandora's Box on an intellectual level, and the implications of future effects can't fail to affect anyone with children or, in his case, grandchildren too. The future ain't what it used to be. How has it influenced his thinking?
Not In Denial
Jimmy says that he is constantly dismayed by the level of denial of climate change he encounters in his travels. He points out that
sailors are far more aware of what's happening out on the oceans, and don't question that change is taking place, [they] just simply deal with it. And anyone who doesn't believe it's happening should just go out and sail the Northwest Passage!
Blue Planet Odyssey
Which is exactly what he proposes to do in his latest venture, the Blue Planet Odyssey, to highlight climate change.
Jimmy, of course, has plenty of form when it comes to such events, not least as the creator of the original game-changing Atlantic Rally for Cruisers. But he also subsequently took the whole concept in a totally new direction with the Millenium Odyssey where the participants carried a symbolic flame as a message of peace and goodwill to troubled areas around the world, culminating with an audience with Pope John Paul II. And this new rally has equally ambitious, yet different, aims.
We will be working with some of the islands most affected by climate change—Tuvalu and Tokelau, for example—helping them in practical ways, through our association with organisations like Oceanswatch, and using some of the skills of the Odyssey participants. And we'll be working with several scientific organisations that are focusing on climate change, including NOAA through having the participating yachts deploy drifter buoys that measure ocean currents, sea surface temperatures and other environmental parameters in some of the remoter areas.
So far the response from cruisers has been enthusiastic and, only eight months since its inception, 24 yachts have signed up to take part, so it would seem that a chord has been struck.
Raising Awareness
Raising awareness of the scale of the problem and its impact on island communities is a primary goal of the rally, and a major media program is being developed to highlight their plight. And the crews of all participating yachts are being encouraged to forge links between their local schools and community and the schools on the islands to promote wider understanding of what it means to have your whole way of life affected by climate change. "The kids in those islands know that their future and their way of life are threatened," says Jimmy.
And, in a grand gesture, at least some of the boats will attempt to transit the Northwest Passage, now largely possible as a result of climate change—as potent a symbol of the recent changes in our marine environment as can be imagined.
A New Boat For The Cornells
Jimmy is currently having a new aluminium expedition yacht built especially so that he can lead this section of the event. I mention that I see that he is taking his granddaughter Nera with him on this leg, but he counters with, "No, in fact I'm joining her—it was her insistence that I find a boat that would take us, that made me order the new boat."
It seems that the Cornell spirit is being passed down the generations and that the need to safeguard their future is being passed back up to Jimmy.
A New Challenge For The Cornells
Never one to step back from a challenge, he's certainly taken on a big one this time, as convincing anyone who'll listen to recognize climate change and alter course to avoid its worst effects will not be easy. But Jimmy and the family team at Cornell Sailing are determined to try, and in my view they deserve our respect and support for doing so.