There's nothing like a good long voyage to sort out a boat, for better or for worse. That much I learned running a working charter boat for so many years. Every season we'd cover around 8000 hard miles between the English Channel and the Outer Hebrides in Scotland. On our return to Falmouth at the end of the season we'd present the list of destruction to our long-suffering support crew, only to watch them scratch their heads and ask, "How on earth did you break that?"
Just use, hard use, and this on a boat on which everything was beefed up, and at least one or two sizes bigger and stronger than standard. All of which learning was put into the building of Pèlerin in 2007. Since when we've had ample time to find any weak spots in her armour, and make good any deficiencies.
During last year's enforced lay-off in the Canary Islands, one way we kept morale up was to go through everything so that we'd be 100% ready to take off in the autumn—it kept the dream alive, if you like.
Rig, hardware, mechanical systems, we went through it all with a fine tooth-comb whilst we were in a place where the skills and materials existed to put things right if necessary. And now, after 3700 ocean miles between the Canaries, Senegal, Cape Verde and Brazil, we feel we can fairly and objectively comment on what has worked and what hasn't.
What Did Work
Pèlerin

After five years and many ups and downs—mainly due to faults and deficiencies from when she was built—she's now totally battle hardened. She behaved impeccably throughout the voyage, and proved beyond any doubt that she is a really capable passagemaker, eating the miles with ease whilst demanding very little from the crew. Upwind she thumps and bumps along in a disgruntled manner, but offwind she really flies, and with the board raised is fast, comfortable and stable.
Windpilot Pacific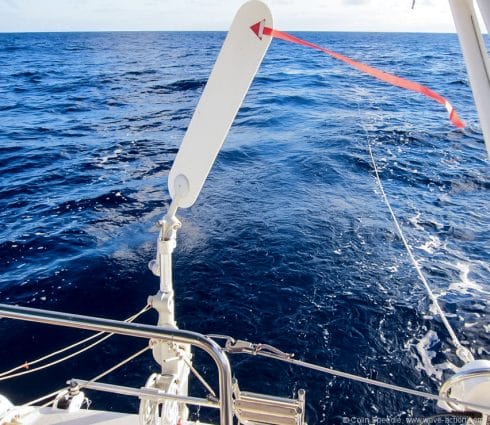 At the risk of sounding like a cracked record, I'll reiterate my belief that no small yacht should set off to cross an ocean without fitting a good wind-driven self-steering mechanism, at least as a back-up. Our Windpilot steered for over 95% of the time—faultlessly.
Before we left I installed new drive lines and serviced the gear thoroughly, and this certainly paid off, as we only had a couple of minor issues along the way: One of the new lines is now due for replacement, largely as a result of being on port tack for three thousand miles, which caused the turning block it passed through to deform and partially seize (which wasn't immediately noticed).
Light Weather Sails
Our ace in the hole when threading our way through the doldrums was our light weather genoa, excellent upwind in the lightest of breezes, even better close reaching with two light weight sheets attached (one barberhauled to the rail, one a spinnaker sheet). Unless the wind has given up entirely, we can always keep her moving with this sail, and it's a pleasure to look at, to boot!
Our asymmetric spinnaker, mounted on a Bartels furling gear proved ocean capable, too, whenever we had the chance to use it. Some people still prefer snuffers, and whilst I accept a well made one can do a good job, for ease of use and stowage, furlers have the edge for me.
Superwind Generator
Five years old and in perfect condition, this silent, powerful generator has proved to be worth every penny of its (relatively) steep price. Beautifully engineeered, utterly reliable. For me the Superwind is streets ahead of the competition.
All wind generators are weak downwind, but the moment the apparent wind comes ahead the ammeter starts to climb—a must have.
The Crew
After many years and a multitude of people aboard, I've learned the hard way that there are only three rules that matter to me:
The first is simple—can they put up with me?
The second is more fundamental—can I trust them to wake me up when something—anything in fact—concerns them?
The third is simple—can they be trusted not to do anything completely off the wall?
If they pass those three tests we're going to get along fine, and all the other skills they bring are just a big plus.
Lou passed all these tests with flying colours years ago (despite much provocation!) and in any case she has now got many thousands of miles under her belt.
But this was the first really long distance passage for our old friend Ronnie, although he has sailed with us many times in the past. He rewarded our confidence in inviting him along by proving to be just about the perfect crew member—utterly reliable, infallibly goodnatured, and totally contributory at all times. It was a pleasure to have him aboard, and having a third person along was unquestionably a huge advantage in terms of spreading the load over such a long passage.
What Didn't Work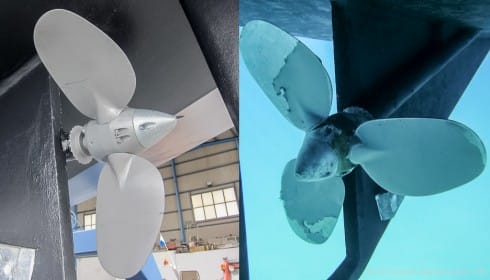 Hempel Prop Clear Antifouling
Having had problems with crustacean growth on our (excellent) Featherstream prop, we were persuaded to try this specially formulated propeller antifoulant. I followed the instructions to the letter, cleaning and degreasing with great care, before applying the primer and top coat as per the manufacturer's specifications in optimal conditions.
The images above show the results before launching and after 45 minutes of use. I can't see what we could have done wrong to cause the paint to peel off in this way, but we won't be trying it again.
Kevlar Main Halyard


Pèlerin was delivered with a 12mm Dacron main halyard, but in use we found that it slipped in its clutch. Our rigger kindly swapped it for a 14mm Kevlar halyard (at a good price), which cured the slip problem, and it has performed excellently since then.
In the Canaries we removed it and gave it a thorough wash and checked it for chafe. As there was some chafe to the outer Dacron sheathing (at full hoist) we decided to serve it in way of the damage to stop further chafe and reduce any chance of UV penetration (which is death to Kevlar). It worked fine for the duration of the passage, although we dropped the main from time to time to check it.
On arrival in Brazil it was pretty ragged, but still looked serviceable, and we decided to end for end it. Sadly it parted without warning before we could get around to that. Examination of the core showed that the Kevlar fibres were now no more than fairy dust, probably through a combination of UV penetration, internal abrasion, and bending around the sheave, all of which can cause damage to Kevlar. The replacement will be Spectra—when we can source some…which ain't easy here.
Ampair 100 Hydro Generator
A total conundrum, as we can't seem to isolate an intermittent fault with this unit. Odd, too, as they are pretty simple and have an excellent track record for reliability as far as I've heard. But ours has never functioned as promised from new, and despite submitting it to every test we can manage and checking the wiring, we simply can't work out what's wrong with it.
And now that we're in Brazil, sending it back isn't an option, so we're stuck with it. Not having it available for the passage was a major disadvantage as it meant that we had to run the engine far more than we had planned.
Despite this, I'd have to say that one of those Watt and Sea units looks awfully tempting—if the price comes down.
All in All?
It's not a bad balance sheet. Attention to detail during the preparation period paid off, and we were fortunate that for the most part the weather conditions we faced weren't too demanding, which certainly reduced the toll of breakages. We spent a considerable amount of time moving or diverting lazy lines and running backstays away from sails to minimize chafe, which definitely helped. As a result, our 'to do' list is gratifyingly short. Let's hope it's always like this…