Pèlerin, our boat and home, is an OVNI 435 cutter designed by Philippe Briand, built for us and launched in 2008. Here is a brief introduction to her, what has worked for us, and what we'd do differently if we were starting again.

The Designer
Philippe Briand has long been one of the foremost French designers, and a notable helmsman in his day, winning the half ton and one ton cups during the 1980's. What was noticeable in those early days was that even his race boats were good looking, during an era that wasn't noted for handsome lines. He then went on to design many well-known production yachts for the likes of Jeanneau and Beneteau, although today he is more involved in super yacht design. He designed many of the OVNI range, including the 495, which remains in production.
The Builders
In 1973, Alubat were amongst the first of the French builders to adopt aluminium as their build material. They have stuck to their formula of chunky, multi-chine designs with lifting keels ever since, and currently produce around fifty boats each year from their main base in Les Sables D'Olonne.
Specifications
LOA 44' (13.37m)
LWL 34'11" (10.59m)
Beam 13'11" (4.22m)
Draft 2'4"-8'4" (0.74-2.54m)
Displacement -dry (10.3T)
Sail area (working) 1065sq ft (99sq m)
Measured rig height (I) 52'6" (15.9m)
Fore triangle base (J) 15'6" (1.69m)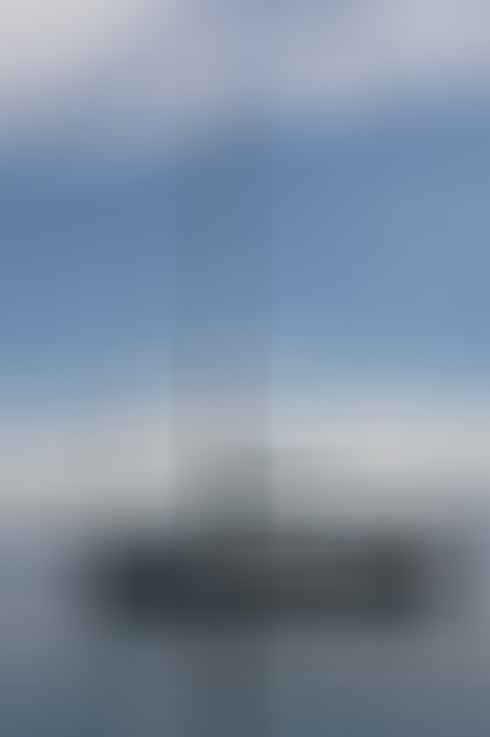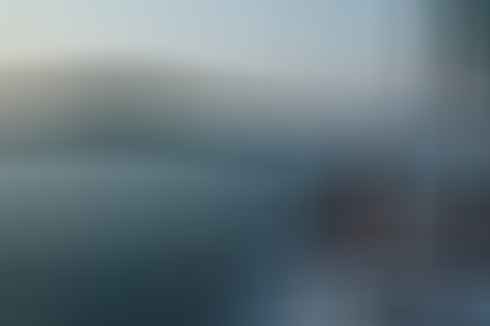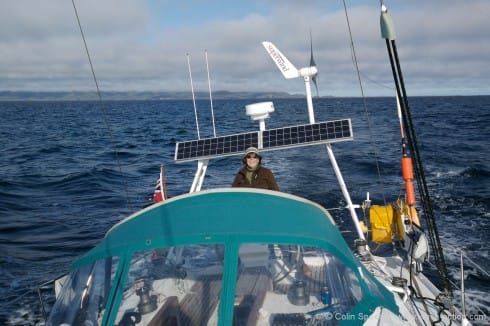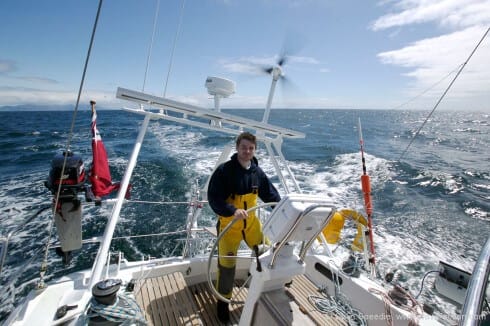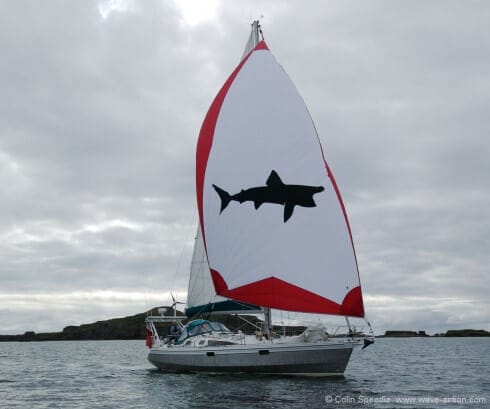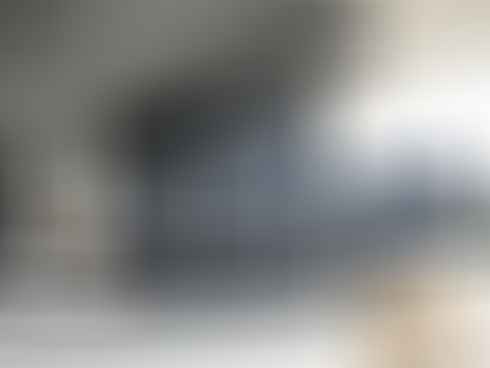 Cruising history
After 16 years skippering yachts commercially (in my case), Louise and I had Pèlerin built to fulfil a long-term plan to go cruising. With that in mind, we had a great deal of input into planning her above and below decks, assisted by the experienced team at Alubat who gave us much good advice and converted our ideas into reality very well.
Having lived aboard for over two years, we are currently making our way South after spending the 2009 season in the West of Ireland and the Western Isles of Scotland.
Size
For us, Pèlerin is a near ideal size. Not too big to handle, especially at close quarters, and just the right side of affordable in terms of gear and maintenance. She has true shoal draft with her hydraulically controlled lifting centreboard and rudder and ability to take the ground, which gives her amazing versatility and opens up many otherwise off-limits cruising grounds. Being easily driven she doesn't have a huge rig and is simple to handle short-handed. Like many centreboarders, upwind is not her favourite point of sailing, but if sailed a little free she'll get on with it. Downwind, with the plate raised she is fast and stable and is the most controllable boat we've ever sailed. With her ballast all mounted internally she has a very comfortable motion in most conditions, and is a relaxing boat to sail, capable of keeping up good average daily runs without putting big demands on her crew.
Aluminium
OVNIs are all aluminium, chosen not necessarily to make them light, but to make them robust. Aluminium construction is massively strong with its matrix of frames and stringers, and should deform on impact if necessary. It lends itself very well to custom fabrication and features at little extra cost, and we tried to make a virtue of that, welding everything possible on deck to avoid leaks and corrosion. In any case, Alubat have many years of experience building in the material, and have long ago learned how to avoid most of the pitfalls.
Most of the problems with aluminium and electrolysis can be traced to connection to shorepower, so we installed an isolation transformer soon after delivery. OVNI's also have a leak meter which will detect any current bleed via the 12V system, which we check daily.
We had Pèlerin fully insulated at the build stage, hull and deck down to the waterline, which keeps her cosy and condensation free in winter and cool in the summer. It also cuts down on one of the less attractive aspects of aluminium construction which is noise inside – she is really quiet at sea.
Rig
Pèlerin is a true cutter with a high cut Yankee and staysail. The Yankee is mounted on a roller and the staysail is hoisted conventionally. She has a fully battened main running on a Harken track, which has single line reefing worked from the cockpit. Much effort (and expense) has gone into reducing friction in all areas of sail handling, which has really paid off, so that reefing is now straightforward and effective. All working sails are in laminated fabrics, and are wearing well.
We carry a hanked on storm jib, but not a trysail. Our mainsail has three reefs at larger than standard spacing, and so our third reef is effectively not much larger than a trysail. The staysail can also be reefed.
For light airs we have a lighweight No 1 genoa that sets on a stay just aft of the roller, which has really improved our upwind and close reaching ability below 8 knots of wind. We also have an asymmetric spinnaker mounted on a gennaker furler, which sets from a detachable bowsprit, which is versatile and easy to use.
We have one power driven winch to handle all halyards, which also double for hoisting the dinghy aboard, and lifting large heavy items from our forward store room and workshop.
Mechanical systems
Pèlerin is fitted with a Volvo D2 – 55D normally aspirated diesel engine currently driving the original three blade fixed prop via a Hurth gearbox. The engine is adequate for the size of boat, and we when we fit a Max-prop in the coming months we hope we'll gain some extra grip astern, as well as better sailing performance. In calm conditions we motor at around 6.5 knots, using around 4l of fuel per hour. We carry 300l of fuel in two integral tanks.
In keeping with our policy of simplicity we have no diesel generator. We do, however, have 180W of fixed solar panels, which can be augmented by a further 85W of portable panel when at anchor. We also have a highly efficient (and now quiet!) Superwind wind generator. So far a combination of these units combined with relatively frugal daily demand has allowed us to avoid running our engine to charge the batteries. We carry a small petrol driven Honda generator for emergencies, but have so far only used it once to test it out.
We have no bow thruster, although there are times when we wish we did. OVNIs are not the easiest boats to handle in tight harbours, especially in cross winds.
We carry 600l of water, which is adequate, but we have our one concession to complexity in the form of a Spectra Ventura 150 watermaker, which is not too power hungry, and allows us to have showers whenever we like.
Our refrigerator is by Isotherm, and is well insulated, and so very efficient. We have a 5Kw blown air diesel heating system by Webasto, and so far it has worked very well.
Electronics
On deck, we have a Simrad integrated system, including radar, plotter, wind, AI 50 AIS transceiver and a Simrad AP 28 hydraulic autopilot. We have an Echopilot FLS Gold III forward looking sonar, with a custom aluminium transducer housing. Down below we have a back-up Furuno GP 32 GPS linked to an ICOM M505 DSC VHF radio, and an Iridium phone for e-mail and long distance communication.
The autopilot is matched by a Windpilot Pacific vane gear, which is powerful, easy to use and seems to match the boat very well.
Some other things that make Pèlerin a great boat
She has a feeling of immense strength which leads us to have great confidence in her
She is not at all demanding to sail, and has a very comfortable motion
She is very light and airy down below
We had considerable input over the interior design, and so far we feel it has worked very well, both at sea and in harbour.
What we would change if we had a magic wand
A solid dodger/doghouse like on the Boreal 44 that we recently tested. We couldn't have one at the build stage (although we asked), but plan to have one fabricated in due course, either in composites or alloy plate.
Fit a Max-prop. We didn't, and we regret it.
NO PAINT! There is no question that the one real downside to aluminium construction is keeping paint on it. If it had to be painted, then just the coachroof and deck, but, please! Not the hull!
We would change the deck hatches- all of them – to Goiot or perhaps Gebo.
We have changed nearly all of the deck gear to Harken, and what a difference it has made. We'd change the rest if money were no option.
Install a day tank so that we could monitor fuel condition and consumption.
Better engine access – the engine is mounted very low in the hull to assist stability, and despite numerous detachable access hatches access is not good. This is especially true of the stern gland, which is a Volvo seal, and needs to be 'burped' every time the boat is dried out – a job best suited to a contortionist.
Do you have questions or comments about Pèlerin? Leave a comment.