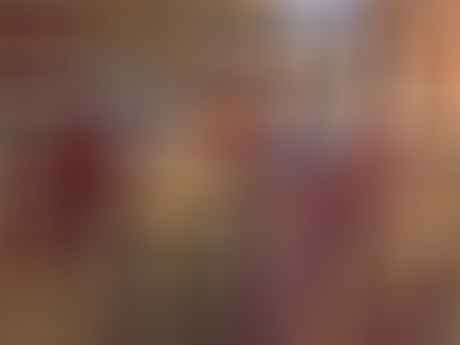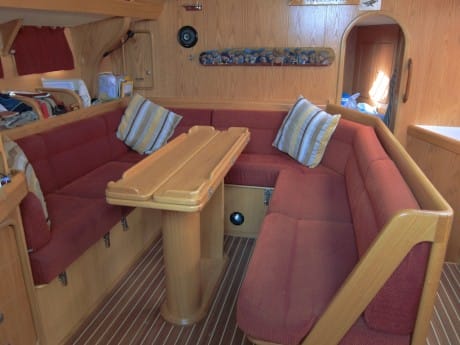 When we ordered Pèlerin, we had some pretty specific ideas about what we wanted from her as a home, and as a voyaging machine – and then we had to find a way of making these two contradictory requirements meet in practice.
In effect we have two boats – one is a floating home with a full sized bedroom cabin forward, the other has a more conventional seagoing interior, where the bedroom becomes (largely) a stowage area. And both are essential in order for her to fulfill her dual role, which is two people living aboard full time, and being on the move for considerable periods each year.
Many changes from standard
The standard Ovni 435 has an offset double forward, with a head and shower in the forepeak, the main saloon and two mirror image double cabins aft, with a second head and shower to starboard. This works fine for most people, but we wanted one head and shower, and only one aft cabin, as this would free up more space for stowage of all of our equipment. So, in our boat, where the head and shower would be forward is now given over to a stowage cabin and a small workshop, and where the starboard aft cabin would be there is a larger head and shower, with access to a stowage and services cabin.
Once we had covered a few thousand miles in her we made a number of changes and improvements. As it's so often the case that the best solution for a given problem is not the first one imagined, or the one fitted at build, we waited a while before fitting additional grab handles below decks, and selecting appropriate locker lid clamps for the underbunk lockers, chart table and engine box.
We also dedicated much thought before the build on the provision of proper sea berths. The standard saloon berths are too short for taller people and have angled corners which render them even less practical as sea berths, so we had the outboard settee made with a right angled corner. We then had the factory make a locker with a removable front at the foot of the bunk, which adds nearly another foot to the length of the bunk. This type of contraption used to be known as a 'trotter box' and the last time I saw one was on an old gaff cutter. And, although I'm not the tallest guy, it does make for a really comfortable berth where you can stretch out full length. With a high leecloth with two attachments at each end, and the seat back cushions in place, it's a really good seaberth, where there is little chance of rolling around, or worse yet, being chucked out! By splitting the aft cabin cushion and installing a high lee cloth up the middle we also have two other effective seaberths available.
Comfort in harbour
The forward cabin is our in harbour 'bedroom', with a big double for really luxurious nights. As we spend most nights at anchor or alongside, having a proper bed is a must in our view. We have a huge stowage area beneath the bunk, too, and Alubat built in lots of usefully sized practical lockers as well. And at the head of the bunk we had a small vanity unit cum writing desk installed, complete with both 12v and 240v power outlets. It's a comfortable, spacious and practical use of the available space we feel.
As we had Pèlerin fully insulated (hull and deck down to the waterline) at the build stage, she is warm in winter, with minimal condensation, hatch surrounds apart. With our powerful Webasto heater (5Kw) able to deliver heat to all cabins we have been kept cosy throughout two cold Northern European winters living aboard. The insulation also helps to keep noise down within, a not inconsiderable benefit on an aluminium boat. As we had additional hatches and dorade vents fitted to ensure good ventilation, she keeps pretty cool inside in summer – the insulation helps here too.
What do we like less?
Things we wish that we could change? Well I'm still not convinced by the linear galley, although it's not as awkward as I had been led to believe. It's OK in harbour, and now that we have sorted out a decent crash bar and strap, workable at sea. The Force Ten cooker is a conundrum – the best oven on any boat cooker I've ever tried, but the piezo ignition and the thermocouples work (or don't) on a whim, despite numerous attempts to fix them. And the gimbal mounting plates (as supplied) we felt were inadequate, so we had new ones fabricated soon after delivery, far more capable of supporting and securing such a heavy stove.
The fridge works well, but has only rudimentary compartments, so everything can rattle around within it at sea. This is really odd, because this is normally an area where French yachts excel, and at some stage we'll have to work out a better system for securing everything – at the moment we rely entirely on airtight plastic containers. And in common with other OVNI owners we've spoken to, the woodwork around the fridge base is discolouring, probably because the insulation isn't thick enough and so condensation is building up in that area now that we are in a warmer climate.
The heating system has, so far, worked fine, but I'd still have preferred the Refleks diesel stove feeding radiators that was fitted on the Boreal 44 I test sailed back in the spring. A simple, reliable mechanical system that formed the heart of the boat; sadly, we just couldn't find a way to install one on our boat due to the constraints of the layout.
It's a cliché, but every boat is a compromise, and we have to learn to live with the boat we have. We had the enormous luxury of a considerable amount of input with Pèlerin, and were therefore able to put into practice many ideas gleaned over the years from sailing and working aboard a variety of boats. For the most part things have worked out well, and we're very happy with the result.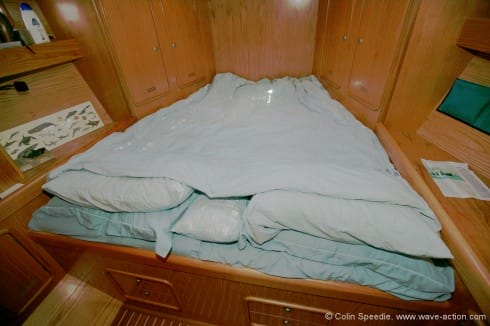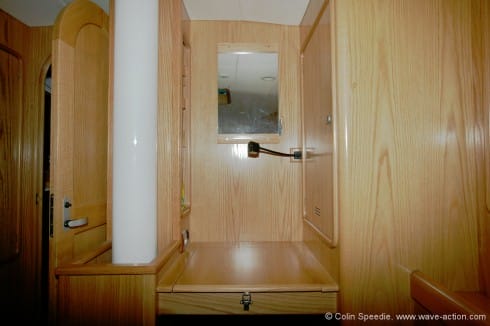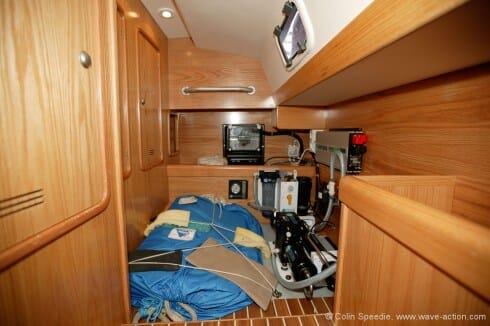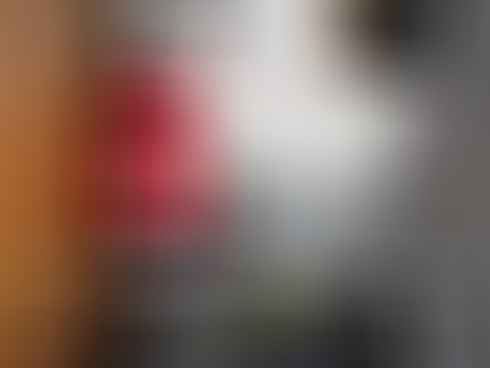 Further Reading