Our last news letter described our circumnavigation of Newfoundland in the summer of 2005 and our return to Maine for the winter of 2005/06, with a plan to complete the refit of Morgan's Cloud over the winter and move back aboard in the spring of 2006 to resume our cruising life. It was not to be.
In January my mother broke her leg resulting in a panic trip to Bermuda and two months of supporting her. No sooner had we got her in a stable and safe situation than Phyllis's mother was diagnosed with cancer. Phyllis spent much of 2006 caring for her until her passing in early September. A tough and sad time for us and our families.
With all of this going on, we got little accomplished on Morgan's Cloud and therefore decided not to launch her this past summer. This decision was cemented by the discovery that the carbon fiber mast we had built to replace our old and cracked aluminum one was made with a twist of about 10 degrees heel to cap and, worse still, our insurance company, in consultation with European standards agencies, deemed its strength inadequate for the type of sailing we do. This despite getting it from GMT of Bristol, Rhode Island, the most experienced firm in the carbon fiber mast business and signing a contract specifying, in the words of the builder's own news letter, that it would be "designed to take anything Mother Nature sends her way." It was a huge blow financially and to our faith in the marine industry, but our parental issues sure put things in perspective and we have moved on, with a new mast on order from Hall Spars, which is where we should have gone in the first place.
In May, I was hired by the captain of a 27-meter Jongert-built superyacht, Vivid, to advise on preparation and planning for a voyage to Greenland.
Tim, the skipper, worked feverishly seven days a week to not only whip a boat he had just taken over into shape but also to source the gear and implement the modifications for high latitude cruising I was recommending to him by e-mail. I suspect that he got to the point where he fervently hoped that my computer would blow up taking my e-mail program with it.
As things progressed, I was asked to go along as guide/navigator. I joined Vivid in St. John's, Newfoundland in mid-July and quickly realized, as Lisa the stewardess showed me my cabin with private head and shower and issued me my uniform, that superyachting is indeed a different world; a realization that only got stronger when chef Gordon produced the first of a series of incredible three course meals that we ate in the heated wheelhouse while motor sailing into fog and rain in the Labrador Sea on the way to Nuuk, the capital of Greenland. It was indeed a far cry from the curry consumed in the cockpit while dressed in five layers of long underwear and fleece topped with foul weather gear that would have been my lot on Morgan's Cloud.
I had planned a cruise for Vivid of the southwest Greenland coast, a transit of Prins Christians Sund (PCS), a quick look at the wonderful uncharted anchorage we had found at Lindenow Fjord in 1997 on the southeast coast, followed by passage to Iceland. It was not to be. When we got to Nuuk, a call to the ice office in Greenland confirmed what I was seeing on the ice charts: PCS and the southeast coast were blocked by ice with little hope of any clearance until well into August; an unusual situation since in past years we have twice transited the Sund in mid-July.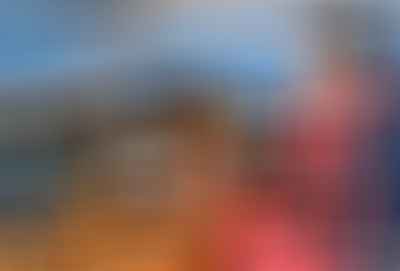 After a conference with the owner and captain we turned north, bound for Disko Bay and what was for me a near repeat of our cruise on Morgan's Cloud in 1995, but no less enjoyable for that. The highlight of our time on Disko Bay was the view, both from the water and land, of the Jakobshavn Ice fjord, which is fed by the most prolific glacier in the world: It moves 100 feet a day. The hour I spent on the shore above the berg-choked fjord watching a humpback whale feed along the ice edge goes on my list of most treasured times accumulated in 15 years of going north.
With PCS still blocked by ice and the settled summer weather running out, a fact confirmed by three days tied to a wharf in Nuuk while 40-knot gusts howled in the rigging, we decided to scrub Iceland and return to St. John's. Six more days of motor sailing to windward in fog, conditions that typified the whole voyage, brought us back to St. John's where I left the boat after 39 days aboard and some 20 nights at sea.
Although we had more than our share of fog and contrary winds, we had been extraordinarily lucky, having experienced no heavy weather at all while at sea or anchor. Of course our 'luck' in this area was augmented by a lot of time studying weather maps and was in no small part due to the help we received from the expert weather forecasters at Commanders Weather. I was also pleasantly surprised by the accuracy of the computer generated GRIB files we received by e-mail. These models now seem to be very good out to about 72 hours, even with the complex and fast developing systems in the Arctic.
It was a great experience—enhanced by a contribution to the cruising kitty—and I learned a lot about a different type of cruising. However, for all the comfort and automation of Vivid, by the end of the cruise I yearned for Morgan's Cloud's rugged and simple gear, together with the smooth ride and offshore security designed into her by Jim McCurdy. There are two things I will miss, though: the chef and the wheelhouse!
For more shots of Greenland, visit our Picture gallery.