Our broker has several people interested in buying Morgan's Cloud, but with the current COVID situation it will be difficult for prospects to visit the boat, so we have put together this tour of the interior to go with the one we did on deck some years ago.
And, yes, this is very much a sales pitch post, but I think many members will get some good ideas, both for changes you may want to make to your current boats and/or features you will want to look for in a new boat…even if you do something totally crazy like not buying Morgan's Cloud.
Seriously, after twenty-eight years of continuous upgrades there's a lot of good stuff that will be useful, particularly since we started off with a boat drawn by one of the best offshore boat designers of all time.
One more point before I get going, some of you members may be starting to wonder if you are paying for the privilege of being subjected to a hard sell for our boat.
Phyllis and I get that, and are committed to making sure that Morgan's Cloud sales posts are in addition to, rather than replacing, normal content. That said, I do need to get all this done—engine room next, and some video too—in the next few weeks, so other stuff may slip a bit, but I will make it up to you later. OK?
Let's start off with the boat's arrangement plan (see above).
The first thing most people notice is that she is a 56-foot boat with just three cabins: forward, main, and aft (owners), whereas we are now accustomed to seeing 45-foot boats with four cabins, and 55 footers with as many as six—holy rabbit warren, Batman.
But here's the thing, for longterm live-aboard voyaging and expedition cruising, this is a feature not a bug, because she has:
A ton of space for machinery and gear, so the living spaces remain just that, rather than getting cluttered with deck gear along with having mechanical gear jammed under every berth.
The owner and guest spaces are well separated, which is a blessing, particularly when on a voyage where crew may be aboard for weeks or even months—we have done that a bunch and they are all still friends.
Spaces, like hanging lockers, are bigger than they are on a 45-foot or even 55-foot boat with four cabins.
Let's dig in and take a look.
Forepeak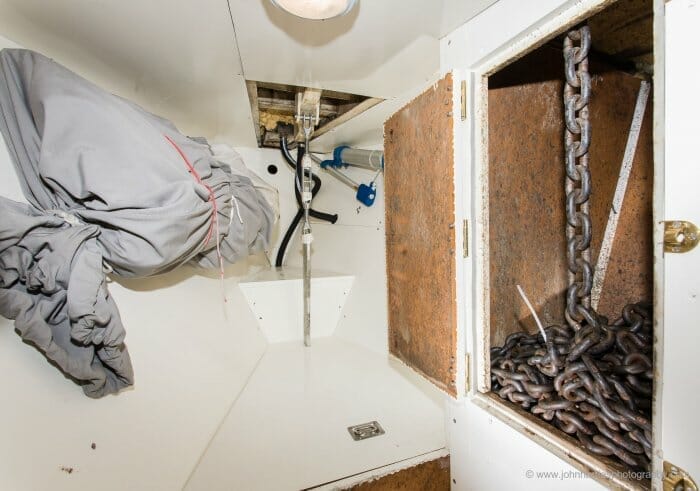 The forepeak: The vertical chain locker stores 380 feet of Grade 70 chain without manual flaking, and drains into a separate sump with its own pump, not the bilge.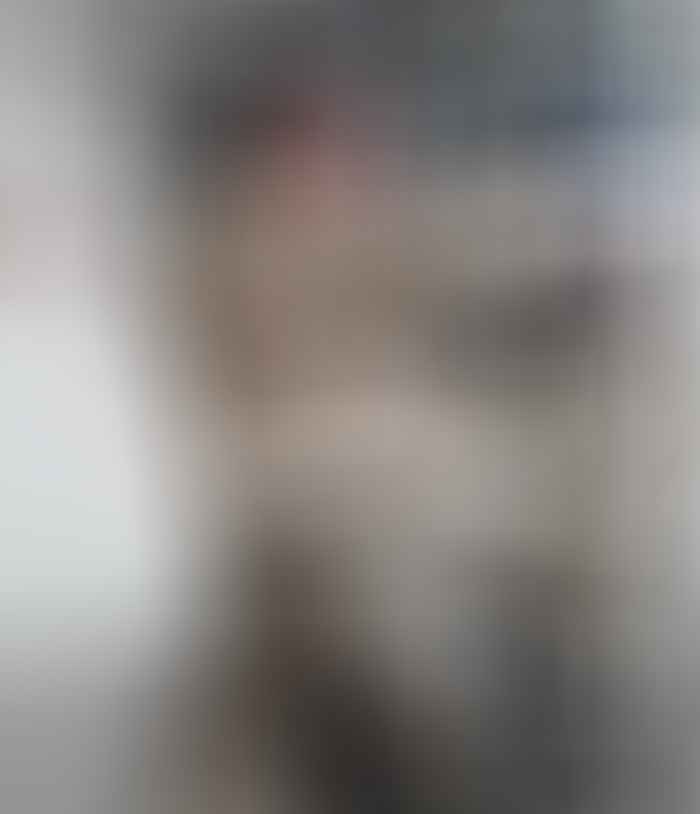 This shot gives an idea of the scale of the forepeak—I may be scrawny,  but I'm tall. That's the vane gear I'm working on—it's great to have the room to get this vulnerable piece of gear off the stern when not in use.
Get me out and there's room for storm jib, storm trysail, and cruising spinnaker in an ATN sleeve, while still leaving room for a six-month supply of paper towel and toilet paper. Carrying that stuff from the shops once you are out there and everything must be transported by dinghy is no fun.
Forward (Guest) Cabin
Forward cabin looking aft from the forepeak. The starboard bunk is 6′ 10″ (208 cm) and the port shorter (to accommodate the roomy head) at 6′ 1″ (185 cm).
There is plenty of storage in drawers and on the shelves above for the guests' personal items, unlike on boats with more cabins where storage almost always suffers.
To port, under the shelf, there is lockable storage for the rifle we have always carried on Arctic trips for protection from polar bears—no, never had to use it, thankfully.
The starboard shelf has been modified to store a printer and the port to store a large screen monitor, both secured properly for sea—part of our working-while-voyaging set up.
And, no, there is no double berth for guests. That would reduce the drawers, both in number and size, make the cabin cramped with nowhere to stand to dress, and, worst of all, encourage guests to stay too long.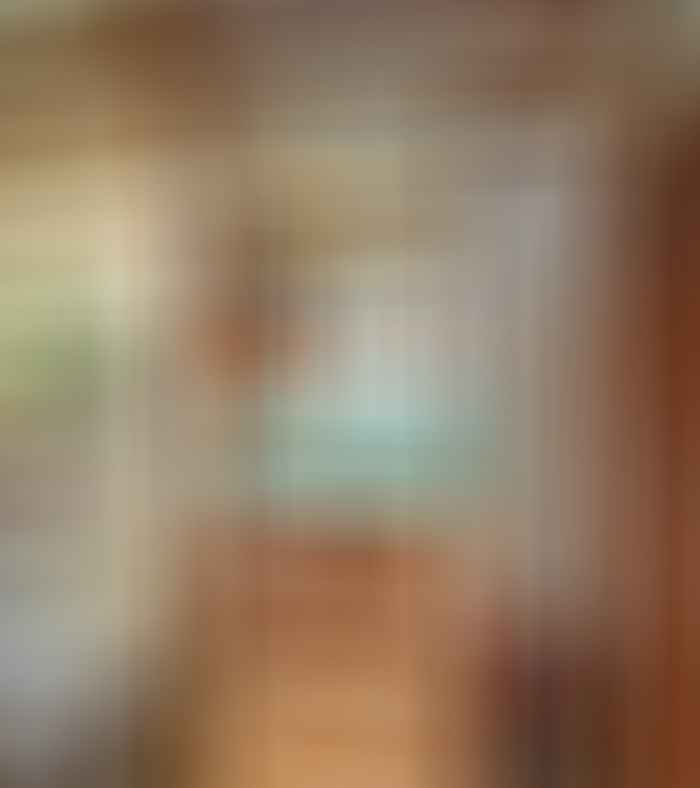 The hanging locker to starboard is huge, accommodating:
Owners' shoregoing and business attire
Guest clothing
All the ship's linens and towels
A full serious trauma medical kit
Vacuum cleaner
Two ceramic heaters for shore power use
Or, to put it another way, all the stuff that there is no room for on a boat with too many cabins and berths.
There is a pocket door separating this area from the salon to give guests privacy.

The forward head is fitted with a Lavac Popular head. Without doubt the best and most reliable head I have ever seen or heard of—in nearly three decades we have never had a jam that required disassembly—there, I have jinxed myself.
Note that the head is oriented fore and aft, the way it should be, and there is plenty to brace against around it.
There is a sink to the left with a mirror on the bulkhead, and there are large lockers behind the counter that swallow up the guests' sponge bags, etc., and still leave room for the vessel's supply of non-prescription drugs and minor trauma bandaging.
Salon
The warm and comfortable salon is a lot of what makes Morgan's Cloud a home. The dinette seats four lounging about, six easily, and eight with a cheek hanging each side…two different people's cheeks in case you were having trouble visualizing that.
Since the tanks are under the cabin sole, and all the mechanical stuff in the engine spaces, the lockers under the dinette and sea berth/settee easily accommodate six months' supply of dry and canned food, as well as liquid refreshment.
There are lockers both sides, accessed through louvered doors, for other household stuff and office supplies, and more lockers still outboard of the seat backs both sides.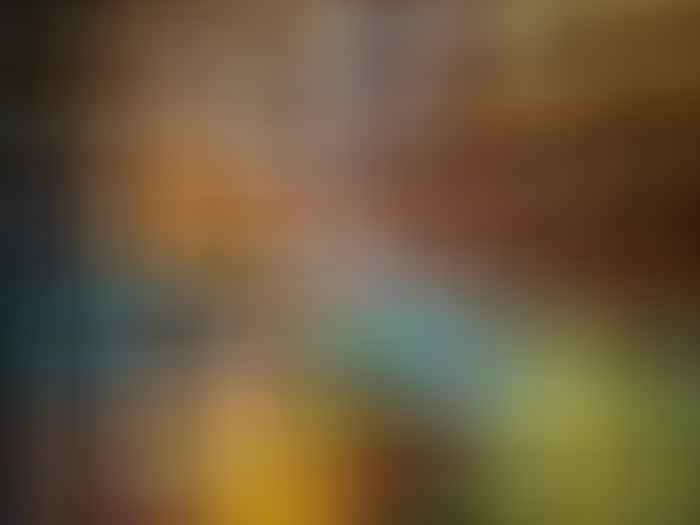 The two corners are where Phyllis and I lie back with feet up to read or just hang out.
The decor is classic Herreshoff-style with white semi-gloss paint and rubbed effect varnished North American cherry trim. This provides a light and airy feel and avoids the cave-like dark of all wood.
It is also much easier to take care of and spruce up with paint and varnish than the varnished light wood veneer that is common these days, which starts to look tired quickly and is impossible to restore.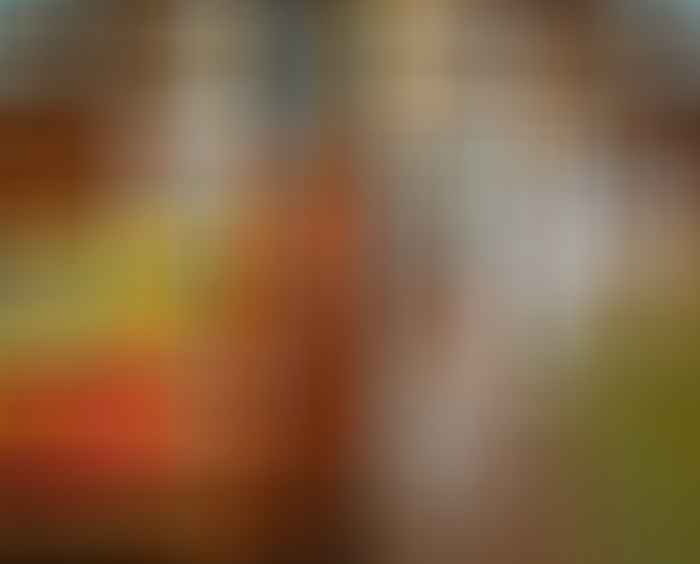 We added the cabinet in the foreground, which includes a sizeable spice rack on one side—making good and interesting food, particularly in remote places with limited supplies, is a lot about having the right seasonings—and secure storage for laptop computers and keyboards on the other.
Said cabinet, along with its mounting brackets, is removable, if not required. There is also an added leaf available for the table, if required.
The sole thoughout the boat is solid teak with holly splines, not veneer.

The salon in work mode. The table can be electrically adjusted to the optimal height for typing.
The salon looking forward. We added the cabinets in the foreground, port and starboard. Not only do they provide lots of good storage, they also nicely separate the galley and chart table from the salon, as well as provide a surface to brace against offshore.
Talking of fall avoidance, there are handholds everywhere, so that there is never a need to let go of one before having a firm hold on the next.
One of the most neglected things in recent designs is a really good sea berth. This one can be used with the back up for more room, or the back down when there is more motion.
Also note that the berth is parallel to the centre line of the boat, so that when she heels the sleeper does not end up head down or up—both are far more uncomfortable than those who have not experienced it would believe.
Galley
The galley is the classic U-shape that became classic simply because it is by far the best—everything within reach and the cook constrained from falling.
To the left are a massive and well-insulated fridge and freezer, and to the right twin sinks that are close enough to the centre line that they always drain no matter the angle of heel—a sink that backfills on one tack, or even just won't drain, is a huge piss off, and common in galleys that are arranged along the side of the boat.
There are many lockers that contain everything required to cook and serve multi-course meals—no plastic plates and cheap aluminum cookware here.
There is a rack for flatware and cutlery above the sinks, with a cover to stop stuff flying around at sea in a storm. That said, the boat's motion is so gentle that we have never used said cover, and have even had full sit-down meals while heaved-to in a gale.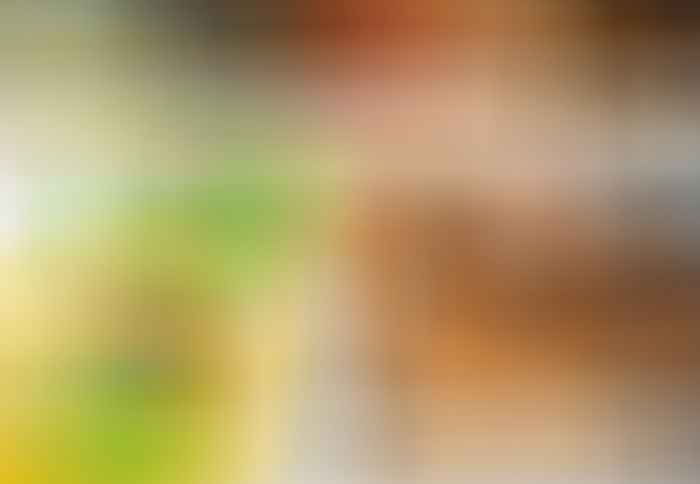 We don't camp. The freezer can hold a six-month supply of meat, and some frozen vegetables, enabling meals like this even in remote places.
The cutting board is custom built to fit over one sink while draining juices into the other.
Chart Table/Office
The chart table has a full suite of electronic repeaters for below-deck watch standing when heaved-to, as well as containing the navigation computer, which drives a waterproof screen, mouse, and keyboard on deck.
There's plenty of space for cruising guides and marine publications as well as all the manuals for the boat's gear.
It also doubles as one of our two office-work areas—see Further Reading.
Workshop
Looking forward with the engine room, which I will cover in a separate tour, doors to port.
Of all the features of the boat, having this working area right next to the engine room is on the top five list for making life easier and more fun.
It is also a great place to don deck gear, while securely wedged, from the hanging locker just forward of the bench, which holds full foul weather gear, including boots and lifejackets, for four crew—another benefit of not cramming too many cabins and berths in a boat.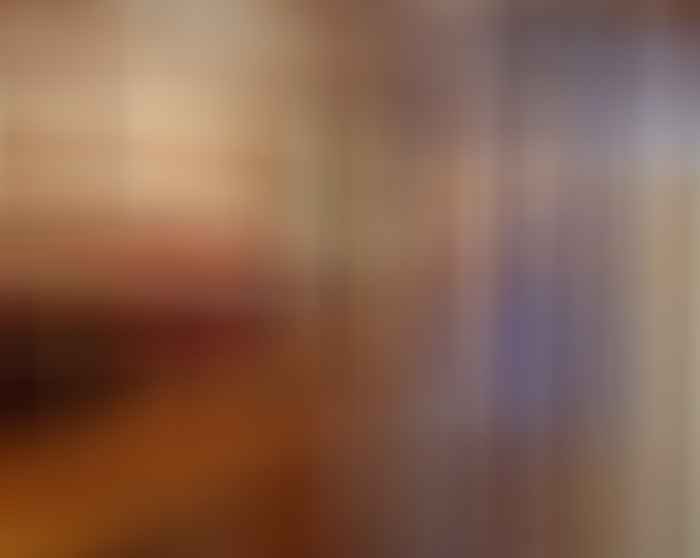 Workshop looking aft. The house battery bank is under the bench and there are storage lockers above for tools, as well as storage bins each end for small parts and fasteners.
The entire bench can be secured in heavy weather using the rolled-up cover.
Aft (Owner's) Cabin
The aft head is to starboard. It is set athwartship, so we don't use it much at sea. In fact, we tend to only use it when we have guests aboard. Its rather small and utilitarian nature makes more sense than wasting a lot of space on two huge fully enclosed heads—just enough to be there when you need it…particularly if your partner is given to reading on the can.
The head/shower area can be closed off from the aft cabin with a folding door, but we used it so rarely that we removed it (available if required) to clear space for the magazine rack and art.
While the head is small, the shower is palatial, unlike the stand-up coffins we so often see. It's also fitted with an automatic temperature control—you only need to get hit once with water that's been heated by a diesel engine exchanger to know why.
Aft cabin looking to starboard. There's a large vanity with sink and mirror, so we don't have to bug the guests when we want to brush our teeth, and lots of storage behind and below.
The quarter berth is a great sea berth far removed from the working areas of the boat and has yet more large lockers under it.
The berth to port is where we sleep in port and is actually larger than queen sized in length and width, with the exception of the foot which is still a generous 57″/144 cm (just 3″/7.5 cm less than a queen). No kicking wars here, as you find in centre line "queen" berths that so often are not even close to that big—take a tape measure with you when you go looking at boats, you will get some surprises.
The berth is fitted with a split mattress and lee cloths so it can be shared by two at sea.
Of course, the drawback is that one person (me) must climb over the other to get in and out, but since the berth is so long (90″/228cm) that's not as much of a pain as it sounds, and placing the bunk against the hull is far more space efficient, allowing for some very cool features, like that shown in the next shot.
Yup, a full-on chest of drawers, bigger than you will find in many houses—I'm always amazed at the number of boats I go on that are touted as live-aboard but only have enough drawer space for two tee-shirts and three pairs of knickers.
And, yes, I know, shelves are more space efficient than drawers, but they are also less attractive and messier—OK for a weekend, but not for living aboard for years.
The larger drawer is something I have only seen once before on a boat: holds standard legal-sized hanging files—no piles of loose paper as you so often see on a cruising boat:
Customs are here, honey, and would like to see our cruising permit.
Let me see, where did that go, I know it's here in this mess thrown into a locker…somewhere…wait, maybe it's in that pile in the chart table.
Honey, they are getting impatient and they have guns.
Just a minute, dear, I'm sure it's here…somewhere.
The two hatches at the bottom access huge shoe lockers that swallow up all the different kinds of footwear required on a cruising boat, from hiking boots to deck shoes.
At the foot of the berth there is yet another large hanging locker.
Add it all together and we can stow all the clothes required from the Arctic to the Tropics.
Under the bunk, the locker in the front, with the louvered doors, is just about big enough to crawl into, and contains sleeping bags and the like, and behind that there are huge lockers where most of the larger and less commonly accessed parts live. And, yes, there's an inventory.
Lazarette
Behind the drawers, there is still enough boat left for a huge lazarette that swallows up all the deck gear required for high latitude adventure sailing or hanging out in the Tropics, including shorefasts, a Jordan series drogue, spare anchor rode, and on it goes—none of this is stored in the accommodation, ever.
Summary
Bottom line, Morgan's Cloud is a boat for two to live and work aboard as a full-time primary home, with plenty of room for all the stuff that implies, but she still has room for two crew for long periods.
What if you want to cruise with more than four? We have done it for short periods, no problem. There are bunks for six, without the silliness of a convertible dinette—just try having two people sleeping on your dinning table.
Offshore, the layout works well, with the working spaces at the bottom of the companionway separated from the salon, and the quiet aft cabin separated from everything.
One criticism is that the primary head is forward, meaning that the on-watch crew must traverse the salon to get to it. Not ideal, but if the head were aft in the salon, either the chart table/office or the galley would be adversely affected—all boats are compromises.
When double-handed, Phyllis and I hot-bunk it in the starboard salon sea berth, because we like to be close to the companionway so we can keep an ear out for each other. That said, the other option is the quarter berth, and the split double, in the aft cabin, which are comfortable and completely separate from the boat's working areas.
Another nice feature is that, with the exception of the engine room corridor (workshop) where I must hunch a bit, I have full standing headroom with room to spare throughout the boat, and I'm nearly 6′ 3″ (190 cm) tall, or was before the inevitable shrinking with age set in.
For more detail, download the full inventory and maintenance history PDF.
To make an offer—you know you want to—contact the broker: Jim Snair, Sunnybrook Yachts, +1-902-456-0881, ac.kniltsae@bys
Further Reading
Comments
If you have a question, leave a comment, but if you want to discuss purchase, please contact the broker.
Disclaimer
We believe the information above, and the linked articles, to be correct; however, we do not warrant that the information is in fact accurate and further make no warranty, express or implied, of the yacht's fitness for any task.
Furthermore, the owner makes clear that responsibility to insure the correctness of this, or any other documents provided to a prospective buyer by the owner or his agents, lies entirely with said prospective buyer.
And, further, the owner specifically recommends that a prospective buyer investigate all specifications and condition of the vessel and her gear, to in all ways assure themselves of the vessel's suitability for their intended use.