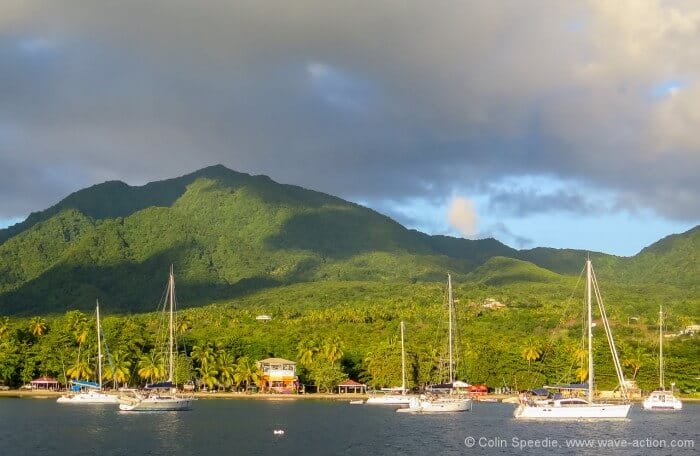 Our arrival in Portsmouth, Dominica for the New Year felt like a homecoming. We'd spent a good spell anchored off the town during our cruise through the islands last year, and still felt there was a lot more to get from Dominica as a whole, so we decided to settle down for a good spell the second time around to explore ashore.


Portsmouth sits in a large, sheltered bay with little swell (in most conditions), plenty of room to anchor, and apart from a few coral heads the bottom is mostly sand and offers good holding. There are also moorings owned by the helpful guys from PAYS (Portsmouth Association of Yacht Security) for rent if you prefer.
There's a useful range of services ashore, and the backdrop of the hills behind the town is absolutely magnificent. But as we settled in to our new, temporary home, we were moved to ask ourselves the same question that had struck us again and again from Grenada northwards—where were all the yachts?
Compared with last year, I'd guess that the number of boats we've seen has been down in the order of 20-40%, an impression that was confirmed by a number of local businesses in Union Island and Bequia.
One small locally owned restaurant told me they were down about 50% from last year; another business, a well loved deli, reckoned 33%—and this at Christmas, when most newcomers have arrived from across the pond and the tills should be jingling merrily. It seemed the same was also true in Dominica, where there were around half the boats that we'd seen at anchor last year.
All of this naturally had an effect on the social scene. While we were there, several events run by PAYS and others, for the benefit of the yacht crews, were either cancelled due to lack of numbers or were very subdued affairs. The effect on local businesses was pronounced, and one thing that we noticed was a (perhaps understandable) hike in prices for most services, as traders tried to make up for falling business volumes.
But their idea of hard up and ours are two very different things, so it was no big deal, and if we spent our days worrying about every single penny then we wouldn't enjoy this life for five minutes.
Dominica remains one of our favourite islands in many ways, for the people, the slow pace of life, its natural beauty, peace and tranquility. It's also one of the best places to see the green flash, which can conveniently be viewed at sunset from the agreeable vantage point of Felix's art studio and bar on the beach, with your feet in the Caribbean Sea.
It's not a bad life if you don't buckle under the pressure.
A tour of the island in the company of the wonderful Winston was a great day out, and on a day when the cruise ships weren't in port most of the beauty spots weren't busy at all.
Waterfalls; hiking in the Mornes; looking out for the endangered endemic parrot, the Sisserou (which, unbelievably, we saw)—time spent in Dominica is always well rewarded.
And when we finally reluctantly left, we were treated to one last reminder of why Dominica is called the nature island, when a sperm whale crossed our bows to say farewell and reminded us to come back some day. We will.
Where's The Wind?
Another big change from last year has been the far lower average wind speeds we've encountered, right from the beginning of the season. Last year was windy from early December onwards, and some of the passages between the islands were boisterous, to say the least. We made several crossings with two or more reefs in, and even one with three and the staysail only, which represents a lot of wind when measured against a stiff boat like Pèlerin.
As often as not, this year we've had a single reef and full yankee, and even on a couple of occasions, no reefs at all—it has seemed at times like a bit of an anti-climax.
Sure, there have been sporadic belts of enhanced trade winds, but nothing like the endless 'Christmas Trades' of last year. Good passage making conditions, though, that carried us up to the charming French islands of Les Saintes, another favourite of ours, not least for the numerous restaurants, a few of which are truly excellent.
After a couple of days of cheerful gluttony we had to move on again to Antigua to rest up and lose some weight.
Party Central
Antigua occupies a position of some importance in the global yachting mindset, home as it is to the famous race week and the Classic yacht regatta. All centred on the well preserved historic backdrop of Nelson's Dockyard, it's not hard to see why, and if we were thirty years younger I'm sure we'd love it, too.
But as a cruising couple we're a bit old for all the noise and the parties, and so we tend to avoid such places. And that's where Antigua has an edge over some of the other party islands, in that there's still a lot to see off the beaten track, if you're prepared to make the effort.
Not least of which is Great Bird Island, around to the northeast of Antigua. Sheltering behind a protecting reef, the island and its smaller neighbours, Redhead and Rabbit Islands, offer a tranquil antidote to the hustle and bustle of the south and west coasts of the island, with walks ashore, clear waters and abundant bird life.
A few pilgrims make the plug into the wind around to these islands, and a few of the trip catamarans visit the main island, but by evening all is quiet and you can settle down and relax with only the birdsong and the sound of the waves on the distant reef as the sun goes down—that's our kind of party.
By day we watched ospreys flitting between the islands, listened to the pigeons calling in the scrub ashore, and watched a variety of seabirds going about their business.
Best of all was the visit by a family of whistling ducks, as it's always good to see the hope for the future that youngsters represent. Now considered endangered (apparently they're rather good to eat), this was a first for us. A Different Route
Last year we came as far north as Barbuda before turning south to sit out the hurricane season in Grenada. This year our plans are to go much farther north, so we decided to turn west from Antigua to visit St Christopher (St Kitts).
This turned out to be a light weather downwind run, so we got the spinnaker pole out for the first time in two years, which left me all fingers and thumbs as I tried to remember what went where without tying myself in knots while playfully dropping the pole on my head to remind me what to look out for. The message got through eventually.
The first signs of St Kitts were unprepossessing after the lush greenery of the leeward islands, and the sight of two colossal cruise ships berthed off the main town didn't improve matters.
I don't know if your spellchecker is as mischievous as mine, which always converts my misspelt 'cruise' to 'curse'. Maybe it somehow reads my mind, as I'm just not sure how much real benefit cruise ships bring to these hard-up island communities.
It always seems to me that most of the money ends up back in the pockets of the companies that own the ships, the shops, the concessions, etc., rather than the locally owned businesses.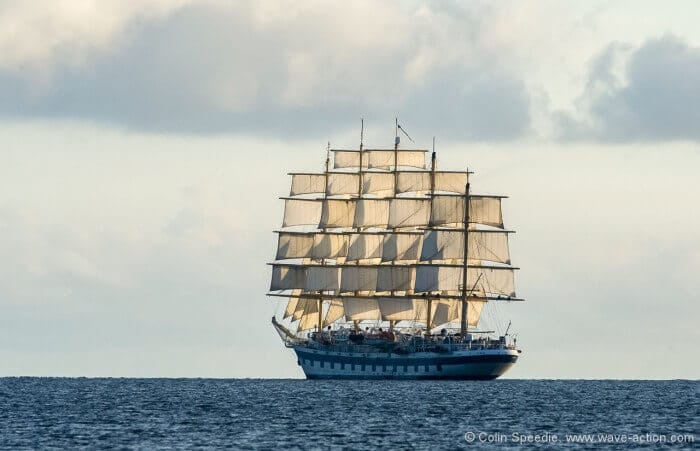 This is an impression that was heightened through watching the journey of the passengers, fresh from a regime of four square meals a day, emerging from the maw of the cruise ship terminal like a flock of force-fed geese, and then funneled into a vast mall full of gift shops selling exactly the same tat as the last port of call, straight into the arms of the real pirates of the Caribbean; it was not hard to perceive that this was a long way from what you or I would call 'cruising'.
Beyond that lay the safer waters of a nice, friendly, slightly chaotic Caribbean town, but few of the passengers seemed to venture that far, which was their loss in my view.
As always, if you look hard enough, you'll find some nice quiet spot to rest up, and once formalities were completed we set off south again for a couple of nights in the calm of Ballast Bay, soon to be the home of the latest superyacht marina, currently being created in a flooded lagoon.
Whether the world actually needs yet another superyacht facility is not for me to say, but if it brings prosperity to a small island and offers jobs for the young people, then perhaps it will be a welcome addition. But I also know that the world still needs its small, quiet oases of calm, and another one gone is always a cause for regret.
Not All Caribbean Islands Are The Same
You could be forgiven for wondering where on earth you are as you sail past the Dutch island of Sint Eustatius (Statia), which acts as an oil terminal for the islands. With over a dozen huge tankers at anchor or alongside as we passed, and ranks of vast storage tanks on the cliffs ashore, it's a pretty industrial scene. It's one more way to support an island community, like it or not, but a far cry from the verdant glories of Grenada or Dominica.
Next up, the tiny volcanic island of Saba, with its little community scattered around the top of the island like confetti. Somewhere we've long wanted to visit, but when we got there all of the moorings were taken and after watching the metronomic cavorting of the boats already there, we were quite glad to keep going.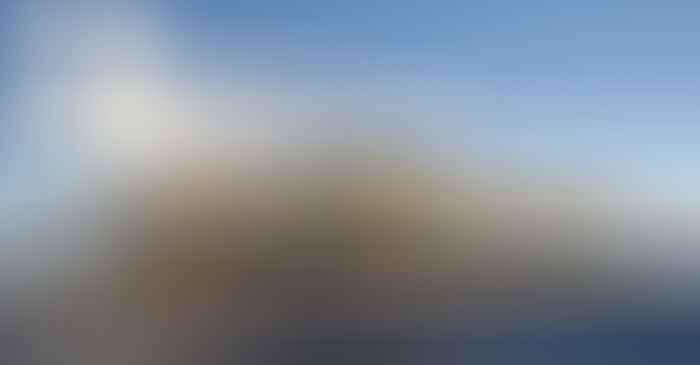 On into the night, and our first visit to the charter capital of the Caribbean, the Virgin Islands.
Another quiet, slow, offwind leg, but that's fine if it lets you get some rest, and in the temperatures here, no hardship when it's your turn on watch.
But the nagging thought keeps coming back to us—if we like our peace and quiet so much, just what would we make of the Virgin Islands? Would it be as crazy as everyone had told us?
But a peaceful, inky watch spent gazing at the Southern Cross was a great way to calm all those concerns. Time would tell, and it was a lovely night—so why worry? Just enjoy the ride.
Charts in this post are thanks to the kindness of Transas Marine who granted us the rights to reproduce screen shots of their charts from their excellent iPad/iPhone app iSailor.