In the past I met many people who expressed amazement and envy for my then way of life: skippering yachts on wildlife research projects. And for the most part they were right, it was an enviable way of life. And although the pay was awful and the hours endless, the rewards were colossal, not least in terms of the sights seen, the people met and the places we were lucky enough to call home, even if only for a short spell. Now, living aboard Pèlerin, we get to do the same kind of thing only with less work involved. It's a great life—with a few caveats.
If you're planning to embark on a similar way of life, then you'll probably share the dreams that drew us all in—the romance of sailing your own boat to foreign shores, the wheel of stars in an ocean night and the sensory avalanche of a distant landfall, to name a few of them. But understand this—you'll also be spending a lot of your time in boatyards.
I've got them boatyard blues again…
I've just tried to work out how long I've spent living in boatyards and it runs into years. I reckon an average of six weeks a year for getting on for twenty five years to be about right. And not all of those yards were the Ritz, let me tell you. During my working days, all of the maintenance tended to be compressed into two spells at the beginning and end of the working season, in the coldest, wettest months of the year in Britain.
Why? Well, we couldn't afford to pay someone else to do the work (apart from the really specialized stuff) so we had to do it all ourselves—still do, in fact. If your boat is going to be working every day for six months without breaking down there's only one way that can be achieved, and that's with absolutely meticulous attention to detail and preventative maintenance in the off-season. So you must learn about every aspect of your boat and its systems until you know it inside out. Wonderful training for long distance cruising, in fact, another form of sailing where this type of knowledge will make a critical difference to the success or failure of your voyages.
It's enough to give you nightmares
Two ghastly winters haunt my nights. The first entailed a total rig re-fit of the gaff ketch rigged sailing trawler I was then working on—endless days aloft in the bitter cold and damp of a Cornish January. After that one I knew how a snowman felt.
The second, a winter re-fit in a shed at the head of a sea loch on the west coast of Scotland, where we'd booked the boat in to re-bed hatches and deck fittings, knowing the impossibility of trying to do that work outside. Which would have been fine if the shed roof had actually existed in any meaningful sense, forcing us to erect a tent over the deck inside the building. In the short, wet, freezing days of the Scottish winter, we moved around like miners with head torches, constantly soaked by contact with the clammy awning, skidding dangerously on the icy patches on deck—I nearly took to wearing a harness. Our only consolation was a hot shower at the end of the working day in an unlit shower block inhabited solely by an enormous, avuncular rat. At such times you begin to doubt your sanity.
Great boatyards of the world
Happily, these days we tend to be based in warmer places, so at least we don't freeze. But living with the heat and dust can be trying, too, as we found in the Canary Islands. That and the devotion of the staff to the same music played constantly at deafening volume has left us with a pathological hatred of some of the current crop of pop stars, who would otherwise have escaped our attention.
But, as with their counterparts in colder climes, there's always the endless battle of chasing parts and services promised but not delivered, the taxi rides to cajole and plead with intransigent officialdom (with whom you share no common language)—an exercise in disappointment on a daily basis. Only the resourceful and determined should apply…And choose a simple boat.
But they're not all bad
Consider the yard we're in at the moment, Peake Yacht Services at Chaguaramas, Trinidad. It has all the basics: a well-stocked chandlery, snack bar, restaurant, good showers and toilets, internet café and working WiFi, friendly staff and efficient management. It's a real pleasure to have all of those facilities on site, which make life so much easier when you're trying to get things done. And the officials here have been nothing but friendly and helpful, which has made getting spares in a whole lot easier.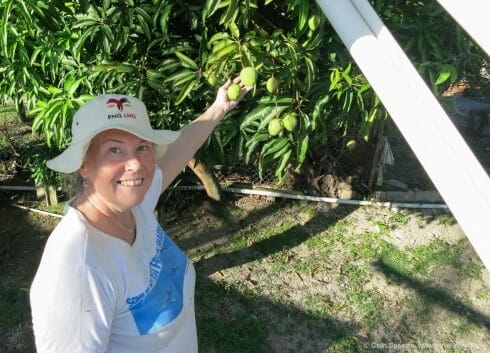 The weather's good, so working is easy, and although it's baking hot, that just can't be helped so we simply accept it. There are mangoes to be picked from our transom, wonderful bird life, iridescent iguanas and cute geckos. Plenty of bugs, though, including some the size of small birds—well, it can't all be perfect now, can it? Every time I hear a yelp from Lou I know that one has just whirred by.
And you do get to make some wonderful friends in boatyards. Everybody is in the same boat (as it were) and there's a common sense of purpose and a ready supply of second opinions should you need them. And if the yard (like this one) has the decency and foresight to offer a barbecue area for cruisers to share, then there's even the chance to enjoy some excellent people from all around the world of an evening. Good food, good company and cold Carib beer will all have a beneficial effect on aching limbs at the end of the working day.
That's the life we've chosen…
…As Lou is fond of telling me whenever I begin grumbling about something that isn't working out as planned or my knees start protesting at their constant use and abuse. Finally, as the job list shrinks, the list of the places to visit lengthens and the anticipation grows to accompany it. Neither of us has sailed in the Caribbean before, so we've got a lot to learn and look forward to, and we're trying hard to remain objective about it.
As we're (a) not employed on a boat and (b) not used to sailing in 'holiday' areas, this is going to be quite different for us, to say the least. Hopefully you'll enjoy our reports back as we travel through the islands—out of the boatyard at last!
*As opposed to The Fast Lane (Eagles Song).