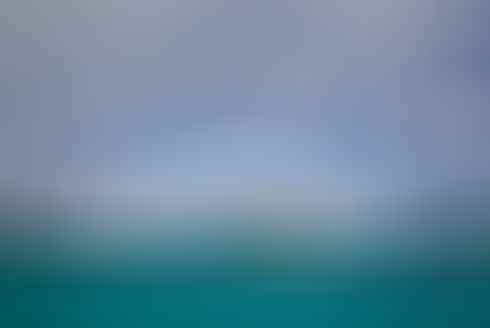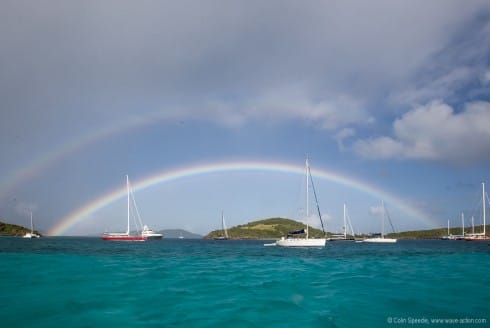 Leaving Grenada was tough, as we'd had such an enjoyable stay, and there was still plenty to see. But with family aboard, and the whole of the rest of the island chain to explore, we were on our way without a backward glance.
One of the great things about the Caribbean is that there's so little motoring to be done. Yes, sometimes it helps to motorsail up the coast of an island around to the northern tip, in order to get the best angle to the next island. But compared with most places, the steady trades mean some terrific sailing between the islands, even if much of it involves beating to windward. The combination of easterly winds and a predominantly westbound current combine to ensure that northward voyages are solidly on the wind, at least early in the season.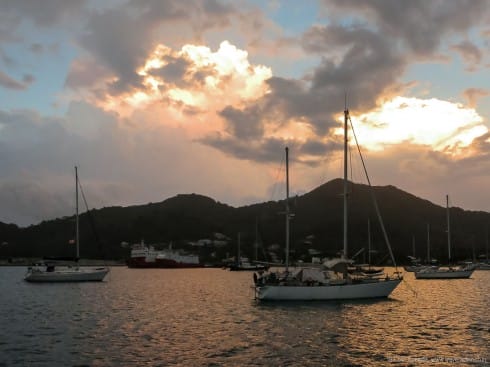 And this year the 'Christmas trades' had kicked in solidly long before we'd left Grenada, and so once out of the lee of the island we were soon bashing into it again, as we headed for Carriacou and Christmas Day.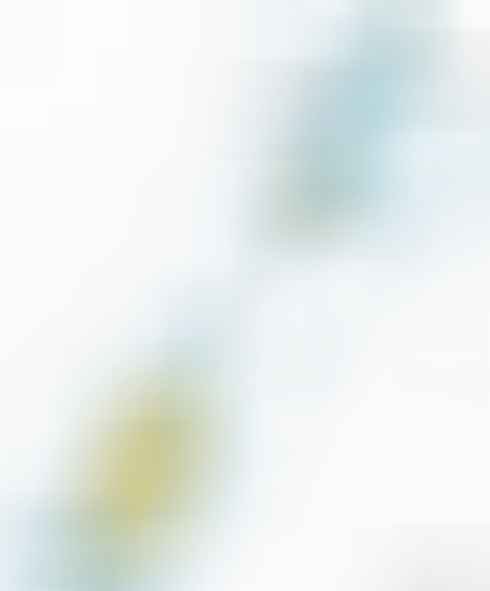 We spent several pleasant days in Tyrrell Bay in sometimes wet and windy conditions, waiting for the weather to settle a little. Fortunately it's well sheltered with good holding, so there were no concerns there, but in terms of the weather it did seem a little different from what we'd been led to expect.
St Vincent and the Grenadines
The next leg involved a change of island nations, leaving Grenada for St Vincent. Clearing in at Union Island seemed the best bet, being adjacent to the Tobago Cays, which were our prime reason for being there.
Union Island turned out to be something of a disappointment, with a crowded anchorage and surly boat boys, and didn't exactly fill us with enthusiasm for St Vincent, so we moved on to Saline Bay on Mayreau the following day—a much quieter, better anchorage.
By now the horizon was filled with yachts of varying sizes, as well as cruise ships of all styles. It was clear that we were now into true holiday territory, with dozens of yachts from the various 'brand name' charter fleets in evidence, partly recognizable by their varying degrees of competence, especially when anchoring.
But with plenty of space around us, we weren't worrying unduly, and it didn't get out of hand—fortunately, although we did exchange opinions with one cat that anchored within handshaking distance of us.
The Tobago Cays
Everyone wants to go to the Tobago Cays—it's one of those fabled places that most yachts want to visit. And why not? A small group of islets dropped into an unbelievably blue sea, surrounded by fringing reefs that break the ocean swell, it's almost a construct of the mythical, perfect island scene.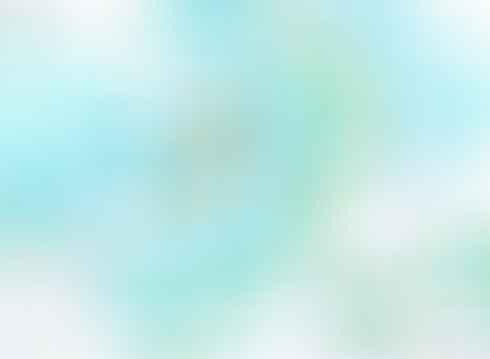 But everyone is in on the secret, especially at Christmas and New Year, and even at a distance we could sea a forest of masts, partly obliterated by monstrous slab-sided cruise ships. Still, we knew we'd have to go and see for ourselves, and hopefully there would be space for one more.
There was, right out to the southern side of the main anchorage, east of Jamesby, just inside the anchoring zone, where once again we were able to use our shoal draft to best advantage, just us and a couple of cats. Turtles popped up around us from time to time, and stingrays glided by beneath us—nice place!
That's one side of it
The guide book showed a turtle sanctuary off Baradal Island, which sounded like our sort of thing, but even from a distance we could see the crowds on the minute beach, and a never ending flow of boats coming back and forth from the cruise ships. But once again we reminded ourselves that you've got to check these things out first hand, so we jumped in the dinghy, and headed across.
When we got there our worst fears were realized. The water was completely churned up by the constant passage of small craft, and organized parties of snorkelers were busily pursuing the few turtles crazy enough to inhabit the place.
There was even one heroic individual on a kiteboard ripping up and down through the turtle sanctuary and swimming zone (what is it with these 'adrenaline sports' that they seem to only attract the afflicted?). This despite the fact that there's a huge, designated windsurfing and kiteboarding zone on the other side of the island miles from anyone or anything!
With not a soul in sight attempting to moderate any of this behaviour, this was conservation 'lite' to say the least, and so thoroughly depressing to witness that we retreated back to Pèlerin as fast as our dinghy would carry us.
Starry, starry night
Come evening and the place really began to fill up, and to our dismay we watched as a group of charter cats took up residence right upwind of us, and began to raft up. And in no time at all, our uninterrupted view of the reef had disappeared behind four, then five cats, all lying alongside one another. As by this time there wasn't a lot of option to move, we settled down to watch the windspeed, and hope that the combined anchors of the cheery pontoon party ahead of us held. Bedlam, and by nightfall, the anchorage was absolutely jammed.
Call a place Paradise…
Now we know that St Vincent is a poor country, and in a democratic world why shouldn't everyone be welcome to enjoy this lovely place, especially if it generates much needed income for the islands? But this is a unique place, as is recognized by its Marine Park status, and it became a Park largely in response to widely recognized overuse and over-exploitation of its natural resources.
There are fees levied on every boat that visits. Therefore you might imagine that at least some of that money would be spent on protecting the Marine Park and its fauna, perhaps through the rangers spending less time collecting fees, and more time moderating the worst excesses of the visitors. But I'm afraid that we certainly didn't see any concrete evidence of such a policy being enacted, and without that necessary action, it's hard not to feel that this lovely place might likely become yet another Paradise Lost—not Found.
And that, in the long term, will almost certainly have far more negative effects on the financial viability of the Park and the people who depend on it for a living than protecting it would. As it's clear that the Cays are a number one destination for yachts, and we're the primary source of much of the local income, surely we should be encouraging a long-term strategy that sustains the place and its inhabitants?
Paper parks
Nobody wants to see such places become a bureaucratic nightmare, but at the same time 'paper parks' (where they exist on paper but nothing happens on the water) don't do any good either.
Maybe the sheer number of boats and people overwhelmed the rangers, and if we had been there at another time in the season we'd have seen a different side to the place. We know only too well that the rangers in such places often have a tough time dealing with recalcitrant visitors on very low resources.
We can only hope that what we saw was just seasonal madness, associated with the time of year, but we wouldn't bet on it. The Marine Park website is notably light on information about what research is being carried out that might be used to help protect the Cays, but a good start could be made by simply enforcing what few restrictions already exist, and putting nature on an equal footing to tourism.
But—St Vincent has taken the lead in banning jetskis in all of its waters, so it is well aware that there are some things that are simply beyond the pale. Maybe there's hope yet!
Charts in this post are thanks to the kindness of Transas Marine who granted us the rights to reproduce screen shots of their charts from their iPad/iPhone app iSailor.