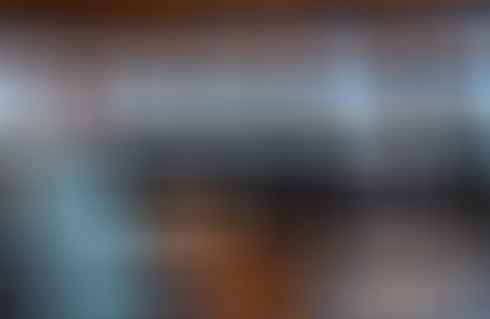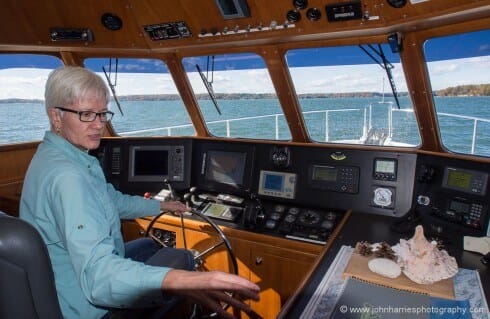 I continue the story of our trip on a Nordhavn 55 and then look at seaworthiness, fuel burn and my thinking on the related environmental issues, and then finish up with what all of this means to Phyllis and me personally.
Seaworthiness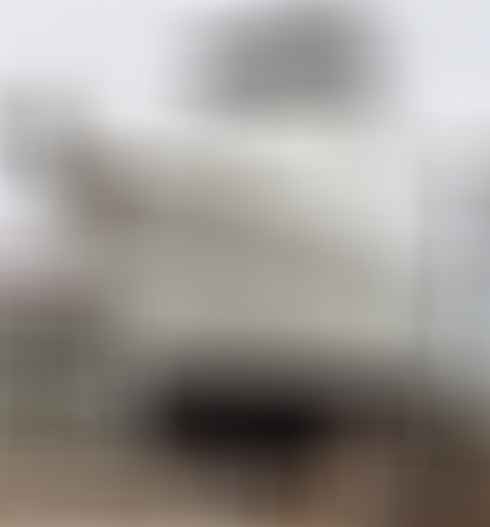 Whenever sailors discuss trawlers, and particularly newer three deck designs like the Nordhavn 55 Bjoyce (picture above), the first subject to come up is stability. Let's face it, these boats look just plain top heavy to us sailors who were brought up on stories of the 79 Fastnet and other storms where lack of stability cost lives.
But what's the real story? The fact is that Nordhavn trawlers have done a lot of offshore miles with no stability related accidents, at least that I know of. (If you know of any properly documented incidents, please leave a comment.)
However, Bob (Bjoyce's owner) was concerned enough about this issue to have some friends of his run the boat's design through a commercial grade computerized stability model and then confirm the result with a roll timing test—fishing on Georges Bank in winter, as Bob did for many years, makes you careful about such things. The results were comforting, with a limit of positive stability well past horizontal.
Having said that, as Bob pointed out, there is something very important to know when thinking about motorboat safety: Unlike sailboats, motorboat stability is calculated taking into account the buoyancy of the deck houses. In fact, much of motorboat stability comes from the very volume and buoyancy of these structures that look so wrong to us sailors. The point being that if a hatch is left open, or one of those big windows blows in, the numbers will change radically, quickly, and not in a good way.
If you want to learn more about motorboat stability, Steve Dashew published an excellent piece on the subject over at Setsail that's well worth your time. And if you want to really understand stability, Matt Marsh, AAC engineering correspondent, has two excellent articles on static and dynamic stability over at his site.
I also had the chance to discuss motorboat safety with Mark Fitzgerald, a very smart engineer and naval architect who has designed a bunch of them.
The first thing that Mark told me was that the ultimate stability number, much beloved by us sailors, is only the first step in evaluating motorboat safety and that things like down flood angles, watertight integrity, steering capability in waves, and the speed with which the boat can clear the water from a boarding sea will have a greater effect on storm survivability.
At the end of our chat, Mark summarized his thoughts with a telling statement: That I needed to understand there are no recreational trawlers that will come even close to our own Morgan's Cloud, with her small ports, high stability, and low deck houses, for survivability in a storm offshore.
The bottom line is that if you are going to make the transition from a seaworthy offshore sailboat to a recreational trawler, you need to modify your thinking and, even more, your behaviour in regards to heavy weather: where, when and how you go offshore.
Steering
One of the things that surprised Phyllis and I was how poorly boats of this hull type track, particularly in comparison to a sailboat. I'm no expert, but I would guess that has to do with the very high block coefficient combined with the deep forefoot. This, coupled with the lack of feel from the hydraulic steering, makes it difficult to impossible to steer any sort of a straight course by hand—something to keep in mind if you are close to anything hard! I would also guess that because of this tracking difficulty, running off in heavy weather might be a bad idea.
On the bright side, the Simrad autopilot did not seem to have any problem, at least in smooth water, and the tendency on boats of this type is to have the autopilot steering pretty much all the time.
Fuel Burn
No discussion of motorboats would be complete without a discussion of fuel burn and how that fits into modern world reality. On the way to Maine, in calm seas, we burned 5.2 US gallons an hour at a steady 8 knots, or 1.5 miles to the US gallon. At first glance this looks pretty extravagant when compared to a sailboat. For example, we do the same speed on Morgan's Cloud at 2.2 US gallons an hour, or 3.6 miles to the gallon.
But, on the other hand, since the trawler is 2.4 times heavier, the fuel burn on a ton/mile basis is about the same. Of course, 8 knots is right at the top end of our boat's efficient motoring range. Drop the speed of both boats to say 6.6 knots (where we burn just a gallon an hour) and I suspect that the trawler will be less competitive.
Having said that, I was surprised that BJoyce did this well. As Bob points out, part of the secret is that she is primarily a 24-volt boat that can run almost all her systems from a big alternator on the main engine, unlike many trawlers that must start the generator to even make a cup of coffee and are therefore faced with substantial additional fuel consumption on top of that burned by the main engine, something that Bob, as an ex-sailor, was simply not willing to tolerate.
Environmental Aspects
Now we get to the tricky bit of this piece. How does someone like me, who is a firm believer in the reality of climate change and further that the human race is responsible for much of it, reconcile that with a boat like BJoyce or, for that matter, even motoring in Morgan's Cloud? 
Well, first off, I think we must all be careful not to personalize this issue by wagging our collective (or individual) fingers at others, particularly without examining their overall environmental impact. We are all in the same boat…or on the same planet, and need to work together to solve this, not alienate each other.
For an example of this big picture thinking, suppose a couple buy a trawler of this size but then:
Motor the boat, say a couple of thousand miles a year.
Winter in a warm place.
Sell or mothball their large house in the northeast of North America so it doesn't need heating.
Sell or at least stop using their cars for a large part of the year.
Don't fly much to go on holiday (vacation).
What is their net impact? Is a sailor (who sails whenever he or she can) who has a 40-foot boat that is not comfortable enough to live on full-time (and/or has a spouse that hates the boat) and therefore maintains a full shore establishment and flies back and forth several times a year, in a position to get all superior? I say not.
Likewise, does a fit person who is able to sail have the right to get snooty about someone who converts to the "dark side" who may have health issues they know nothing about? I say no.
Or does someone with a spouse who also likes sailing and loves reeling off the ocean miles have the right to judge someone with a spouse who never did like that stuff (or whose tastes have changed with time and years) and who therefore selects a trawler so that he or she can enjoy attainable adventuring with the person he or she loves? I say not.
Or is it sensible to demonize people like Steve and Linda Dashew who have shown the way to motorboats that dramatically reduce fuel burn rates? For example, the fuel burn on a Dashew FPB 64 at the same 8 knots we were doing on BJoyce would be just 2.7 gallons an hour for a boat that weighs in at 45 US tons, full load—that's nearly 50% savings in comparison to most trawlers on a ton/mile basis.
Further, Steve tells me that modelling indicates that the same technology can be applied to hulls that operate at much higher speed to length ratios than trawlers do. Now imagine how much fuel we could save if we applied Dashew design technology in place of semi-planing hulls like those used by sports fishermen that measure their fuel burn in gallons per mile…lots of gallons per mile.
And further, right now the cost of buying into the Dashew technology is only for the seriously wealthy. Wouldn't it be great if these efficiencies could be scaled to a boat accessible to more people? Kind of like an Adventure 40 of motorboats. Maybe the Adventure 55MV?
The point I'm trying to make here is that judging others and then deriding them based on some ideal world view is not pretty and can result in ignoring some very cool advances in boat design that can make a real difference.
But even more than that, I'm convinced that conservation by intimidation does no good. Here's why: Even if one managed to shame a lot of trawler owners into scrapping their boats and converting to sailboats (or staying home), all that will happen is that the availability of the diesel they don't buy will push down the demand and eventually the price, which means that someone else, perhaps on the other side of the planet, will burn more oil. It's simply a self defeating spiral. The law of supply and demand, if left unchecked, wins every time.
Rather, I believe that it is far better to work for better public policy that will reduce our use of petroleum products across the board and force us all to utilize technology to increase efficiency and to conserve.
And there is, I believe, a simple and practical way to do that. It's all about the price of oil. You can read more here. Some countries, mostly in Europe and Scandinavia, have already shown the way.
By the way, reinforcing that sensible oil pricing works, I just heard that the Tesla is one of the most popular new cars in Norway. Why? Simply because in Norway buying a Tesla is a good way to save money—self interest works a lot better than finger wagging.
Summary
So what does all this mean for Phyllis and me?
First, I should clarify that we don't view a transition to motorboating as inevitable for us. There are many other life options for those like us who are addicted to travel and attainable adventure but who are increasingly creaky.
For example, we can see a scenario where we keep sailing offshore for as long as we can, probably with a steady and gradual reduction in the difficulty of the passages we take on, and then retire gracefully to have our adventures in say a Herreshoff Bullseye on the sheltered waters of Mahone Bay—there are worse fates. After all, we would be following in the august foot steps of Lin and Larry Pardey.
Having said that, we are, like many sailors of our age, trying to learn about the benefits and drawbacks of making a transition to a motorboat when the inevitable aging process makes offshore sailing both impractical and probably dangerous to both ourselves and, perhaps more importantly, to those around us who might have to come and dig us out of the yoghurt because we are no longer strong enough to help ourselves.
So, when and if the day comes that we want a motorboat, will we be looking at one of the Nordhavn models or boats like them? Having now looked at several of these boats, including the 46, 47, 50, 55, and 57, the answer is no. The problem is fundamental: For us, these boats, even the venerable 46, are just too big (displacement) for their water line length.
We really don't want a boat that is bigger than Morgan's Cloud's 25 tons. And, in fact, if we took off the rig and ballast, we could have the same room in a 15 to 20 ton motorboat. That's smaller than the smallest Nordhavn 40 at 25 tons, a boat that will have hell to make 6 knots at an economical fuel burn.
Or, to put it another way, current recreational trawlers are too slow and burn too much fuel for our purposes. So, for us, there is still no sailor's motorboat. Although we continue to watch progress on this boat with interest.
Thank You
A huge thank you to the many knowledgeable people who have helped us learn about motorboats:
Bob and Brenda Tetrault, BJoyce (Nordhavn 55)
Judy and Milt Baker, Blue Water (Nordhavn 47)
Scott and Mary Flanders, Egret (Nordhavn 46)
Merle and Barbara Hallett, (Nordhavn 46) ( Sorry, forgot the name!)
Ken and Dianna Ohlmsted, Ocean Bear (Nordhavn 50). By the way, this was our favourite Nordhavn model. The Ohlmsteds were kind enough to take us out for a run and we really liked the way this older design, more optimized for speed and efficiency than the newer boats, went through the water.
And last, but never least, Steve and Linda Dashew, Wind Horse and Setsail. Steve has spent many patient hours over the last few years dinning basic naval architecture, and particularly motorboat design, into my thick skull.
By the way, I also got to drive Wind Horse at full throttle during some engine trials, weaving between lobster pot buoys and granite ledges in Maine at over 12 knots (on just 210 horse power)—what a ride!
Comments
I have brought up some controversial subjects here: climate change, increased taxation on energy, benefits of motorboats and sailboats, etc. As always, feel free to disagree, but be nice. Generally I'm amazed, gratified and humbled by the civility of the debate here at AAC. Let's keep it that way. And, if you are new here, please read our comment guidelines.