The summer of 2009 was a good one in Scotland, at least compared with the rest of the UK and Ireland. But as is generally the case, once the weather breaks, that's it, the summer is over, and it's time to make tracks.
We had set off from Tobermory on the Isle of Mull early in the morning, and by the afternoon were well down into the Firth of Lorne en route south to the North Channel before a long spell of southerly gales were due to set in.
Away on the mainland shore we could see another yacht beating South, and could soon see that it was another OVNI. A few minutes later we crossed tacks, and managed to take a few photos of her against the massive backdrop of Mull. A French 385 called Brecqhou, we had seen her earlier in the season in Arisaig, and she looked right at home in the wild setting of the hills.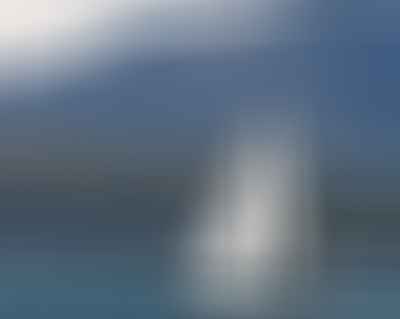 A brief chat on the radio led to an exchange of e-mail addresses so that we could exchange photos somewhere down the line before we parted, Brecqhou heading for the Crinan Canal, us on into the night and a quick stop at Jura.
Some time later we made contact once again, by which time I'd learnt a little more about Brecqhou and her owner, Hubert Perier. Since buying her in 2002, he has sailed her to the Azores, Portugal, Spain, Ireland, Iceland and Scotland, an impressive record. And it reminded me once again what great boats these are that demand to be sailed in this way, and that the French sailors really do use them.
It's odd that aluminum boats have never caught on in the UK. Apart from a short production run of a 28-ft multichined sailboat called a Sarum, and a few semi-custom boats from Whisstocks, one-offs apart, that's about the sum total of alloy yachts that I know of. Yet they have been hugely popular for years in France, and not just OVNIs, although they are perhaps the best known of the French boats. I've just been looking through the boats for sale in the French sailing magazine Voiles et Voiliers, and of 48 yachts in the 13m size bracket no less than 14 are aluminum, and from 9 different builders.
And all of them are boats that are capable of long voyages off the beaten track: 3 OVNIs, 3 nice round bilge Garcias, two elegant Mauric-designed Meridiens and a variety of others. Anyone looking for a good boat for high latitudes could do far worse than start with any one of them.
I asked a boat builder friend why it was that British builders never took to alloy, and he suggested that one reason may have been that to build in aluminum would have meant stocking such a wide variety of different stock—differing hull plate thicknesses for example—that unless some sort of series production was envisaged it would never have been viable, and maybe there's something in that. And it's fair to say that we never built many steel boats either, so maybe it has more to do with our love of production boats, and the cost of building one-offs.
Either way it seems a pity, especially as the Dutch builders have taken to building in alloy, too, and with the same attention to detail they have always brought to their steel yachts. In Falmouth, where we lived for many years, there are still really good quality cruising sailboats like Rustlers being built in GRP, and even one-off wooden pilot cutters, but nothing in aluminum, although there is absolutely no reason why not. The kind of craftsmen who work there are the equal of any others in the world, and I've no doubt could build aluminum boats to the highest standards.
So, until there is a cultural change, if you're in the market for an aluminum boat, whether a one-off, semi-custom, old or new, then France is the place to look—and right now there's plenty of choice.