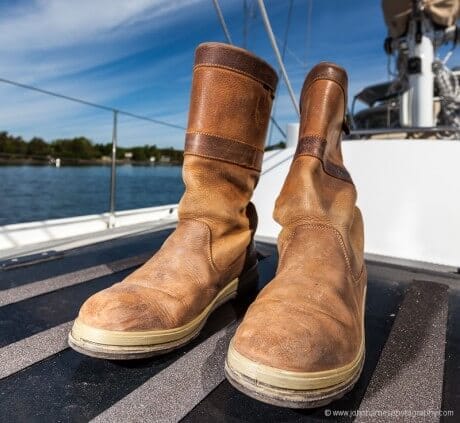 In our Warm Feet, Please post of several years ago, we mentioned that we had purchased Dubarry Ultima boots and, after several years, were impressed. At that time, however, we weren't ready to commit to anything until we had given them a thorough testing.
Well, we've used them now for 5 years and we're still in love with the boots…with each other, too,and that has been 15 years!
Anyway, back on topic. The boots (with the very important addition of Smart Wool socks) kept us warm throughout our 10,000 mile Arctic voyage last year. And though mine, which get regularly bathed with salt water when hauling the anchor and cleaning the deck with the deck wash, looked pretty rugged by the end of the voyage, they came back beautifully after a good clean and condition (using Dubarry's recommended cleaner and conditioner). They look like they could go on for another 5 years.
So, though they are expensive, that isn't so hard to take when they last this long. And they are warmer and, since they are breathable leather with a Gore-Tex lining, they are also a lot more comfortable than any other boots we've tried.
The verdict? Dubarry Ultima boots get an A++ on their report card!