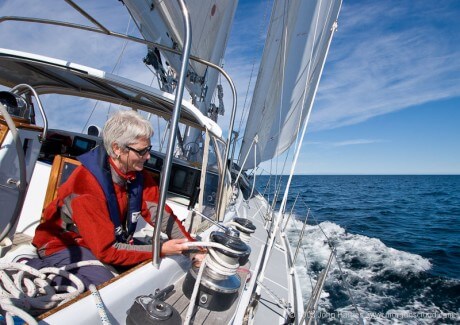 Lane Finley's comment on John's post, A Model T Offshore Voyaging Boat, got me thinking. I agree that some of the reasons women are reluctant to go cruising are those that Lane posits: seasickness, loneliness, inconvenience, discomfort…not to mention separation from children/grandchildren…But I'm wondering if there isn't more to the issue than that. And, as I really don't feel I can speak for anyone other than myself, I'm going to talk about my own struggles and hope that they will speak to those of other women too.
It's Unfamiliar
I came to sailing in my mid-30s when I met John, a long-time sailor and voyager: he knew (almost!) everything about cruising, I knew nothing; I had to give up everything from my familiar lifestyle, including career, to take on John's lifestyle; I removed myself from the support of friends and family to venture out on a long thin limb (and connections do get more tenuous when you're so far apart and doing something that's so foreign to them); and, as I'm sure is true for a number of other women, I jumped into the deep end of cruising instead of starting in the wading pool.
Giving up everything familiar and taking on this challenging lifestyle had major ramifications: it affected my self-esteem, my sense of myself as an independent and competent person, and produced feelings of insecurity (what if something happens to John? I gave up my support network and my ability to support myself to go out voyaging with him). Together with John, I've worked through a lot of these feelings over the last 15 years, but it hasn't always been easy.
It's Unnatural
That is one big part of it. Another is that sailing just doesn't come naturally to me. Because I didn't sail as a kid and because I wasn't even an athlete when I was a kid (I was a piano bench potato!), it really really doesn't come naturally to me. So I am constantly in a situation where I feel bad because I don't have a drive to do this activity we are involved in (I dislike outboards; I refuse to dock the boat, which would be like parallel parking a semi before ever driving a car; I really really don't like going to windward…). To constantly be faced with this "flaw" in my character doesn't make me feel good about myself. And I realize that my ambivalence is hard on John, who loves to sail, which makes me feel even worse about it.
It's Scary
Another thing is that I battle with anxiety and, I must admit, there are times when I wonder how long I will be able to continue to live a lifestyle that contributes in so many ways to this anxiety: the rough motion of going to windward, the noise and motion of the boat at anchor or at a dock in anything above 20 knots of breeze (I don't sleep when it's noisy and noise raises my anxiety level), the potential of heavy weather offshore, the potential of something happening to John when we're way out there…the list goes on.
It's Limiting
And, back to what Lane alluded to, how long before the urge to settle down somewhere where I can do things that I want to do but are hard to do when voyaging (like take regular yoga classes, join a reading group, take music lessons, or join a choir…) and where I can build a support network in case something happens to John, reaches critical mass?
It's Also Great
And yet, on the other hand, I love living on Morgan's Cloud; I can't imagine sending John off on his own without me for passages and just arriving on the other end on a plane—I'd worry and miss him and be miserable, not to mention that it would feel like cheating!; I do like arriving at a new place to explore with new people to meet; and we have this wonderful moveable feast of friends just about anywhere we choose to go.
So, for now and for me, the positives outweigh the negatives. But I can see how one day that might change, and then John and I will be faced with the issue of how to deal with wanting radically different lifestyles (unless he decides to join the choir too!). And that's a real hard one to deal with.
Get Naked
Well, I've gotten naked, anyone else out there want to too? Especially other women…I'd love to hear from you. Please leave a comment.
Further Reading